So last night around 8 pm one of my girls comes to me and says 'Mama, it's my teacher's birthday tomorrow…can you make something nice for me to give to her?  You know…something with chocolate?  She LOVES chocolate'…

Mmm…not the first time this has happened LOL…and so I put her to bed and started thinking about what I could make…not enough supplies for a chocolate flower vase…no chocolate squares…some kisses, but they were holiday themed so I kept looking…and then I came across a bag of Hershey Nuggets and I had my YIPPEE moment!!!
I really hoped that I had a tin to package them and hadn't put them all in storage when we moved – and WOOT WOOT – came across one!!!  Let me tell you, I was doing the happy dance!  Now the rest was easy…stamps, ink and mailing labels…so I got to work and this is how it turned out…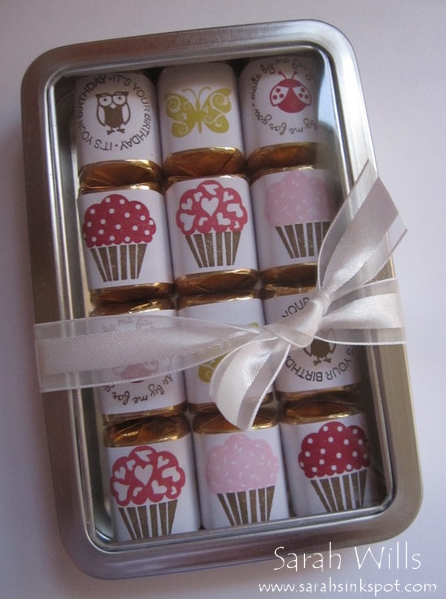 Simple and basic, but I was happy with how it turned out considering I made it at 10 pm last evening!
I am a matchy-matchy girl and prefer to use silver foil colored nuggets with these tins, but gold ones were all I had to work with and it turned out fine…
Labels…I took a sheet of Avery Labels (1″ x 2 5/8″) and found stamps that would fit on them…I stamped my images, peeled off those labels and attached each to a Nugget – they are PERFECTLY sized for the job!
Cup Cake Stamps…I hit the jackpot with these cute cupcake stamps that I found in the Hostess set A Cherry on Top (pg 201)…I colored my stamps using the following ink colors – Soft Suede for the cups and Raspberry Ripple, Primrose Petals & Pretty in Pink for the frosting…
Butterfly Stamp…I found this stamp in another Hostess set – Four Seasons (pg 203) – and stamped it using Summer Starfruit…(In case you were thinking you'd have to put in a giant order to get BOTH of these Hostess stamp sets, you could actually get them with one $150 order!)
And the other cute stamps I found in a stamp set called A Fitting Occasion (pg 201) – both circles of words, the ladybug and the owl came from that set…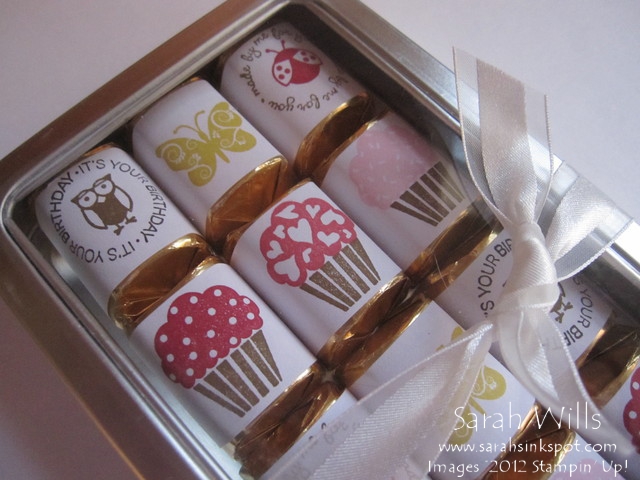 To complete the gift, I tied around a piece of Whisper White Organza Ribbon – which ribbon gives a luxurious look at a fabulous price – JUST $5.95 for 15 yards of it!
Usually I would have stamped & added a gift tag but my eyes were closing due to tiredness LOL and so I decided to keep it simple without one – but I think there is enough going on inside the box to make it OK like this…what do you think?
CLICK HERE TO ORDER YOUR STAMPIN UP SUPPLIES ONLINE!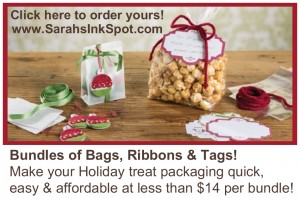 Nuggets with a Cherry on Top!