Thanksgiving is almost upon us and today I wanted to show you a cute little thing that would make a perfect place setting treat…
The bonus is that these treats are fun and inexpensive to make using Candy Corn and Corn Husks…and you still have time to make em!
Yep, you read it right…corn husks that you can find in your local supermarket (I found mine in the baking aisle) – and of course there is a little stampin' in there too!

Isn't it CUTE?!  And so fun to make…and here is how…
The Candy Corn…so first up you need to get some candy corn and slide them into the 1″ x 8″ Cello Tubes that you can find by clicking HERE – they are fabulously priced at just $2.95 for a pack of 50!
You can get different looks depending on how you slide them in…here are some examples…please excuse the shine on them…it proved very tricky to take a photo!!!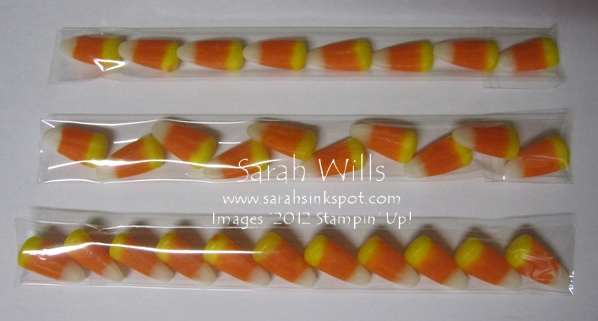 I decided to go with the bottom look where they are all on an angle, but it was tough to choose…
I found that 7 pieces of candy corn worked best in my tube due to the size of my corn husks, and then I simply folded the end down to seal them in there.
The Corn Husks…I found a bag of these in the baking aisle in my local grocery store (in case you aren't sure what they are, they are the 'wrappers' that are used to make tamales)…
Simply take one husk and cut it to size – then place your candy corn tube into the center and tie each end using Linen Thread – I also like to use a few Mini Glue Dots on the back of my tube to really secure it to the husk…
Then you can trim the ends to fringe them for a cute finishing touch to it…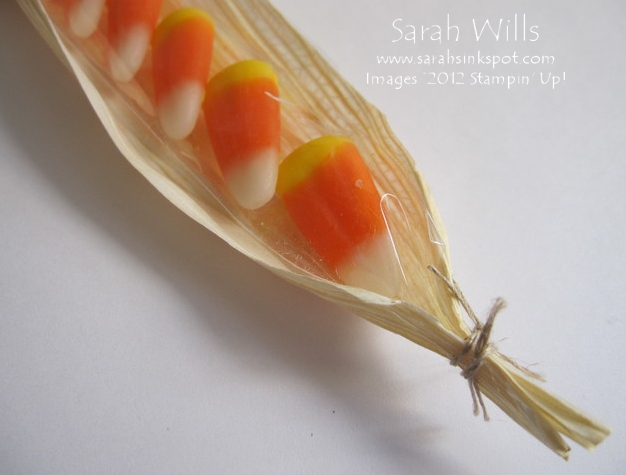 The Tag…the corn cob stamp that I used really complements this treat – it is from the set Perfectly Preserved (pg 29 Holiday Catalog) and I used my Old Olive and Pumpkin Pie markers to color the stamp and stamp it onto Very Vanilla cardstock.
I then cut out the shape using a perfectly co-ordinating corn cob shaped Die in the set Cannery Set Framelits, also found on pg 29 of the Holiday Catalog – isn't that cute?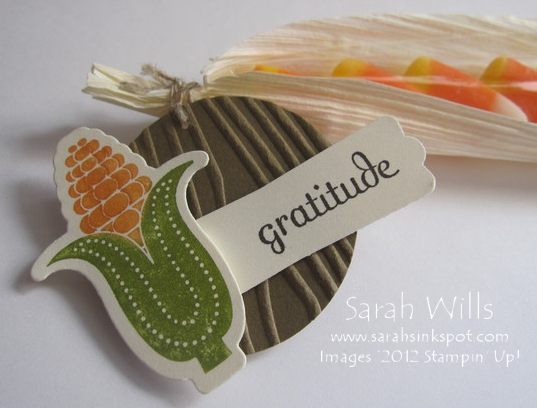 I added a sentiment from the set Fabulous Phrases (pg 133) and punched it out using my Modern Label Punch (pg 183)
And then finally I added both to a tag base that I made using Soft Suede cardstock and my 1 3/4″ Circle Punch.  The texture? Simple to make using the Woodgrain Textured Embossing Folder that you can find on pg 33 of the HolidayCatalog.
YOU STILL HAVE TIME TO GET THE THINGS YOU NEED TO MAKE THESE IN TIME FOR THANKSGIVING – BUT HURRY!!!
You can find both the Perfectly Preserved Stamp Set and Cannery Set Framelits on pg 29 of the Holiday Catalog – you can purchase them individually OR you can Bundle Up to save you some money!!!
Purchase both of these items together as the 'Perfectly Preserved Bundle' and SAVE 15% – stamps are available in both wood & clear mount versions – click on the blue words below to view each in the online store:
129944  Perfectly Preserved Bundle Clear Mount – $38.95
129943  Perfectly Preserved Bundle Wood Mount – $44.95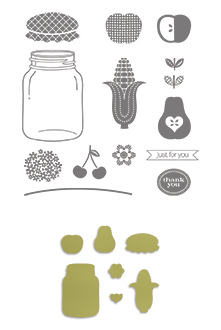 CLICK HERE TO ORDER YOUR STAMPIN UP SUPPLIES ONLINE TODAY!
FOR NEW CUSTOMERS – PLACE YOUR FIRST ORDER WITH ME USING THE LINK ABOVE AND GET A COUPON FOR FREE SHIPPING ON YOUR NEXT ORDER!
Perfectly Preserved Candy Corn Husk Treat…