Today's card is a one layer, SUPER simple and quick to make 'thank you for your holiday gift' card…so, why so simple?
Because after the Holidays we all need to send those 'thank you' cards for the gifts we received…and we don't have a lot of time to make & send them!
I used my Simply Scored Scoring Tool to add some depth and feature to my simple card…it was tricky to capture them in this photo but there are close up photos further down…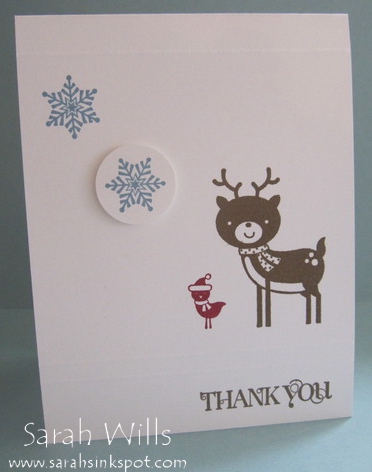 Isn't it CUTE?!
I made 3 score lines on the card front – they are super easy to create using the Simply Scored Scoring Tool that you can find on pg 181 of the Catalog…click HERE to view it in the online store.

That tool comes with easily moveable markers that you can set for all 3 of these score lines which is fab when making a bunch of the same card – you don't have to remember measurements, the markers show you where to score – for multiple card making, you can get it done FAST!
There are 2 scored lines at the bottom and 1 at the top – this creates a central panel for you to stamp your image…my cute Deer and Bird are stamped using Cherry Cobbler and Soft Suede ink and stamps from the set No Peeking that you can find on pg 28…
Here are those 2 lower lines…below you can stamp a sentiment and if you choose to do so, you could add a thin ribbon or Bakers Twine between those 2 scored lines – my sentiment is stamped using a stamp from the set Curly Cute (pg 138)…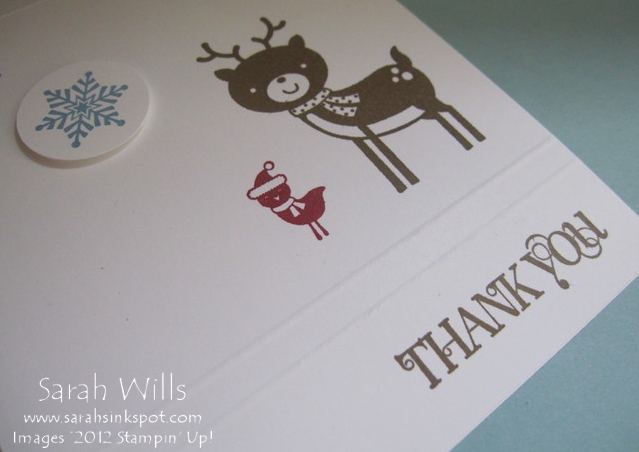 And here is that top line…this creates a nice framed look to your images.  My snowflakes are stamped using Baja Breeze ink and a stamp from the set Jolly Bingo Bits (pg 22)…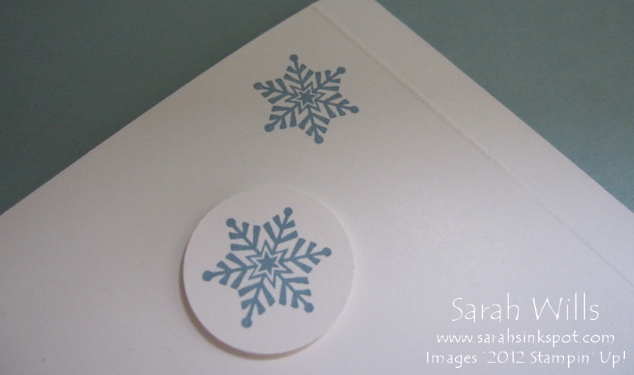 I just love the simplicity of this card – and how easy it is to make – if you haven't used score lines on your cards, have fun playing with them – you will be amazed what you can come up with!
CLICK HERE TO ORDER YOUR STAMPIN' UP! SUPPLIES ONLINE!