After the house move it's taking a while to get back on track…and of course my crafting space is one of the last places to get sorted out…
But I am a very lucky girl and a beautiful space it is and lots of you have been asking for pictures so I thought I would show you how it is coming along…
Here it is empty and unfinished shortly after it was painted…looking in from the door…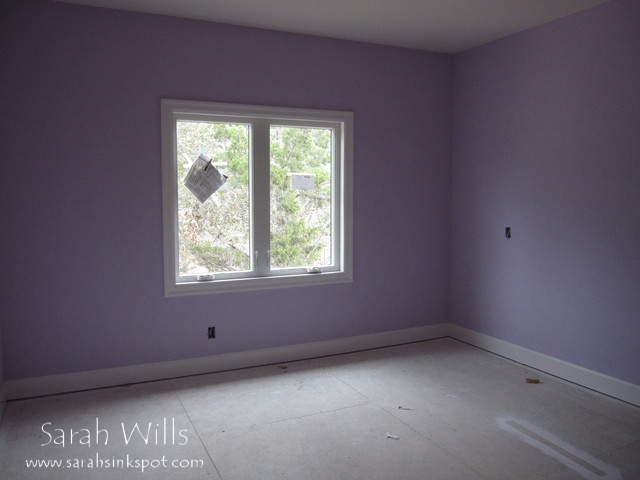 And then turning around and looking at my walk in closet…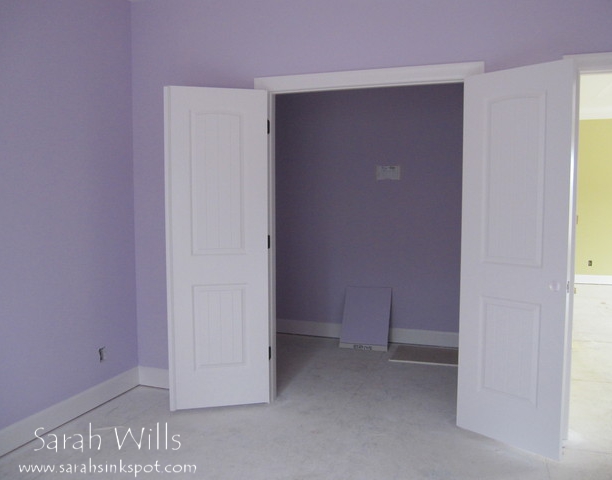 I LOVE this wall color – its a lavender color – my last space was orange and I decided to have a change this time to one of my favorite colors…and I bet you tell I was SO excited to find out that Wisteria Wonder is staying with us as part of the new Subtles collection line up!
So here it is the week we moved in…I wanted a hard floor because I am forever dropping my ink pads and of course they always land pad side down…I also always seem to drop glue dots…and so you can imagine the state of the carpet in my last room!!!  And so for that reason I went with wood flooring as it will be way more durable for me…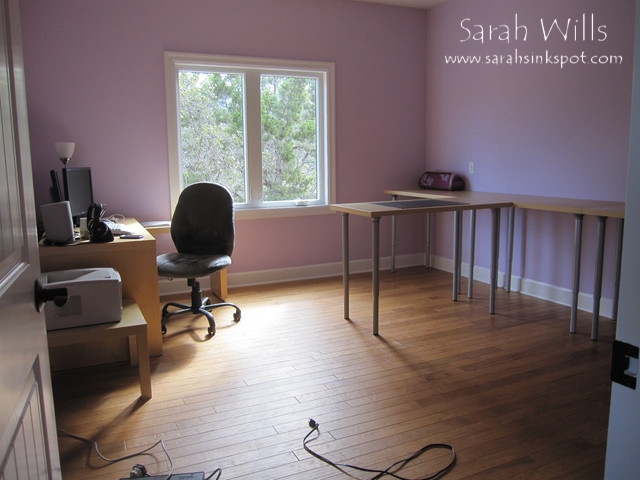 My furniture I had in our last house and it's all from Ikea – I just LOVE their value for money!
I found out a few years ago that I always stand when paper crafting so went in search of a cost effective way to have counter height work surfaces…and found a way to do it at Ikea – they have adjustable height legs and you simply add a table top to them and voila – a fully height adjustable work area!
I had two of these tables in my last room but now have 4 to give me more room to spread out…LOL…they won't look this uncluttered for long!  My hubby secured them to together and to the wall to give me a very sturdy working area.
Now turning around to the walk in closet…on the plans this was originally a bathroom but I knew how I wanted to use the space and a bathroom had no place in my plans LOL!!!  I wanted it to be an extension of my room where I could store my papers and punches and walk in and out when working BUT be able to shut the doors when not, to keep the dust down and the cats out!!!
I wanted a big piece of slatwall on the back wall to hang paper trays (like you find in scrapbook stores) and our friend Ken (who has a Garage Interiors business) was kind enough to give this slatwall to me as a housewarming gift and even painted it and came and installed it – and I LOVE it – thank you Ken & Becky!!!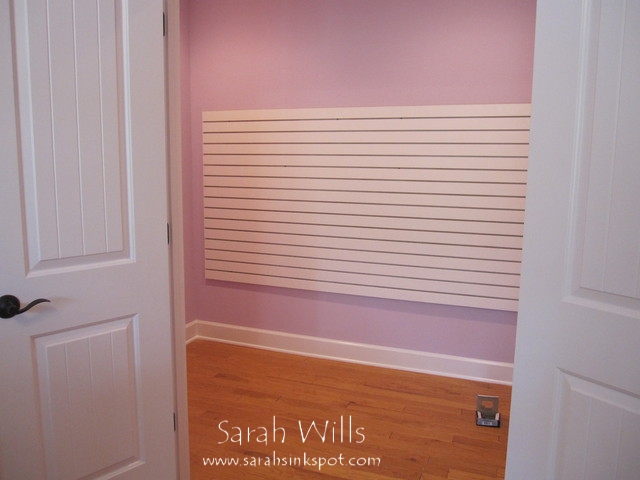 And here it is being slowly filled with paper trays…I bought a bunch of them when sadly our local scrapbook store went out of business…and found some more on ebay…they are made by Display Dynamics and you can use them on both pegboard (which I had in my last house) and slat wall…and they are brilliant!!!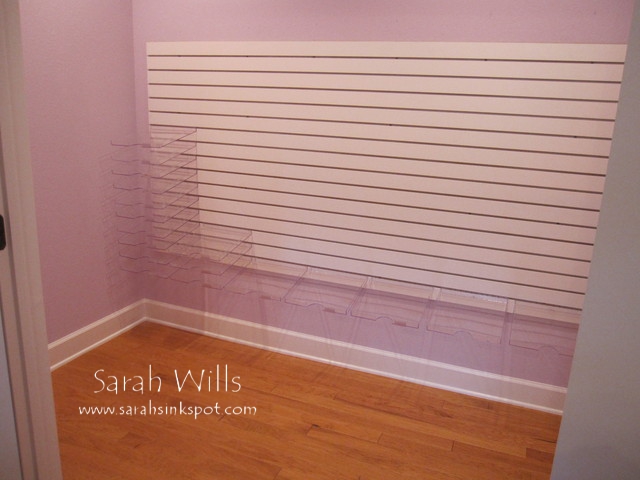 So that is my 'pretty' closet…and here is the other closet where I have all my scrapbook luggage and stamp sets, personal scrapbook stuff and tools all housed in Sterilite 12×12 drawers stored on wire racking…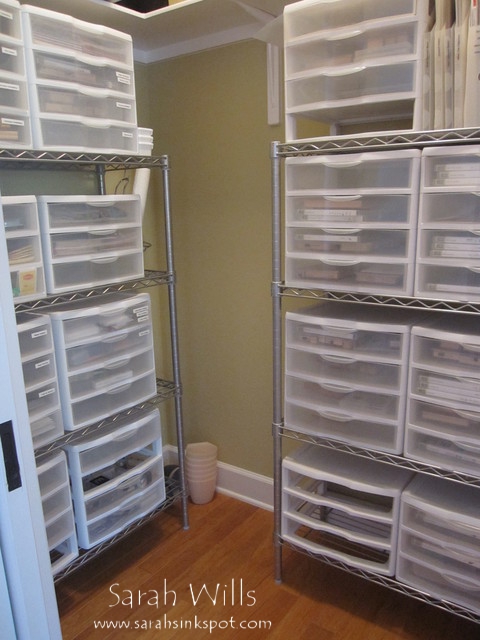 That is my not-pretty closet LOL – but when I close the door all the clutter has gone from view!!!
That's it for today…I am in the process of sorting out and putting everything away and will show you more photos soon…I hope to actually be able to make something on my work tables later today and all going to plan, will show you that tomorrow!