One of the things I just LOVE about being a Demonstrator is getting hold of the new stuff a full month before it goes on sale to everyone…
And the REALLY COOL bit is that with every new catalog release you can get stuff at a discount or for free depending on your title…and with this new catalog release I got a bundle containing a stamp set, pack of DSP, Embossing Folder & Punch from the Mosaic Madness collection…all for FREE…hehehehe…
Well this bundle arrived to me two days before our departure to Fiji along with other item that I pre-ordered, so guess what?  I just HAD to use them to make my Fiji swaps!  Here is my card…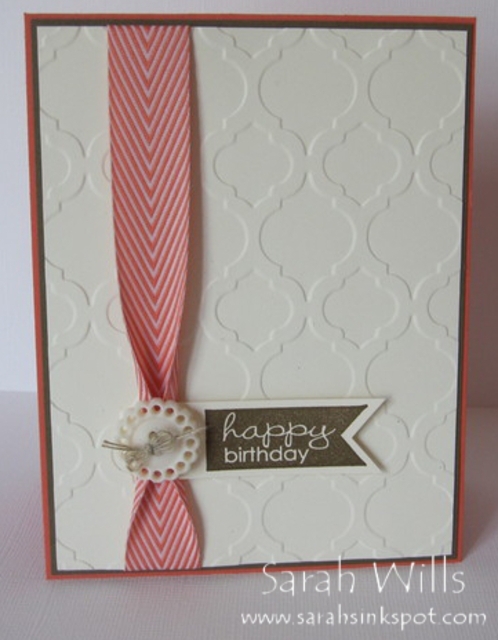 It's clean & simple, but that is my style and I just LOVE how it turned out…I had trouble coming up with what to make simply because I haven't created very much in a very long time…my girls were in my craft studio with me and asked what I was going to make?  I told them I don't know and had no inspiration, so to make a start we picked out a color – Calypso Coral – and then another color – Very Vanilla – and it pretty much started to create itself…
Onto the Calypso Coral base is layered a piece of Early Espresso…and onto that is layered a piece of Very Vanilla that has that GORGEOUS and trendy design on it…made using the brand new Modern Mosaic Textured Impressions Embossing Folder found on pg 191 of the new Catalog.
Sarah's note – the thing I LOVE about this embossing folder is that you can get a very different look simply by turning over the cardstock that you have textured – it's like a 2 for 1 folder!
That CUTE Chevron ribbon?  Yup – another BRAND NEW addition to the ribbon collection – it's nice and wide at 3/4″ and it comes in 12 FABULOUS colors!  You guessed it, the color on my card is Calypso Coral and it is just beautiful to work with.  You can see all the colors of this new Chevron ribbon on pg 173 of the new Catalog.
AND YOU CAN GET A SAMPLING OF ALL 12 COLORS OF THIS NEW CHEVRON RIBBON AT A GREAT PRICE WITH MY CHEVRON RIBBON SHARE – CLICK HERE to find out more and to see what other Shares I am offering! 
Want to reserve a spot?  Email me by clicking HERE to do it!
That sentiment…is from a BRAND NEW Hostess stamp set called Banner Greetings featured on pg 202 of the new Catalog – it is a set of 6 and is perfect for many occasions during the year…and right next to it…
That CUTE button…is yet another BRAND NEW addition from Very Vintage Designer Buttons found on pg 169 of the new Catalog – there are 3 different styles of button in this pot and they are all just GORGEOUS – I simply tied a piece of Linen Thread into a bow in the center of mine for a cute touch – you can also get a sampling of the new embellishments including these buttons with my new Embellishments Share…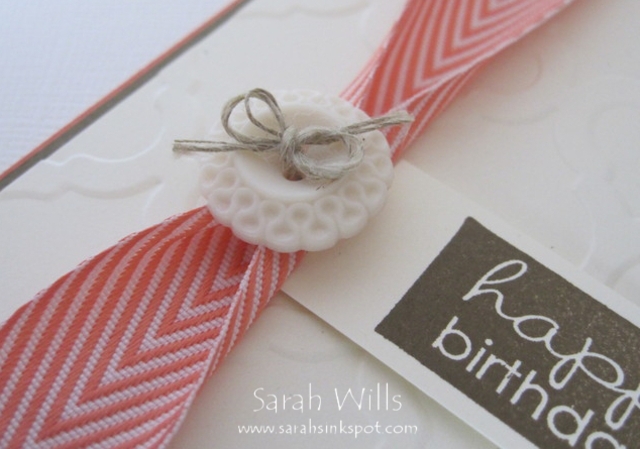 You can really see that ribbon detail in the photo there – I tell ya – you are going to LOVE it!
I am going to show you some of my photos from Fiji tomorrow and something else made with more new products…hehehehe…this is just one of my favorite parts about being a Demonstrator, to get my hands on new stuff early…you should think about joining so you can too!
WANT A FREE COPY OF THE NEW ANNUAL CATALOG? 
Simply place an order with me for *$20+ by clicking HERE and I will mail one out to you right away via Priority Mail so you get it FAST! 
(*$20 is the price of catalog merchandise before S&H and sales taxes are added)
Sneak Peak…Mosaic Madness…