Did you get yours yet?  If not, you just HAVE to get one of these fabulous Bloomin' Bouquet project kits before they sell out…

I ordered 6 of them and used them to make end of year teacher gifts – and they went down a storm with the teachers!  Because everyone loved them, I ordered more kits to make gifts for their new class teachers when they go back to school at the end of the summer...CLICK HERE to find this kit in the online store
In each kit you will find EVERYTHING you need to make 13 multi-layer flowers – including the patterned pre-die cut flowers, wire stems, jewel centers and even labels – all you have to do is dig out your adhesive and put them together – super easy, super fast and super fun!
Here is what I made with those gorgeous flowers…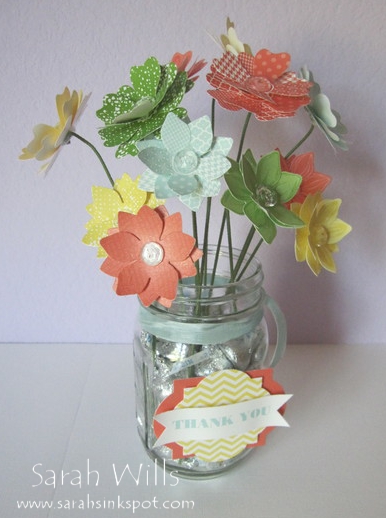 Isn't it CUTE?  EVERYTHING that you see above except for the glass jar, candies and ribbon is included in the kit!
To make my gifts…I simply filled a pint sized preserving jar with Hershey Kisses and tied around a piece of Pool Party Seam Binding at the top…
The labels…those shapes you see are also pre-cut die cut shapes and I added the 'thank you' tag banner on top using Dimensionals to make it pop out.  You get a choice of 4 banners to use for added flexibility…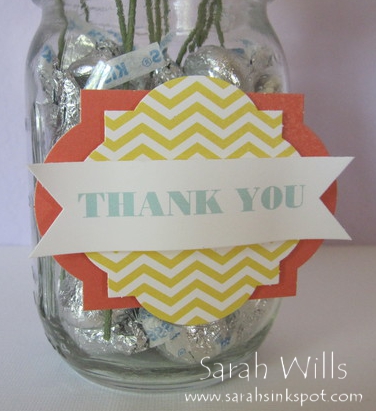 Those cardstock flowers…are so much fun to put together – they are already pre-printed with those fab designs and pre-die cut meaning you just pop them off of the sheet, curl the petals and glue together – I used my hot glue gun but you can also use Mini Glue Dots…
Also included are those Vintage Faceted Buttons that you glue to the center of each flower to give it a fab finishing touch – and then you simply add your stem to the back and you are done!
Check out this close up of the flowers…just gorgeous…click on the photo below for a closer look…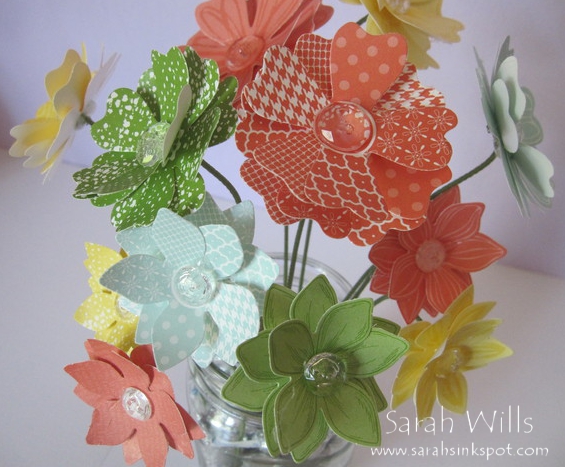 So how do you get your Bloomin' Bouquet Project Kit?
Click HERE to find it in the online store!
134542  Bloomin' Bouquet Project Kit  $12.95
In each kit you will receive:
2 sheets of pre-printed and pre-die cut flowers on 12×12 cardstock – enough to make 13 3-layer flowers
13 Vintage Faceted Buttons
13 Green Floral Wire Stems
a large shaped Calypso Coral pre-die cut label; a smaller shaped chevron pattered pre-die cut label; 4 pre-printed & die cut banner sentiments
Now the eagle eyed amongst you might have noticed that I only have 12 flowers in my vase…so where is the 13th?
That extra flower is a little different and designed to be given separately if you would like to…and so I made two of them up and left on the beds of my girls attached to a chocolate bar as a little 'last day of school' gift – and they LOVED them…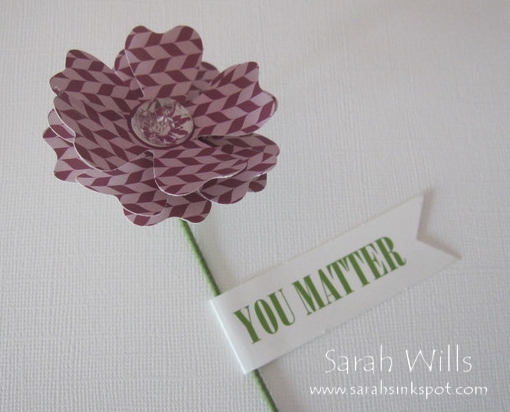 CLICK HERE TO ORDER YOUR STAMPIN UP SUPPLIES ONLINE!
Want a FREE copy of the new Catalog?  I'll even pay for the Priority Mail shipping to your door!
Simply place an order with me in the online store using that link above for a minimum of $20 (before S&H and sales tax is applied) and I will get one in the mail to you the same day so you will receive it FAST and completely FREE!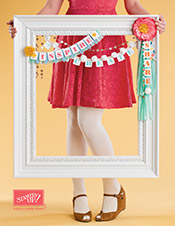 Sweet Bloomin' Bouquet Project Kit…