I do and I absolutely love waiting for that orange box to arrive in my mailbox every month!
Not got Paper Pumpkin yet?  Scroll down to the end of this post to find out more – you have 3 DAYS LEFT to get it delivered to your door for JUST $10 A MONTH for your first 2 months!  AND when you join using my link below I will mail you a cute stamp storage container for FREE!

And this month was one of my favorites – in the orange box for August was a kit containing 2 stamps (one is a bicycle which I love!), 2 ink spots, sticker strips, sticker embellies, card bases & envelopes – here is the card that this kit makes: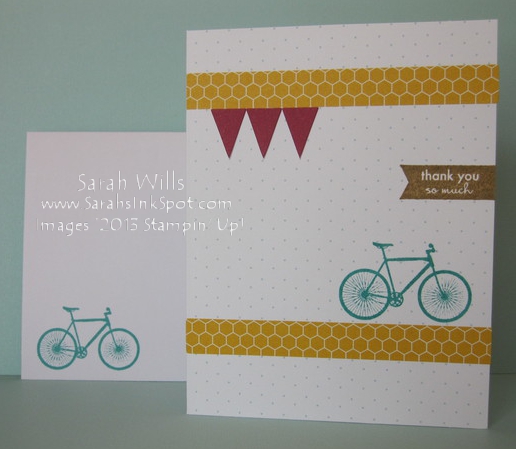 Isn't that CUTE?  LOVE it!
And it couldn't be easier – you get everything you need (including stamps & ink) to make the month's projects and all of the pieces are pre-cut for you – meaning all you have to do is the really fun bit – stamp and assemble – easy, fun & fast!
These are the contents of August's kit which was called Pedal Praise: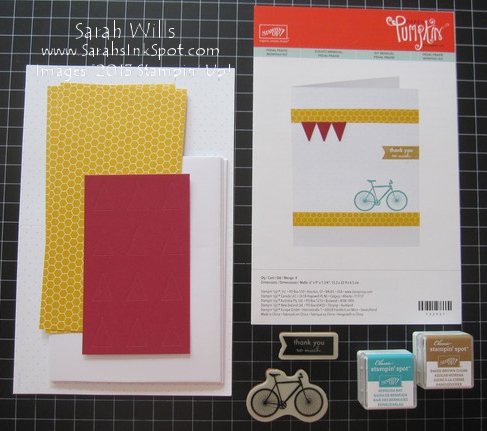 Just adorable and easy to assemble – the card base is pre-printed with a background and you simply add your yellow strips (which are self-adhesive so you don't even need glue or tape!), stamps your bicycle & sentiment and add the red pennant embellishments (also self-adhesive)…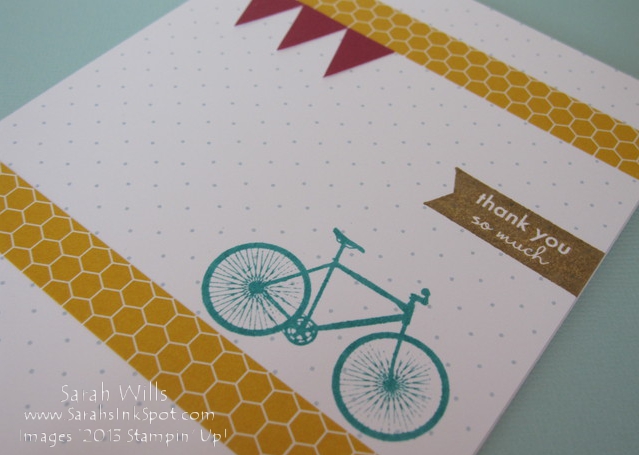 I also decided to stamp a bicycle on the envelopes to add a sweet finishing touch.
Of course you don't have to make your card the same as the instructions…on this one below I decided to do a landscape version with more bicycles – and to make it possible, those yellow strips were sized to fit a landscape card so you get lots of flexibility with how you use these kits…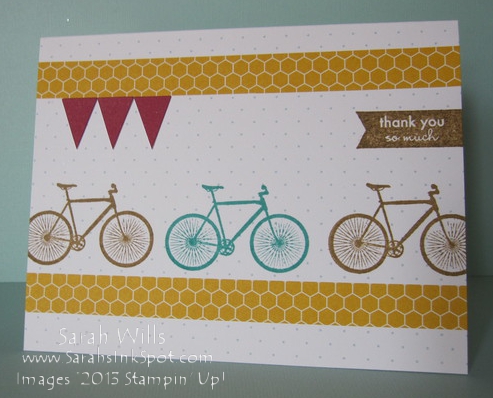 In the kit I had enough supplies to make 4 complete cards and so I chose to make 2 of each style to have on hand for when I need them.
Not got Paper Pumpkin yet?
Then you have JUST 3 DAYS LEFT to get a fabulous deal on it!  Subscribe by August 31st and get your first two months for JUST $10 A MONTH which includes shipping to your door!
This is a steal of a deal so check it out – you have nothing to lose and if you want to cancel after your trial period, not a problem – there is no obligation to continue – you simply cancel!
AND I AM GOING TO GIVE YOU A FREE THANK YOU 'WELCOME' GIFT TOO WHEN YOU SUBSCRIBE USING MY LINK BELOW!  
When you subscribe before August 31st 2013 I will mail you a cute stamp storage container to keep your Paper Pumpkin stamps in so that you have them all in one place, neatly stored!
Once you have joined using my link below, email me to let me know by clicking

here

and I will get that storage container in the mail to you asap!
How do you subscribe to get this fabulous $10 deal?
Click HERE to go to www.mypaperpumpkin.com
Once there, click on Subscribe
Add a quantity of 1 to the box, click on the red 'Add Promo Code' words and type in PUMPKINDEAL – click continue and fill in your info
IF YOU ARE PROMPTED, BE SURE TO SPECIFY ME – SARAH WILLS IN AUSTIN TEXAS – AS YOUR DEMONSTRATOR TO ENSURE THAT YOU GET YOUR FREE STORAGE CASE!
Please note that this promotion is for new subscribers only
You have nothing to lose so why not give it a whirl?
Once you have joined, every month you get a package delivered right to your door containing EVERYTHING you need to complete paper crafting projects – it comes packaged in a sweet box, and inside are all the stamps, ink, paper, and accessories you need to create projects like cards, journals, décor, and more!  The July kit was AWESOME – and contained a bunch of supplies to create party banners OR you could also use the items for cards & scrapbooking…
And even better, everything is pre-cut, color co-ordinated and measured – all you have to do is the FUN bit of putting it all together!  These kits would be fab to take on road/plane trips too!
IF YOU SUBSCRIBE AND THEN DON'T WANT TO CARRY ON AT THE END OF THE PROMOTIONAL PERIOD NO PROBLEM – you can cancel AT ANY TIME WITH NO PENALTY – it's brilliant and there is NO obligation to continue!
Got questions?  Click HERE to email them to me and I will be very happy to help.