That's right – today is the second Thursday in October which means that it is THANK YOU THURSDAY!!!
What does that mean?
It means that for TODAY ONLY you can get a FABULOUS deal on selected packs of Designer Series Papers…
What packs of DSP are on sale? 
Four packs are on sale – This and That Epic Day, Soho Subway (my FAV!!!), I am Me and Etcetera
Regular price is $10.95 – GET THEM TODAY FOR JUST $8.21 A PACK!
See piccy below for patterns…
How do you order them?
The full price is shown BUT as soon as you add a pack to your Shopping Bag, the sale price will be reflected and that is the price that you will pay – JUST $8.21!!!
BUT HURRY – THESE PACKS OF DSP ARE ONLY AVAILABLE AT THIS PRICE

TODAY ONLY

OR

WHILST STOCKS LAST

!!!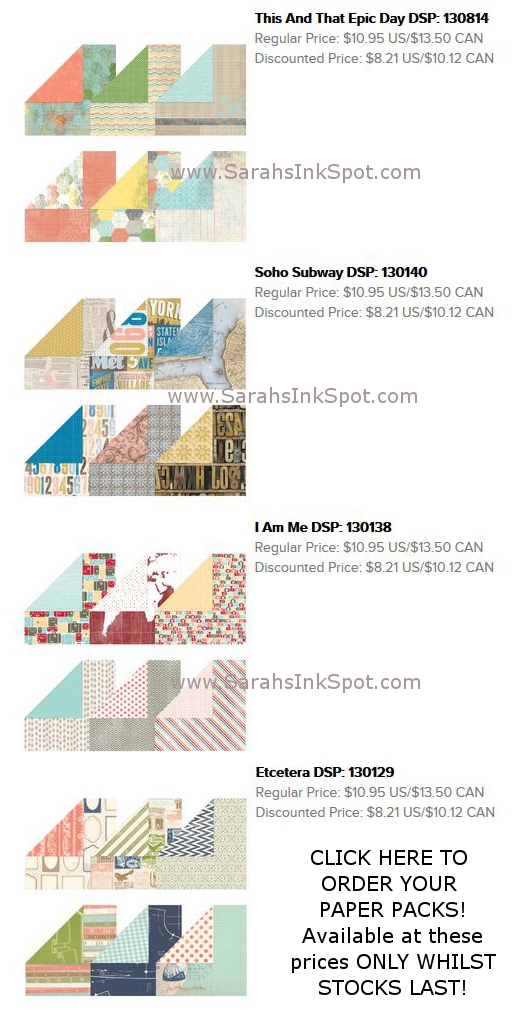 Got Questions?  I have the answers!  Click HERE to email them to me!
THANK YOU THURSDAY = ONE DAY ONLY SALE on selected Designer Series Papers!