One of my favorite stamp sets featured in the Holiday Catalog is the set Truly Grateful because it has some beautiful and classic images…but it is pretty hard getting into the Fall way of thinking here in Central Texas because the beginning of Fall is a little different to cooler climates!  See the end of my post for a few photos explaining what I mean…

You can find Truly Grateful on pg 19 of the Holiday Catalog and it is a set of 6 stamps featuring a cool rustic chevron background, two sentiments and three other images – a wheat bundle, an acorn and a log slice.
I received a wonderful card made by Glenda Travelstead in the Founders Circle Swap which was made using stamps from this set – I used her idea and changed it up a little to incorporate different embellishments…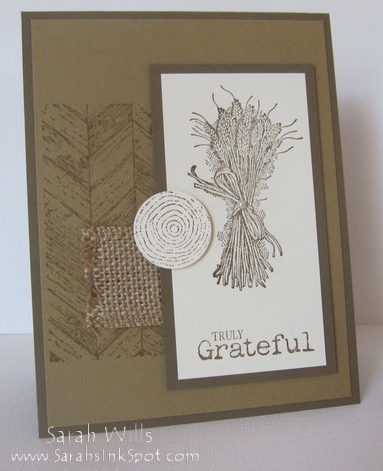 I decided to keep my card neutral with browns but a splash of color would be complimentary too…ALL stamps used on this card are from Truly Grateful – in fact I used four in total!
The card base…is Soft Suede cardstock onto which is layered a piece of Baked Brown Sugar (I LOVE typing that name – it always makes me crave donuts LOL!!!) – that layer is sized 4″ x 5 1/4″…
The background pattern…made using the rustic chevron stamp and Baked Brown Sugar Ink – you can use Soft Suede Ink for a stronger look…
The piece of burlap…burlap is definitely on trend right now and this piece comes from the spool of 1 1/4″ Burlap Ribbon that you can find on pg 18 of the Holiday Catalog – to make the end look a little frayed, just pull out a couple of rows of thread – easy & effective!  I love how it's rustic look fits perfectly with that background…
The center panel…is a piece of 2″ x 4″ Vanilla cardstock onto which is stamped the wheat bundle and the sentiment in Soft Suede Ink – I added a small Pearl onto the center of the bow and then layered it onto a piece of Soft Suede cardstock and attached it to my card using Dimensionals…please click on the photo below for a closer look…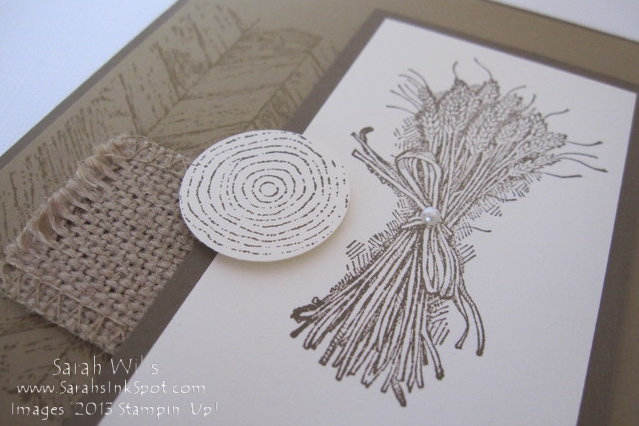 For the finishing touch…you can add a splash of color or keep it neutral like I did – I stamped the log slice image and then punched it out using my 1″ Circle Punch and added it using a Dimensional.
You can use this stamp set not only to make Thankful cards but also decor & place setting features & gifts for your Thanksgiving table this year…
Here are the images featured in the stamp set that I used today – they are all just gorgeous:

131733  Truly Grateful Clear Mount – $19.95
131730  Truly Grateful Wood Mount – $27.95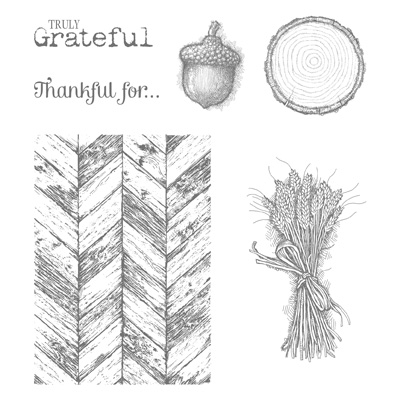 And these are the supplies that I used to make this card:
Stamps: Truly Grateful (CM 131733/WM 131730)
Cardstock: Soft Suede (115318), Baked Brown Sugar (131296), Very Vanilla (101650)
Ink: Soft Suede (126978), Baked Brown Sugar (131174)
Ribbon: 1 1/4″ Burlap (132140)
Punch: 1″ Circle (119868)
Misc: Basic Pearls (119247), Dimensionals (104430)
CLICK HERE TO ORDER YOUR STAMPIN UP SUPPLIES ONLINE!
I just wanted to give you a glimpse of what my world is like in early Fall in Central Texas…well, we have lost the high temps and now the mornings and evenings are cooler – we actually have had a couple of crisp mornings!  When we left for school on Monday is was 59 degrees – we havent had that temperature here since around March!!!
But our yard isn't showing the classic signs of fall that I have always associated with the changing of this season…we do have one tree that is showing signs of leaf color change…click on the photos below for a larger view…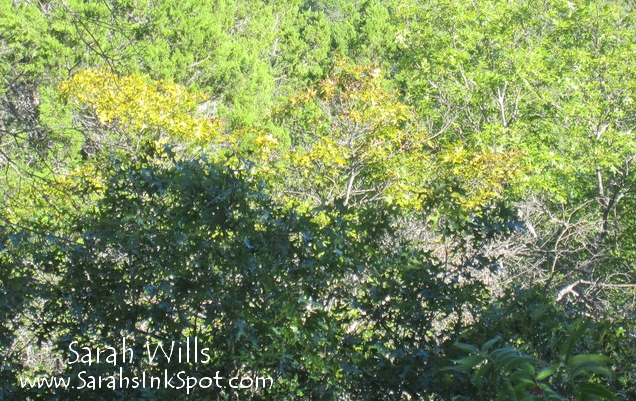 BUT the thing that is really different here in early Fall is that we have what appears to be a second spring!  We had no idea that this even happened before last year!  We have lived in a suburban area 10 miles away for 12 years and never saw this happen with the manicured landscapes surrounding us…
But when we bought our lot 2 years ago on the edge of the Hill Country, Fall took on a whole different meaning…there are lots & lots of wildflowers that spring up and the last two weeks has seen the landscape start blossoming – where there were dead brown sticks for grasses, our native grasses have bloomed and we have green grassy areas again…
And beautiful flowers are blooming everywhere – these are on the side of our driveway and these plants have been growing & growing all spring & summer long – they are about 5 ft tall and finally they have bloomed and are gorgeous…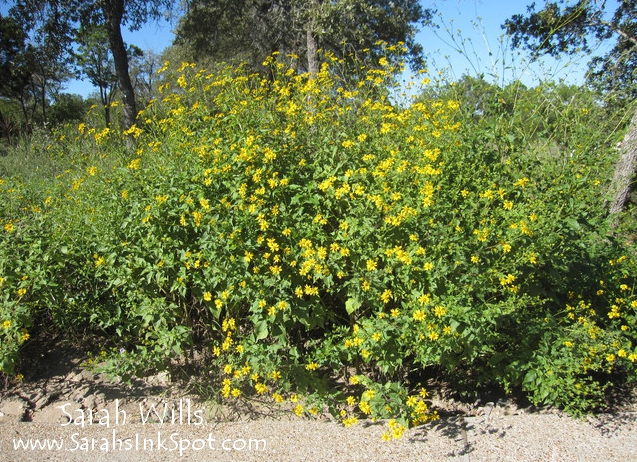 And the bees and butterflies are loving them!  And the funny thing is that we do not have an irrigation system because we want to have a native garden – all of this greenery & color is natural and it only receives water from the rain (which has not been very much!) and the early morning dew- it staggers me what can survive the summer here!
And down the slope we have this fantastic mix of rocks, prickly pear, yucca and wildflowers…and lots & lots of white daisies roam wild here…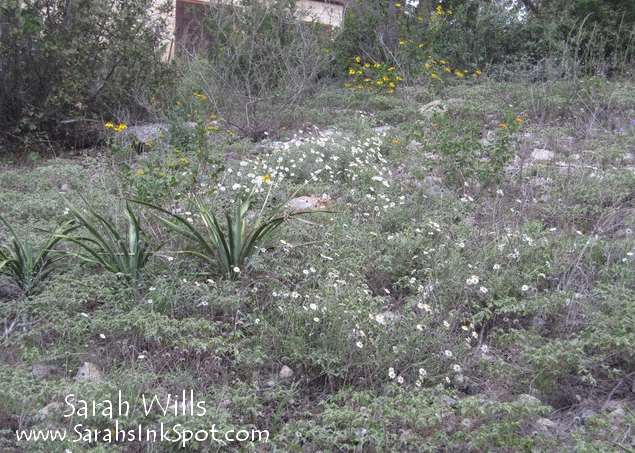 We love our little naturally xeriscaped corner of the world   :-)
Truly Grateful in Browns…