I was shopping in Target yesterday and happened upon the Christmas aisle…well, I didnt really happen upon it…I went looking for it LOL because I LOVE when the holiday items come in and I take ages to browse them all…
And I came across a super cute Owl ornament that I knew my girls would absolutely love because he is doing what they love to do – he is reading a book!  And then I got to thinking how I could use him to make them each a cute wreath to hang on their bedroom doors for Christmas…and then I realised that I could change it out for every season…
And so I got home and made them each a Fall themed wreath using that owl, some leaves that I made using the Autumn Accents Bigz Die and Burlap Ribbon which I am delighted to tell you is ON SALE THIS WEEK!!! – click HERE to find it!
So here is my Owl Wreath…isn't it cute?!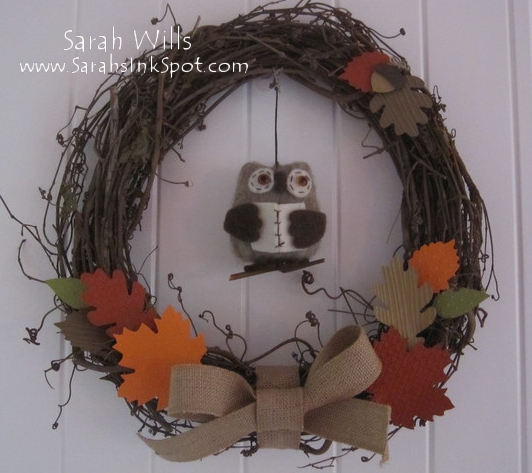 The grapevine wreath…I found in Michaels and it is sized at 14″ – I wanted it to be sized so that my owl could comfortably hang in the center and this size works out great – it cost $4.95…
The owl…I found in Target's Christmas section and he was priced at $3 – LOVE him!!!
The leaves…I made these using the Autumn Accents Bigz Die (pg 192) and let me tell ya, this die is a great one to have in your stash – not only does it co-ordinate perfectly with the Wonderfall stamp set, but it is so versatile – I have used it in lots of different projects this season and keep on finding uses for it!
I cut my leaves out of various fall themed cardstocks – Pumpkin Pie, Cajun Craze, Soft Suede, Old Olive, Baked Brown Sugar – and textured them using 3 different embossing folders:
Perfect Polka Dots
Square Lattice
Woodgrain
Click HERE to find them in the online store or on pg 190-1 of the Catalog
And you can see the results below…click on the photo for a larger look…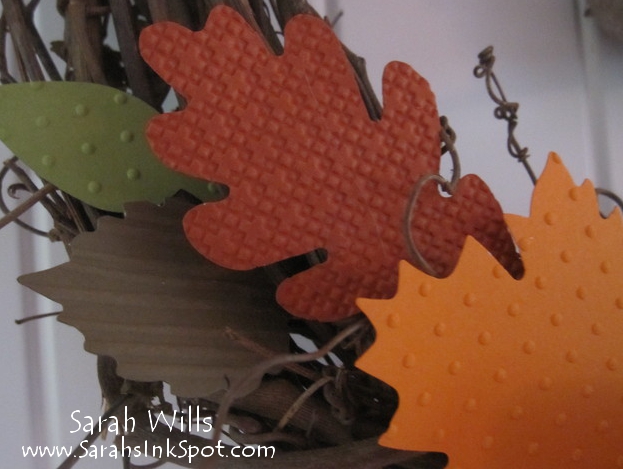 The bow…I made this using 1 1/4″ Burlap Ribbon that you can find on pg 18 of the Holiday Catalog – click HERE to find it in the online store – that ribbon is on sale through the 18th! – and I used hot glue to attach it to my wreath…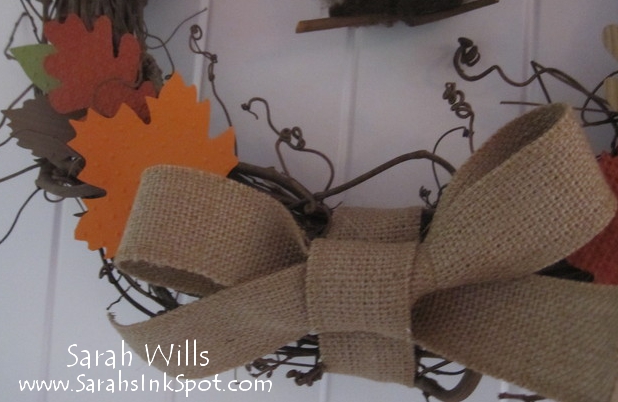 For a finishing touch…I added some leaves and an acorn (from the die Autumn Accents) to the top side of my wreath and tied a little bow using Linen Thread…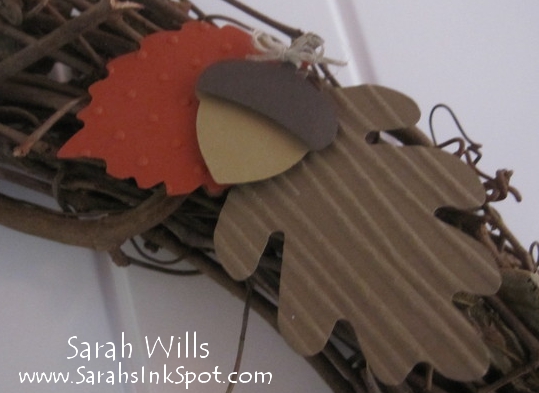 I think my girls are going to LOVE these when they see them after school today!To attach the wreath to the door I simply used a Clear Scotch Command Hook that you can find in any large big box store – I love that they now come in Clear so that you do not see them!
FINALLY it's beginning to feel like Fall!!!  Today we have a Canadian cold front roaring through the area and with it, the temps are going down…AND the leaves on our Texas Red Oaks are starting to change – it amazes me how suddenly that happens…here is one of my favorite tree's this morning…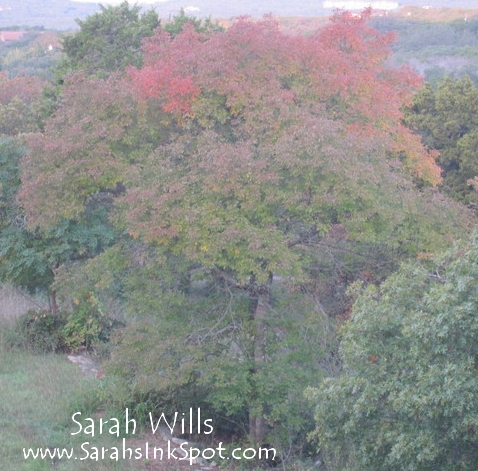 AND we are expecting to have a freeze tonight...I am thinking I'd better move in my tomato plants this afternoon…it still amazes me that you can grow tomatoes outside in October & November in Texas!!!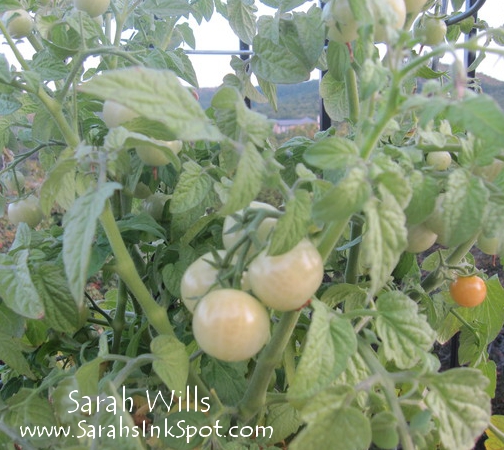 Got questions about today's project?  Click HERE to email them to me!
Supplies used to make this wreath:

Ribbon: 1 1/4″ Burlap Ribbon (132140) – ON SALE THRU THE 18th NOV OR WHILST SUPPLIES LAST!!!
Die Cutting: Big Shot (113439), Autumn Accents Bigz Die (127812)
Embossing: Woodgrain EF (127821), Perfect Polka Dots EF (117335), Square Lattice EF (119976)
Cardstocks: Pumpkin Pie (105117), Cajun Craze (119684), Soft Suede (115318), Old Olive (100702), Baked Brown Sugar (131296), Early Espresso (119686)
Misc: Linen Thread (104199), Dimensionals (104430), Owl (Target), Grapevine Wreath (Michaels), Hot Glue
CLICK HERE TO ORDER YOUR STAMPIN' UP! SUPPLIES ONLINE!
Fall Wreath using Autumn Accents and Burlap…and one cute Owl…