I love using up every piece of paper in a pack of DSP and this card is a fabulous way to do it…it is cost-effective, pretty and simply by changing papers & the sentiment you can use this design for any occasion…
I used papers from Season of Style DSP which you can find on pg 23 of the Holiday Catalog – I love this pack of papers but if you want to get some, get it fast because this paper will soon be retired when the Holiday Catalog ends in just over a week's time!
I made a bunch of these cards in no time at all for my girls' teachers and to go with them made co-ordinating boxes to hold a gift card and some chocolates…
First up, here is my card…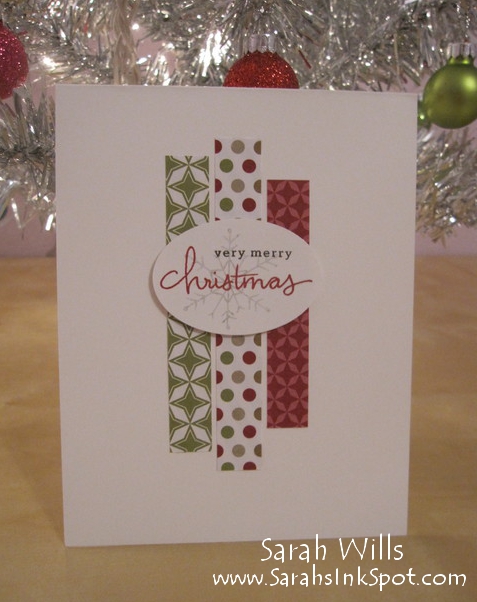 This card is inspired by a card made by Julie Davidson – Julie used Washi tape on hers but I wanted to use up scraps of paper and so set to work…
The card base…is simply Whisper White onto which I adhered my paper strips using Snail adhesive…
The paper strips…I cut three different patterns of papers from Season of Style DSP into 1/2″ strips – the longest in the center is 3 3/4″ long, the next is 3 1/2″ and the smallest is 3 1/4″…
That creates a very simply & quick backdrop to the sentiment.
The sentiment…all stamps I used are from the set Endless Wishes…the snowflake was stamped using Smoky Slate ink – now to get an image that I could stamp over and which would not be too strong, I inked up my snowflake stamp and stamped it onto a piece of scrap paper – without inking it up again, I stamped it again onto a piece of Whisper White – this gives a much paler image for the background.
I then stamped 'Christmas' onto that snowflake image using Cherry Cobbler ink and 'very merry' using Early Espresso ink – once done, I simply punched out my tag using the Extra Large Oval Punch and added it to my card using Dimensionals…here is a close-up…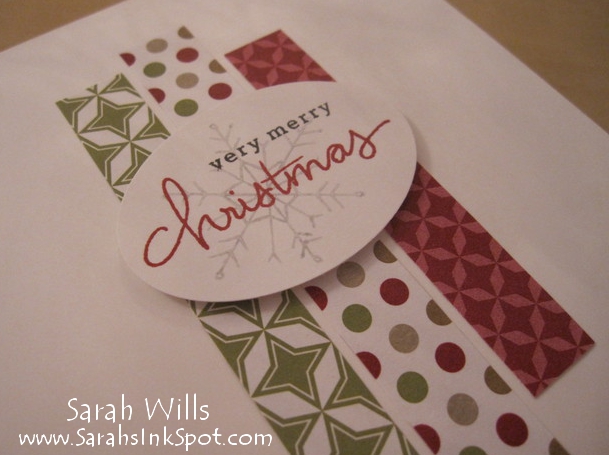 Gift Card Boxes…
I had some gift cards to give to the teachers and so decided to package them up in a co-ordinating box…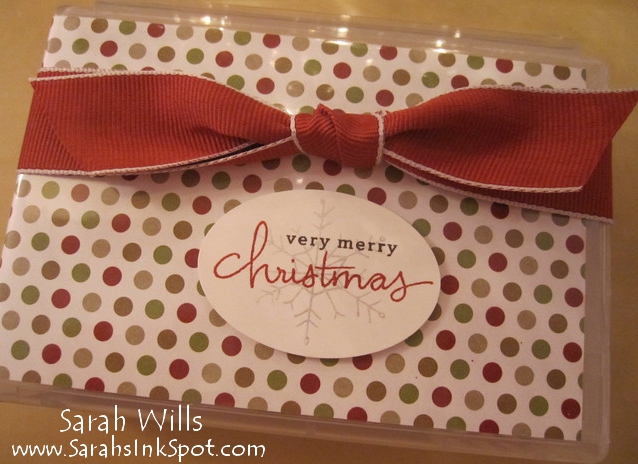 Isn't that cute?  The box is a plastic Half Wood Mount Stamp Case that is decorated using patterned paper, a ribbon and tag – easy, fast & fun to make – and a great price at just $1.24 per box, you can use them for packaging a gift card for any occasion during the year!
Click HERE to find these Half Wood Mount Stamp Cases in the online store – you get 4 in a pack for just $4.95!

Here is the inside…it opens up to reveal a gift card and three Hershey Nuggets that I covered with the same papers…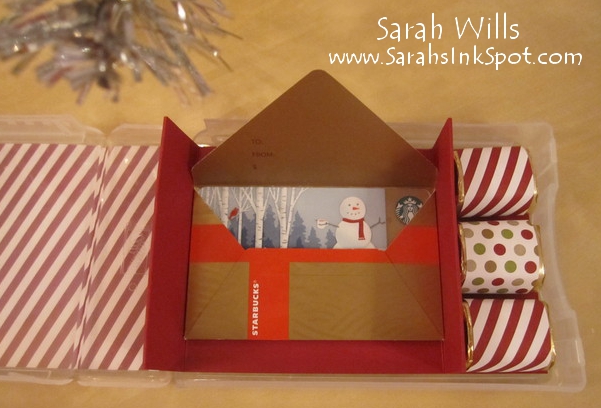 This idea is courtesy of Deb Snyder who was kind to show us this idea at Founders Circle in September – thank you Deb – the teachers loved them!
To make them you simply cut a piece of DSP to measure 11 1/4″ x 3 1/4″ and slide it into the plastic case – easy & fast!
Then to make an insert to hold your gift card & nuggets in place, simply take a piece of cardstock (I used Cherry Cobbler) and cut it to be 8 7/8″ x 3 1/4″ –  then score along the long edge of your cardstock at 1″, 2″, 5 1/2″, 6 1/2″ and 7 1/2″
Fold along those score lines to create the shape you see above – you will end up with a large section to hold your gift card in place and a small section on the end that is perfect for holding 3 Hershey Nuggets or similar sized candies – yum!!!
Once done, I tied around a piece of 1″  Stitched Edge Cherry Cobbler Ribbon and finished with a knot on the top and added a tag.
And here is a photo of my two completed items together…click on the photo below for a larger view…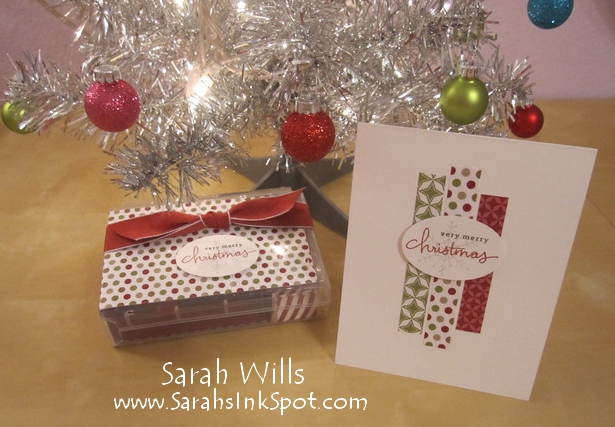 Supplies used to make these items:
Cardstock: Whisper White (100730), Cherry Cobbler (119685)
Box: Half Wood Mount Stamp Cases (127552)
DSP: Season of Style DSP (132340)
Ribbon: 1″ Cherry Cobbler Stitched Edge Ribbon (132135)
Inks: Cherry Cobbler (126966), Smoky Slate (131179), Early Espresso (126974)
Punch: Extra Large Oval (119859)
Gift Card & Hershey Nuggets
CLICK HERE TO ORDER YOUR STAMPIN UP SUPPLIES ONLINE!
Paper Scraps Card with co-ordinating Gift Card Box…