Here are this week's Weekly Deals – they will be offered for ONE WEEK ONLY from today through Monday December 16th OR WHILST SUPPLIES LAST and with the prices discounted by up to 50%, if you want anything at these great prices, hurry & get your order in before they're out of stock!
CLICK HERE TO FIND THESE DEALS IN THE ONLINE STORE!
Click on the picture below for a larger view…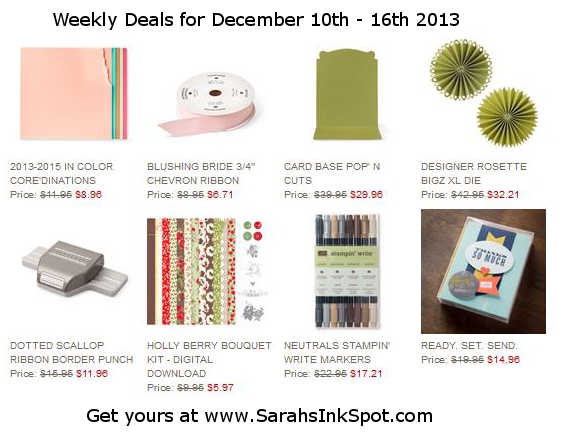 Here is a list of what is on sale from today:
Designer Rosette Bigz XL Die – on Sale for $32.21 (reg price $42.95)
Card Base Pop n Cuts – on Sale for $29.96 (reg price $39.95)
Dotted Scallop Ribbon Border Punch – on Sale for $11.96 (reg price $15.95)
Neutrals Markers – on Sale for $17.21  (reg price $22.95)
2013-2015 In Color Core-dinations – on Sale for $8.96  (reg price $11.95)
Blushing Bride 3/4" Chevron Ribbon – on Sale for $6.71 (reg price $8.95)
Ready Set Send – on sale for $14.96 (reg price $19.95)
Holly Berry Bouquet Kit – Digital Download – on sale for $5.97 (reg price $9.95)
CLICK HERE TO GET YOUR WEEKLY DEALS!
THE WEEKLY DEALS WILL BE UPDATED EVERY TUESDAY and you will be able to find them in the online store in the Weekly Deals section HERE so be sure to check what is on Sale every Tuesday!
Want an easier way to find out what the new Weekly Deals are as soon as they are posted?
If you are a Facebook users, like SarahsInkSpot on Facebook and you will receive the notification automatically in your news feed meaning you won't have to remember to go check the store each Tuesday – how cool is that? 
CLICK HERE TO LIKE MY FACEBOOK PAGE AND GET THOSE NOTIFICATIONS IN YOUR NEWS FEED!
This week's Weekly Deals are here – for December 10th through 16th…