It's January 28th which means that THE BIGGEST STAMPIN UP EVENT OF THE YEAR – SALE-A-BRATION 2014 – IS HERE!!!

And it brings with it TWO WAYS for you to get your freebies:

When you shop during Sale-a-bration you get to choose ONE ITEM FOR FREE from the Sale-a-bration Brochure for EVERY $50 that you spend!
Click HERE

to view the Sale-a-bration Brochure online

Click HERE

to view the items that you get for free in a list format – this is an easy way to see everything on one page and you can print it out for easy reference!
If you prefer to have a paper copy and do not currently have a Demonstrator, please email me by

clicking HERE

and I will get one out in the mail to you along with some samples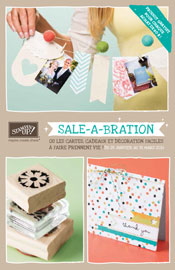 Sale-a-bration is THE best time to stock up on all your basic supplies such as papers, ink pads, card stocks, ribbons, refills & envelopes that you know you are going to use during the year  – BECAUSE YOU GET TO CHOOSE FREE ITEMS WITH YOUR PURCHASES!
How does Sale-a-bration work?
Sale-a-bration runs from NOW through March 31st 2014
During Sale-a-Bration you get to choose ONE FREE ITEM from the Sale-a-Bration Brochure for EVERY $50 that you spend
It doesn't matter what you buy – anything from any current promotion, the Clearance Rack, Spring Catalog, paper, ink, markers, dies, embellishments, stamp sets, décor elements, a Big Shot etc – ANYTHING that you purchase from Stampin' Up! counts!
There are NO limits – meaning when you spend $100 you get to choose 2 free items, spend $150 and you get to choose 3 and so on…
AND when you spend $150+ you get Hostess Benefits AS WELL AS YOUR SALE-A-BRATION FREEBIES – you get to choose:
at least 3 Free Sale-a-bration items
PLUS you get your Hostess Benefits – at least $25 in Hostess Dollars to choose free items with!
AND when you spend $300+ you get to choose:
at least 6 Free Sale-a-bration items
PLUS you get your regular Hostess Benefits – $50 in Hostess Dollars…
PLUS DURING SALE-A-BRATION YOU GET A

BONUS

$30 in Hostess Dollars – that's right – on orders of $300+ you are going to get an EXTRA $30 to spend – on a $300 order that gives you a TOTAL OF $80 IN HOSTESS DOLLARS TO USE!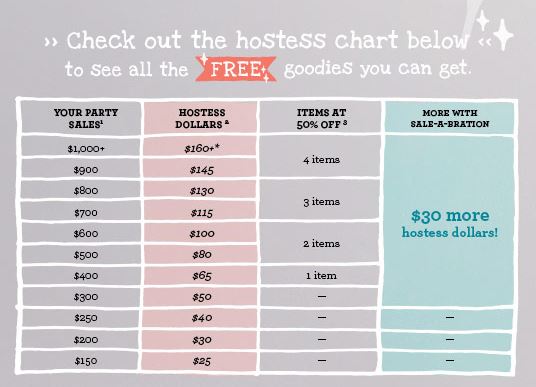 HOW DO YOU PLACE YOUR SALE-A-BRATION ORDERS?
BUT if you are planning to place an order of $100+ soon you really should think about joining – you have absolutely nothing to lose and SO MUCH to gain – there are NO obligations and lots of fun times ahead…

BUY YOUR STARTER KIT DURING SALE-A-BRATION AND YOU'LL GET TO CHOOSE $150 WORTH OF PRODUCTS TO FILL IT AND PAY JUST $99!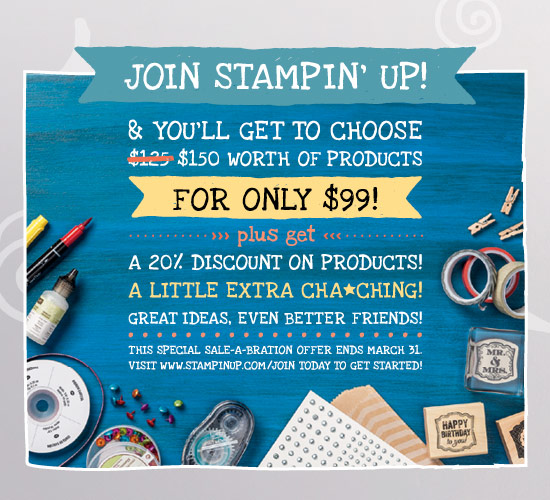 Here are the details:
your Starter Kit will cost JUST $99 and you get to choose $150 in products to fill it! 
that's right – YOU choose $150 worth of absolutely ANY PRODUCTS THAT YOU WANT to put in your kit and pay just $99 for them!
Think of that as one BIG coupon!
a FREE Business Supplies kit comes with it to including a bunch of catalogs for you to give away
this a fabulous deal AND it ships for FREE too!
CLICK HERE

TO READ MY FAQ's

AND YOU GET YOUR CONVENTION REGISTRATION THIS YEAR FOR FREE TOO!
SO LETS DO THE MATH –
YOU PAY $99 AND FOR THAT YOU GET

:
A KIT WORTH $150
A FREE BUSINESS SUPPLY KIT WORTH $65
= $265 IN PRODUCTS YOU WILL RECEIVE – FOR PAYING JUST $99!!!
No – absolutely none – no risk, no obligations!
You can join simply to get this great Kit deal!  Or join for the discount!  Or join to make some money – the choice is yours!
You have no obligation to purchase anything else ever again
If you decide not to continue after June 30th, you simply drop – that is perfectly OK – you get to keep everything!
yes – to remain an active Demonstrator you need to purchase or sell $300 in products every quarter
Quarters run Jan-Mar, Apr-June, July-Sept, Oct-Dec
BUT the quarter you join in is WAIVED – meaning when you join in January – NOW – you have until June 30th to make this!
Will you have to sell any Stampin Up products or can you just join to get a fabulous discount

?
NO – you do not have to sell anything to anybody!
Stampin' Up! does not put any pressure on any demonstrator to do anything EVER – it is a wonderful company to be a part of
you can join simply to get a fabulous discount on your favorite crafting supplies and only ever make purchases for yourself
If you used to be a Demonstrator but dropped, can you re-join to take advantage of this great offer

?
Give it a whirl…I did 6 years ago and never looked back

!
You have NOTHING to lose and everything to gain
I absolutely LOVE what I do and joined just to get the discount!  I loved it so much that my business took off!
And if you decide the same thing, I can help you to succeed and earn LOTS of perks!
Think of it simply as a fun shopping spree with the perk of getting extra freebies and joining as the icing on the cake!
You will get 30% off of your first Demonstrator order of $150+ AND you get Hostess Benefits AND Sale-a-bration freebies on that order too!
You get a regular 20% discount on all of your orders
PLUS you get Hostess Benefits & all offers that customers do on ALL of your own orders
there are communities of Demonstrators to interact with online and all the help & support you need
Yup – every year Stampin Up holds an annual Convention in Salt Lake City – thousands of demonstrators attend!
There are giveaways, demonstrations, classes, make & takes, swapping – you'll make lots of new friends – it is a fabulous event!
The Convention fee is $300…
BUT when you join right now Stampin Up is going to waive the Convention fee for you – that is a $300 value – you get your Convention Registration paid for – that is an AWESOME deal!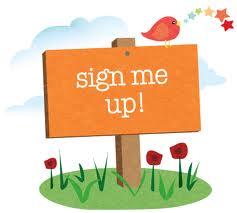 Already decided and are ready to join right now?
Click HERE to join instantly online
That link takes you to a page where you can find a video & further information – and a Join Now button!
You will get your Demonstrator number & information via email immediately
You can place your first order today!
Got Questions?
  Email them to me by
CLICKING HERE
and I will be very happy to help…
HAPPY SHOPPING & SALE-A-BRATING!
SALE-A-BRATION IS HERE!!!