I decided that I really need to get down to making some more Valentine cards since we're less than two weeks away from the big day…how did it creep up so quickly?!
And I also decided to challenge myself and use gold colors…when it comes to gold and silver, I am a silver girl every time…I guess I just gravitate towards it!  But for a new year challenge to myself, I decided that I need to branch out more and use colors that I rarely use…and so the first is gold…
And so I put both together and came up with a Valentine's card featuring a row of gold hearts…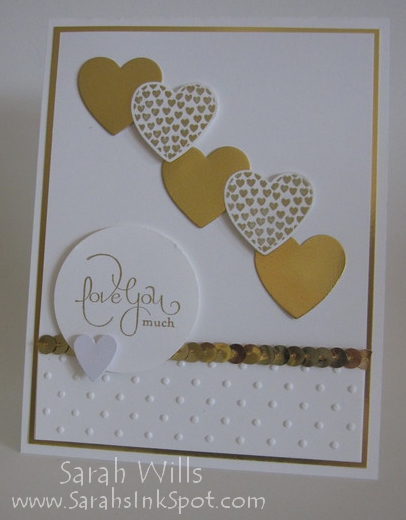 This card would also make a great Anniversary or Wedding card simply by switching out the sentiment.
The card base…is simply Whisper White onto which I layered a piece of Gold Foil Sheet (pg 23 Occasions Catalog)…I then layered on another piece of White to add my embellies onto…I just LOVE how that thin gold frame provides a beautiful backdrop and ties in perfectly with the hearts…
The stamped hearts…are made using a cute stamp from Hearts a Flutter (pg 124) and I stamped them using Gold Metallic Encore Ink (pg 29 Occasions Catalog) onto White cardstock – I then used a perfectly co-ordinating heart shaped die from Hearts a Flutter Framelits (pg 187) and the Magnetic Platform to hold them perfectly in place so that I could die cut them out accurately the first time!
Not used the Magnetic Platform?  Once you have you will wonder why you didn't get it long ago!  You can find it by clicking HERE – it is a very powerful magnetic base and dies literally adhere to it so that when you run them through your Big Shot, the die does not move a wiggle – it stays firmly in place and so you cut exactly where you want to every time which is a great time saver when you are die cutting stamped images!

The gold hearts…are made using the same heart shaped die but this time I die cut them out of a Gold Foil Sheet – I adhered them on a diagonal and then added the stamped hearts on top of them using Dimensionals to make them 'pop'…isn't that a cute look?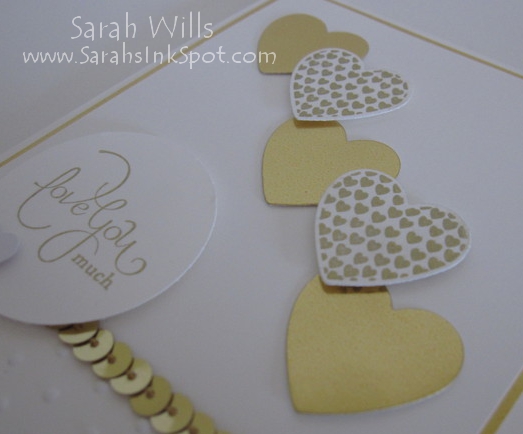 Please excuse the bad light in my photos today – it's an icy, dark day and I just couldn't get my light settings correct!
The polka dots…super easy to make using a strip of White cardstock and the Perfect Polka Dots Embossing Folder (pg 191)
The gold sequins…aren't they sweet?  So easy to add – I simply cut a piece of Gold Sequin Trim (pg 23 Occasions Catalog) and attached it to the back on the top layer…
SARAH'S TIP:  this is easy to do when you peel off just a few sequins from each end to reveal the string beneath – then you can easily fold the string under to adhere to your layer
The sentiment…I had forgotten how much I love this cute stamp – it was in a set that was retired but came back in the Best of Love stamp set as part of the 25th Anniversary Best of series – I stamped it in the same Gold Metallic ink and punched it out using the 1 3/4″ Circle Punch and added it to my card using Dimensionals…
The finishing touch…I found a cute little White heart that was left over from my Everyday Expressions Cardmaking Kit ( I love that you get extras in these kits to use on something else!!!) and added it to my sentiment tag…
Here are those Hearts a Flutter products that make those hearts fun & easy to make – click on the blue words to view each in the online store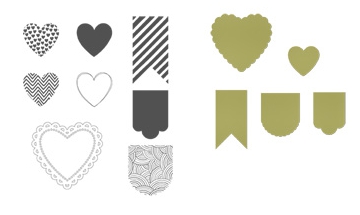 I just love how easy to use these co-ordinating stamps & dies are!
Supplies used to make this card:
Cardstock:  Whisper White (100730)
Specialty Paper: Gold Foil Sheets (132622)
Stamps: Hearts a Flutter (CM 129252/WM 131922); Best of Love (132987)
Ink: Gold Metallic Encore (132141)
Die cutting: Hearts a Flutter Framelits (130159), Magnetic Platform (130658), Big Shot (113439)
Embossing: Perfect Polka Dots Embossing Folder (117335)
Trim: Gold Sequin Trim (132983)
Punch:  1 3/4″ Circle (119850)
Misc: Dimensionals (104430), Everyday Expressions Cardmaking Kit (134797)
CLICK HERE TO ORDER YOUR STAMPIN UP SUPPLIES ONLINE!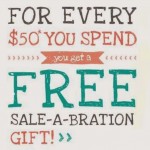 Stay warm and safe wherever you are in the country…it is even cold here in Central Texas…yesterday school was delayed by 2 hours and today we have a school closing due to ice!
My two cats however are LOVING this cold weather…they get as close as they can to the wood fire every evening…I loved last night how they were anticipating me lighting the fire…I set it and went away to get the lighter…they were already there waiting for me to light it upon my return LOL…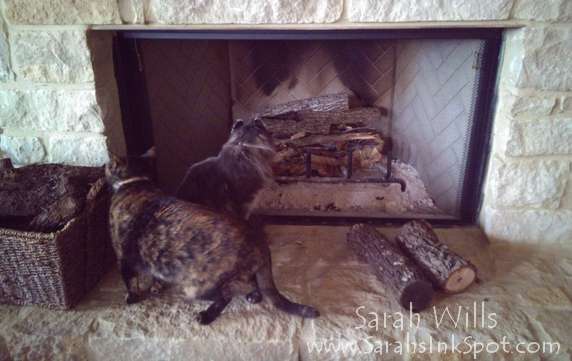 It's like they were saying 'come on, hurry up, get the fire going!" – and they proceeded to spend the entire evening in their respective spots on the sofa staying nice & toasty warm – they really didn't move for 7 hours!!!
What a life, to be a cat…