Today I wanted to show you three very quick & easy treats that I made for Valentine's Day…these little packages contain a yummy treat inside and are a breeze to make…

As much as I have grand ideas for treats, sometimes I simply run out of time to make them but because I still like to give handmade gifts, I wanted to show you some great treats that (if you are like me & run short on time) you can whip up in minutes!
These little packages each contain a Ghiradelli square – they are simply delicious and to be honest, most of them don't make it out of the house so I always have to buy an extra pack just for me because I cannot resist them!!!
I made three slightly different versions to show you how versatile this idea is…you can keep them simple or jazz them up – and the best bit is that you can use what you have to hand to create fabulous treats that everyone will love…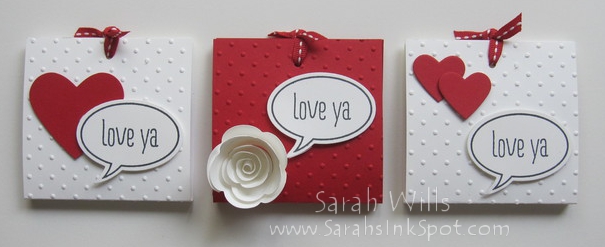 Once I made them, I realized that they would also be fantastic for wedding & bridal shower favors – which is your favorite one?  I'm steering towards the red one but it's a tough choice…
The bases…are super quick & easy to make – simply take a piece of cardstock in the color of your choice (I used Whisper White & Real Red) and cut it to measure 6 1/4″ x 3 1/4″ – and then place into your scoring tool or trimmer with the long edge along the top and score at 3″ and again at 3 1/4″ – and this is what you will have…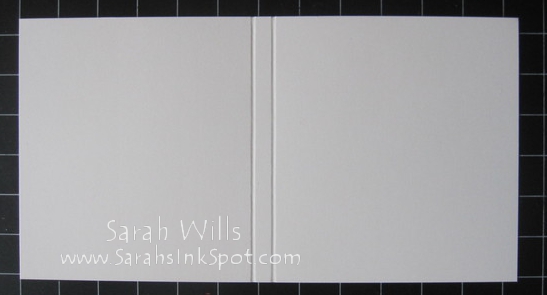 The texture…you can leave it plain but I wanted to give mine a textured background and so I used the Perfect Polka Dots Embossing Folder (pg 191) to give them some whimsical cute dots.
To assemble…fold along those two score lines and pop your Ghiradelli chocolate square inside – I use a little bit of SNAIL to hold it in place on the back wall – and then make a small hole using a 1/8″ circle punch and thread through some ribbon – I used Real Red 1/4″ Stitched Grosgrain Ribbon (pg 173) on all of mine – and finish with a knot or bow on the top.
Decorating them…this is my fav part because you can make them all the same or try different ideas on each…
On all I used the same sentiment which again is whimsical and fun – the 'love ya' speech bubble is from the stamp set Just Sayin' (pg 36 Occasions Catalog) – and used a perfectly co-ordinating die from Word Bubbles Framelits (pg 36) with my Big Shot to cut it out – and then I had fun playing with different looks…
The white big heart one…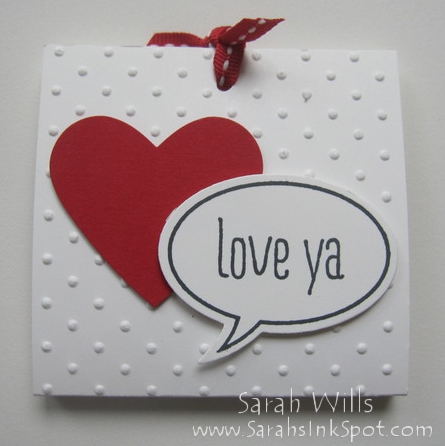 This is super simple – I used the Full Heart Punch (pg 183) to punch out my heart from Real Red cardstock and adhered it to my base – I then simply added my 'love ya' speech bubble over it using Dimensionals…LOVE this look!
The red one with the beautiful white rose…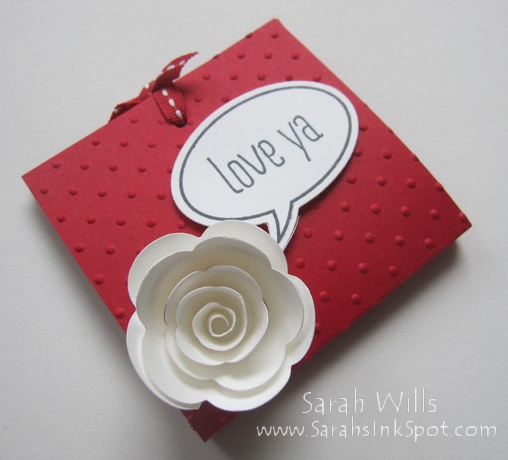 Now THIS one is stunning – LOVE that simple white flower and it is so much fun to make using the Spiral Flower Die – you simply die cut it out and wind the shape around & around and it magically turns into a beautiful flower!
You can find the Spiral Flower Die on pg 32 of the Occasions Catalog or online by clicking HERE – at $17.95 it is an amazing price for a die that creates 3-d items – I can see all sorts of uses for it in the upcoming months – imagine what gorgeous things you can make for Mothers Day!!!
And to make it easy for you to see how to use it, Stampin Up have created a video that you can find below – click on the play button in the center to watch it…
I just LOVE that die – I have lots of plans in mind for using it and will be showcasing some of them soon…
And the last one…the white one with the small hearts…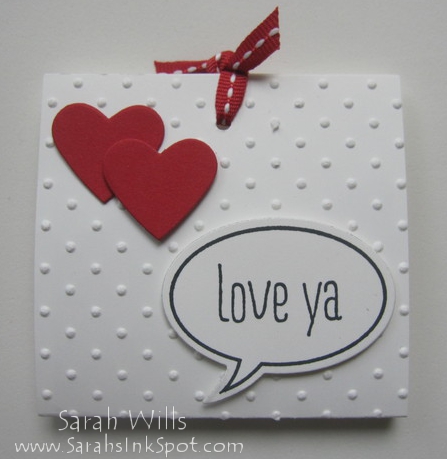 I made my two small hearts using a die that is included in Circle Card Thinlits but the Small Heart Punch (pg 183) would work just as well – LOVE those cute little hearts!!!
So these are the treats that my girls are going to be handing out this year…if I don't eat all the chocolate first!!!
So going back to that cute speech bubble which I absolutely love…it comes from Just Sayin' which features some fun bubble sentiments and they all have co-ordinating dies in Word Bubble Framelits that makes cutting them out & adding them to your projects fast & easy…
SARAH'S NOTE: and did you know that you can BUNDLE UP AND SAVE 15%when you purchase these two items together?  That's right – buy Just Sayin' stamp set with Word Bubbles Framelits in a bundle and get 15% off!  Click HERE to find those Bundles!
Click on the picture below for a larger look at those stamps in Just Sayin' – there are some very cool sayings!  Available in both clear & wood versions, here are the order details:
Supplies used to make my treat packages:
Cardstocks: Whisper White (100730), Real Red (102482)
Stamp set: Just Sayin' (CM 133203/WM 133200)
Die Cutting: Word Bubbles Framelits Dies (132968), Spiral Flower Die (129379), Circle Card Thinlits (133480), Magnetic Platform (130658), Big Shot (113439)
Embossing: Perfect Polka Dots Embossing Folder (117335)
Punches: Full Heart (119883), 1/8″ Circle Punch
Ink: Stazon Black  (101406)
Ribbon: Real Red 1/4″ Stitched Grosgrain (126875)
Misc: Dimensionals (104430), Ghiradelli indvidually wrapped chocolate squares (I used Dark Chocolate Raspberry – YUM!!!)
 CLICK HERE TO ORDER YOUR STAMPIN UP SUPPLIES ONLINE!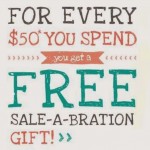 A Trio of easy to make, in a hurry Valentine Treats…