I love love love working with brown tones and today I decided to use them along with one of my favorite punches to create an eye catching card…
The punch I used is called Petite Petals – you can find it on pg 33 of the Occasions Catalog along with it's co-ordinating stamp set that features 6 beautiful flowers – they ALL fit this punch perfectly making it super easy to make quick & beautiful cards!
Here is my card…it is hard to see from this photo, but the flower petals are all curving upwards to give nice definition – you can find a photo where I was able to capture that a little better further down in my post…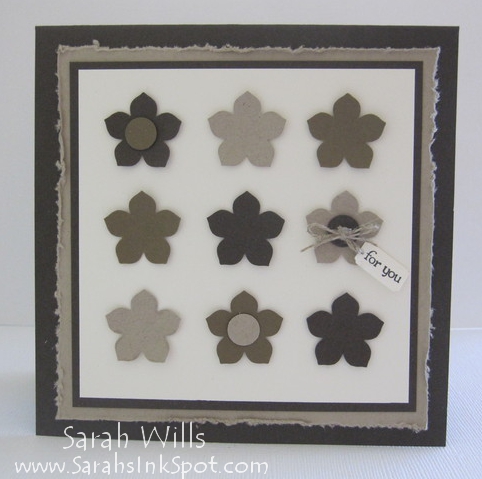 I love how those browns work well together – and those flowers are so sweet!
The card base…I wanted to create a square card and so I cut my base to be 5″ square out of Early Espresso cardstock.
The raggedy layer…I took a piece of Crumb Cake sized at 4 1/2″ square and ran each edge along my scissors to get this ragged edge look – when you do this be SUPER careful with those sharp scissors!!!
The top layers…I then cut another piece of Early Espresso to be sized at 4 1/8″ and then a piece of Very Vanilla sized at 4″ on the very top to use as the backdrop for my flowers – I love how that thin dark brown edging around the vanilla really frames the feature layer and draws in the base at the same time…
The flowers…are made using the Petite Petals Punch and three colors of cardstocks – Early Espresso, Soft Suede and Crumb Cake – I laid them out to find the sequence I wanted, use my fingers to curl up those petals and attached them in place using Mini Glue Dots…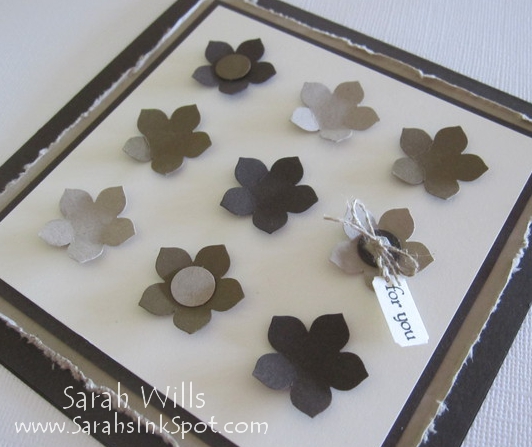 The flower centers…for three flowers I wanted to add a center and did this using those three different colors and the 1/2″ Circle Punch (pg 182) and for one of them, I wanted to add a tag too…
The tag…is stamped using a stamp from Teeny Tiny Wishes (pg 44) and Early Espresso Ink and then I punched it out using the Ticket Duo Punch (pg 180) and attached it to the flower using a bit of Linen Thread (pg 173)
The finishing touch…I decided it needed a little something extra and so tied a bow in the center of the flower and just LOVE how cute it looks!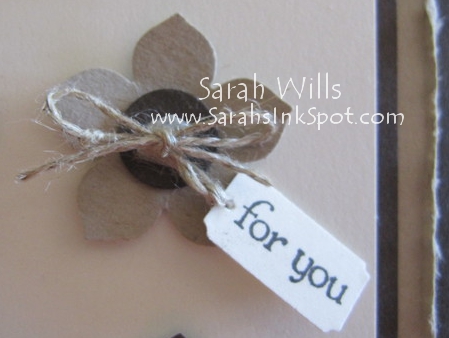 I love this sweet card and that punch is just adorable – here it is – click on the blue words below to see it in the online store…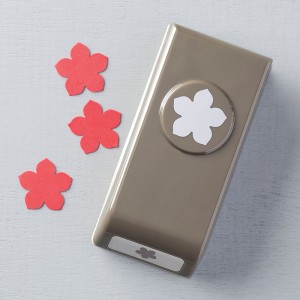 Supplies used to make this card:
Cardstocks: Very Vanilla (101650), Early Espresso (119686), Crumb Cake (120953), Soft Suede (115318)
Stamp:  Teeny Tiny Wishes (CM 127802/WM 128748)
Ink: Early Espresso (126774)
Punches: Petite Petals (133322), Ticket Duo (126883), 1/2″ Circle (119869)
Misc: Mini Glue Dots (103683), Linen Thread (104199)
CLICK HERE TO ORDER YOUR STAMPIN' UP! SUPPLIES ONLINE!
Rows and Rows of Petite Petals in Browns…