I absolutely LOVED April's Kit – it is called Framed Love and features a cute white photo frame and a big bag of supplies to make something special to pop inside…
PLUS a cute belly band that acts as packaging for it…but of course I couldn't leave it there – I had so many supplies left over from that Kit that I decided to play and put together a couple of cards too!
Here is what the kit is designed to make…how cute is that?  I love that you get to choose your tag from two options…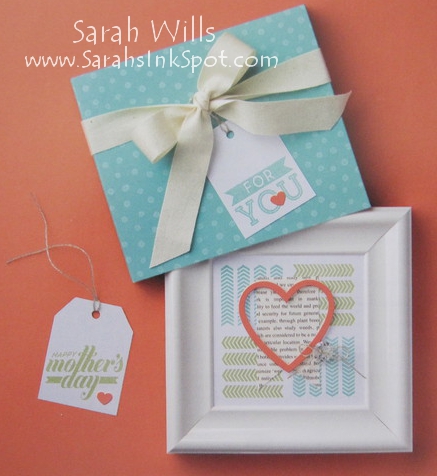 As well as all of the consumable supplies (with bunches of extras!)  it also contained a 3 piece stamp set that features some cool images – the 'happy Mothers Day' and 'for you' stamps that you see above along with that cool stamp that has 4 chevron-arrows on it – LOVE it!
I decided that maybe not everyone would want to make a framed gift with it so I decided to show you a couple of cards that I made using the supplies in that kit to get your mind working about possibilities…
I wanted to use the same focal point so that you would be able to put the cards together easily using the instructions and what is in the box (except for that brown ink on one of them!) and here are my cards…
First I made a Mother's Day card…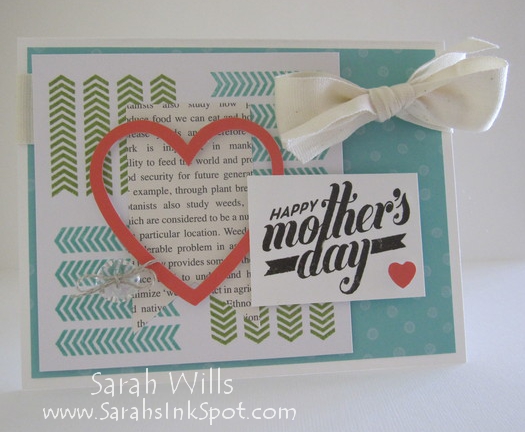 I simply mounted it onto a Whisper White card base and for that cute blue polka dotted layer, I opened out and cut up the belly band piece – there are enough to make 2 card bases in that one section.
I then and put the Cotton Ribbon along the top behind the feature layer and I still added a big bow because I LOVE how feminine big bows are!
You can see that the central focal layer is the same as what you put in the frame – and then I just stamped the Happy Mother's Day sentiment using Early Espresso Ink, added a little Calypso Coral die cut heart and added it to my card using Dimensionals…
Why did I chose to go with brown ink rather than the blue or green that is in the kit?  I tried both of them but that sentiment really wasn't popping and I wanted it to…and so I decided to make that happen I needed to go dark and choose my favorite brown – Early Espresso – to make the statement!
I decided to use the other sentiment in the kit on my second card to create a card to give to another special person…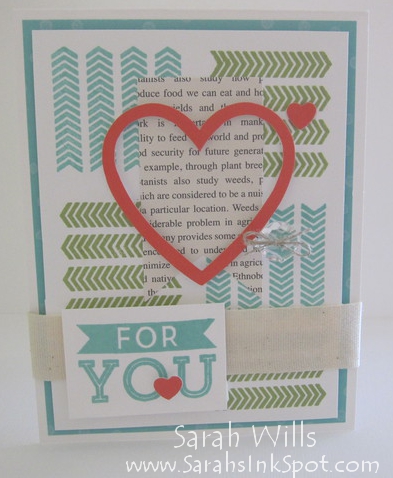 So the base on this card is the same as the card above except it is portrait orientation…
I kept the same focal layer but extended it down a bit with more chevron arrows and also added a little extra Calypso Coral die cut heart next to the big heart…
Aand on this card I wrapped that Cotton Ribbon around on top of the feature layer and added that sentiment on top of it using Dimensionals…and for a cute touch I added another die cut heart to it.
I just LOVE how versatile this Kit is and cannot wait to get my hands on next month's!!!
If you want to get next month's Kit too so that you can play along, find the subscription options by clicking HERE

April's Paper Pumpkin Kit…