I am in the process of putting together a scrapbook featuring favorite family memories over the last 10 years and when looking through photos, one really grabbed my attention…
It is a photo of one of my girl's and her daddy at a wedding a few years ago and I just love it…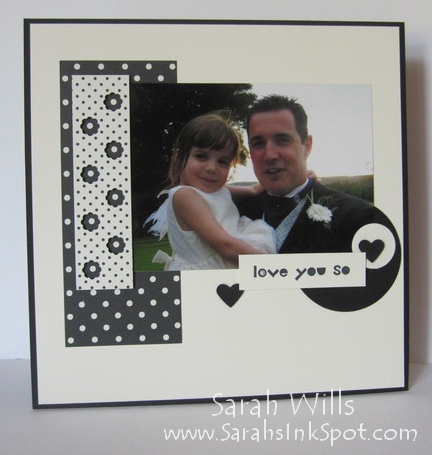 I love the mix of black & white and the bright green grass and the early evening sun and those happy faces…as soon as I saw this photo it was a must-have in my album!
The page base…is sized at 8×8 – I love working with that size because even a 4×6 photo (the size I used on my page) takes prominent place on the page.  I used a piece of Basic Black for the backdrop and layered a piece of Very Vanilla on top for my creative base layer…
The patterned papers…those polka dotted papers are both from Modern Medley DSP (pg 154) – I added a strip of the black with large vanilla dots to the base (sized 6″ x 2 1/2″) and positioned my photo on the top…
The flowers…I then added a piece of vanilla with smaller black dots on top of that, sized 4 1/2″ x 1″ – I realized that I could use a small flower punch from Itty Bitty Punch Shapes Pack (pg 180) to punch flower shapes all the way along and that the dots of that paper underneath would show through to create flower centers – and it turned out brilliantly!!!
When I had finished punching my flowers, I added this layer on top of the other polka dotted layer using Dimensionals for a cool 3-D look…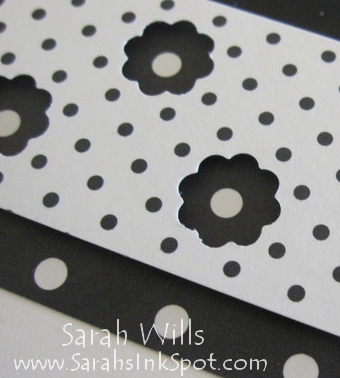 The black circle…just under the bottom right side of the photo I decided to add a circle of black cardstock to keep that circle theme going on the other side of the page – I used the 2 1/2″ Circle Punch (pg 182) to make it and popped it just under the corner of the photo…
The small vanilla circle…I wanted to add a vanilla circle layering the photo and black circle, and created this using the 1″ Circle Punch (pg 182)…
The sentiment…is from the set Geometrical (pg 26 Occasions Catalog) and stamped it using Basic Black – I then trimmed it to size and added it to my card using Dimensionals…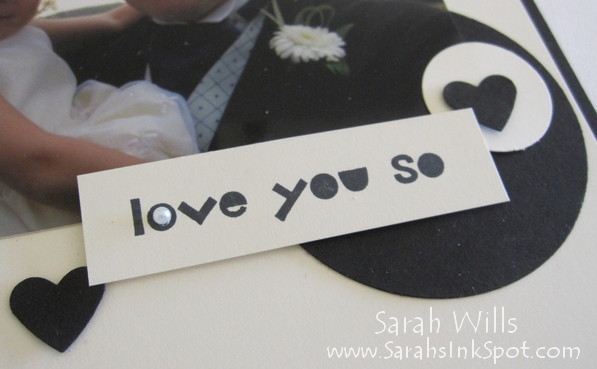 The hearts…I added two black hearts just under the sentiment at each side…I made them using the Small Heart Punch (pg 183) and love how these little hearts fit right in with that sentiment and the theme of my card…
The finishing touch…I added a small Pearl (pg 171) to the 'o' in love on my sentiment – a cute touch that ties the black & white theme right into the heart of that sentiment…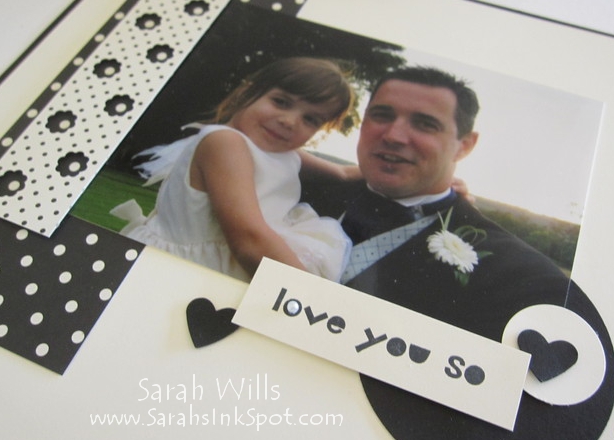 Supplies used to make this card:
Cardstocks: Basic Black (121045), Very Vanilla (101650)
Stamp: Geometrical (CM 133161/WM 133158)
Ink: Basic Black Classic Stampin' Pad (126980)
Designer Series Paper: Modern Medley (126926)
Punches: 2 1/2″ circle (120906), 1″ Circle (119868), Small Heart (117193)
Misc: Basic Pearls (119247), Dimensionals (104430), Mini Glue Dots (103683)
CLICK HERE TO ORDER YOUR STAMPIN' UP! SUPPLIES ONLINE!
Sentimental Modern Medley…