This is one SUPER CUTE Easter Treat that I think grown-ups and kids alike will love! 
Perfect for gifting or for treats at your Easter table place settings – they are bound to be a big hit and no-one will know how quick & easy they were to make!
These cute Nests are fun, fast & easy to make, and also very cost effective…please read on for details of how I made them along with a Free Printable Tutorial with measurements and step-by-step instructions…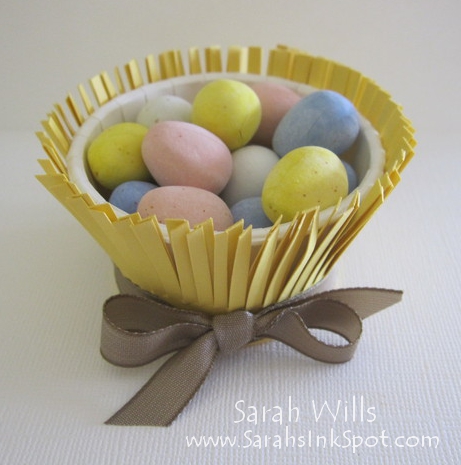 And here is another that I think kids are going to absolutely love…I filled this nest up about half way with eggs and then added a Peeps Marshmallow Chick to sit on the top…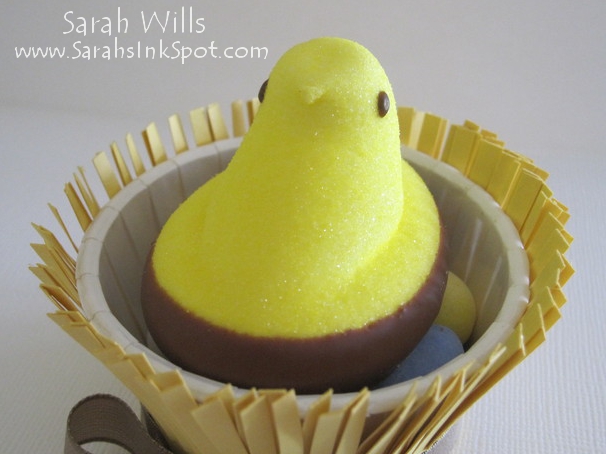 Isn't that CUTE?!   Here is how I made them…BUT one word of warning…if you are a chocolate lover like me, be sure to pick up more than one pack of eggs – they are just too irresistable to leave alone when making this kind of project!!!
The cups…when I was out shopping I came across packs of Wilton Party Cups and immediately realized that I could use them to create Easter Nests – they are food safe, stronger than baking cups and were just $2.49 for a pack of 24. 
The straw nest material…I then used my FABULOUS Fringe Scissors (pg 31 Occasions Catalog) and strips of Daffodil Delight cardstock to create my 'straw' nest material around the edge – btw you NEED to get these scissors if you don't already have a pair – they are absolutely essential – I honestly don't know what I did before I had them – I just can't stop using them!!!
You can find Fringe Scissors in the online store by clicking HERE – and they are a steal of a deal at just $9.95!
The ribbon…I decided that I wanted the base of my cup to resemble the ground underneath a chicken's nest and so tied around a piece of Soft Suede 3/8″ Taffeta Ribbon to get this effect – I couldn't decide if I wanted to tie a knot or bow but in the end decided on the cutesy factor of a bow…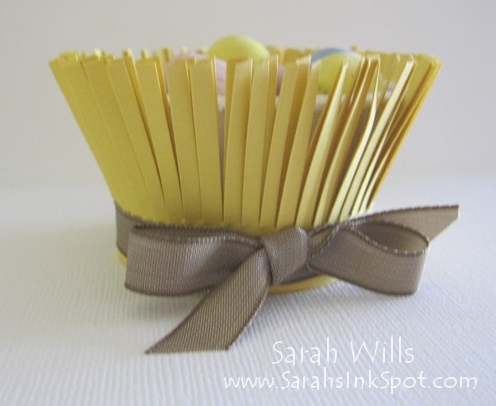 The filling…and then you simply fill your cup with eggs or candies of your choice!  I used Cadbury's Mini Eggs to fill mine…but if you prefer, foil wrapped eggs would look just as fabulous…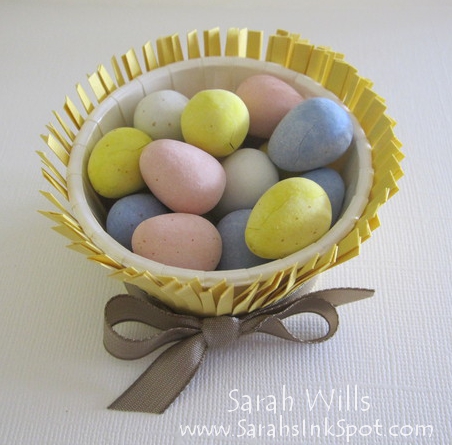 I thought about adding a sentiment tag or finishing touch but to be honest decided that the chocolate eggs speak for themselves…what could make you happier than seeing this little treat LOL?!
WANT TO MAKE YOUR OWN CUTE EASTER NEST TREATS?  I have a FREE Printable Tutorial that you can find by clicking HERE!  You will find measurements & step-by-step instructions with photos so that you can easily create some of your own!
So back to those Party Cups…I must admit that I had not heard of them before but here is a photo so that you know what to look for…I found them in Walmart (although I am sure many other big box stores carry them!) and they have a food safe waxy lining – just perfect for this kind of project…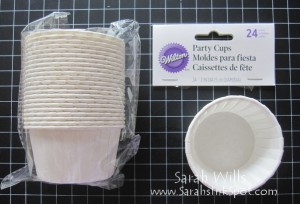 Supplies I used to make this project:
Cardstock: Daffodil Delight (119683)
Scissors: Fringe Scissors (133325)
Ribbon: Soft Suede 3/8″ Taffeta (122967)
Misc: Sticky Strip (104294), wilton Party Cups, Chocolate Eggs/Candies
CLICK HERE TO ORDER YOUR STAMPIN' UP! SUPPLIES ONLINE!
Simple Easter Nest Treat…