Usually Memorial Weekend is hot here but not this year – this year we are washed out and not by being in the lake!!!
It has rained most of the weekend here which on the one hand is great because we are in the 7th year of a drought, but on the other hand, did it really have to pick a holiday weekend to rain on?!!!
I decided to make a card to reflect how thankful I am for all those in the Armed Forces who serve and for the Veterans who have served – I am forever in awe of what they do for us.
Here is my Thankful on Memorial Day card…it's a little bit of a twist on the flag theme and uses some brand new items that are debuting in the new Catalog along with some that are retiring like those heart punches…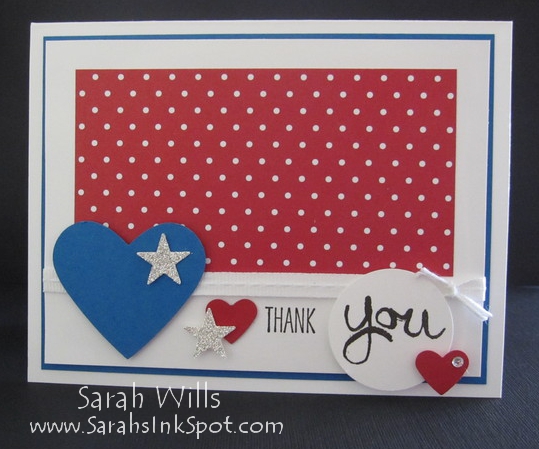 Did you spot the new items?  If you didn't, please read on to find out what they are!
The card base…is Whisper White onto which I matted a piece of Pacific Point and then another layer of Whisper White on which to create the features.
The polka dotted paper…is from Brights Designer Series Paper Stack (pg 152) – and the sheet I used is Real Red – it creates an easy & simple backdrop that still packs a punch!
The ribbon…is wrapped around the top layer and is Whisper White 1/4″ Stitched Grosgrain (pg 173) and this ribbon is RETIRING so if you want some, get it soon before it's gone for good!!!
I chose this ribbon because with the flag theme in mind, I wanted to add some sort of stripe and this worked brilliantly to do that!
The hearts…were made using the Small Heart Punch & the Full Heart Punch (pg 183) – BOTH are RETIRING SOON and – UPDATE – the Full Heart Punch is ON SALE FOR THIS WEEK ONLY for JUST $12.71 in the Weekly Deals section! – click HERE to find it!  If you want these punches please order them NOW to avoid disappointment!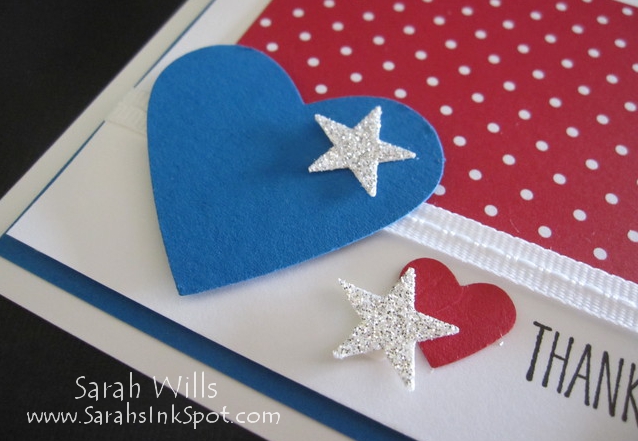 The stars…they are made using a cute new Star Punch featured in the Itty Bitty Accents Punch Pack that you will find in the BRAND NEW UPCOMING ANNUAL CATALOG that debuts on June 2nd – wahoo!!!  I have SO missed having a star punch
And do you recognize those stamps?  Nope?  That is because they are also BRAND NEW IN THAT CATALOG!  Both are from a set called 'Work of Art' that you are just going to love because it is one of the most versatile sets I have seen for a LONG time and I am absolutely loving using it!
I stamped the words using Early Espresso Ink and punched out the 'You' using the 1 3/8″ Circle Punch (pg 182) and added it using Dimensionals so that it would stand out.
The finishing touches…I doubled up a length of White Bakers Twine (pg 173) and tied it around the ribbon on one side and I added a sparkly little Rhinestone (pg 171) to the top of one of the small hearts…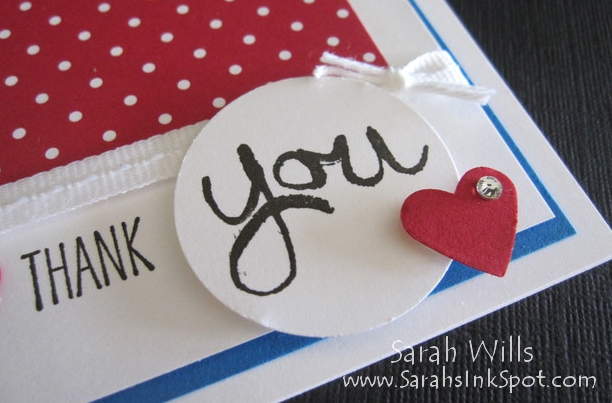 FIND THOSE FABULOUS RETIRING HEART PUNCHES ALONG WITH OTHER RETIRING ITEMS BY CLICKING HERE – REMEMBER THAT THERE ARE ONLY A FEW DAYS LEFT TO GRAB WHAT YOU WANT!!!
Supplies used to make this card:
Stamps: Work of Art (COMING SOON!)
Cardstock: Whisper White (100730), Pacific Point (111350)
DSP: Brights Designer Series Paper Stack (130134)
Ribbon: Whisper White 1/4″ Stitched Grosgrain (126877)
Washi Tape: Watercolor Wonder (133000)
Embossing Folder: Decorative Dots (coming soon!)
Punches: Full Heart (), Small Heart (117193), 1 3/8″ Circle (119860), Itty Bitty Accents Punch Pack (COMING SOON!)
Misc: White Bakers Twine (124262), Rhinestone Jewels (119246), Dimensionals (104430), Mini Glue Dots (103683)
We love the quirkiness of our village and there is a house on the way in that always has a seasonal display in the front featuring geese…that's right…geese! 
And Memorial Day is no exception…check out their fab display for this weekend…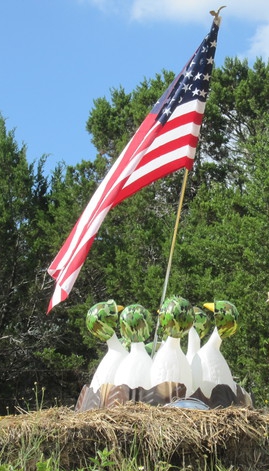 Isn't that cute?  The girls just love driving past every day and always wait very impatiently to see what the next seasonal display might be…we will leave them a little thank you something to show our appreciation this week!
Wishing you a wonderful Memorial Weekend and a big thank you again to all of those who are current serving and to those that have – we appreciate what you do to keep us safe…
CLICK HERE TO ORDER YOUR STAMPIN' UP! SUPPLIES ONLINE!
Thankful on Memorial Day…