Hard to believe that this trip goes by sooo quickly and the final night is here so fast!
After crafting and decorating those beautiful ornaments and trees, it was off to dinner in another part of the Convention Center.
We walked into the room to find lots of beautifully laid tables in – you guessed it – a Holiday theme!  
We sat with our team mates and here was our table…a beautiful centerpiece was surrounded by wrapped gifts and festive napkin holders…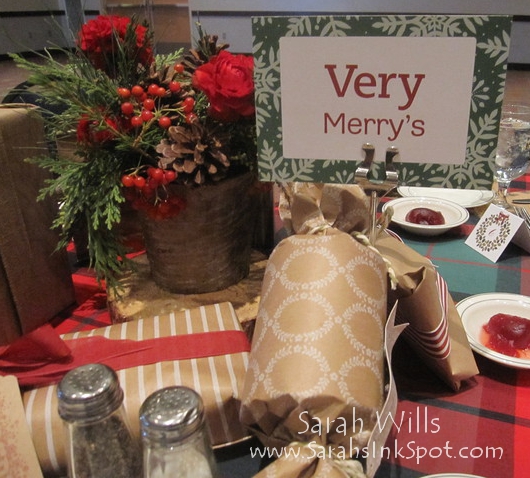 Just love this festive centerpiece…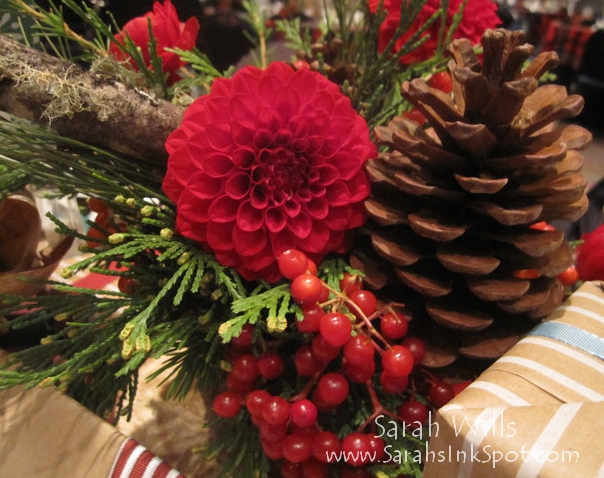 What were the gifts on the table you ask?  It was for a fun game of White Elephant Gift Exchange LOL – and inside the packaging were some very funny gifts – dollar toilet paper…cupcake flavored toothpaste…we all laughed when Brian King opened a pair of pink fluffy slippers…and here is Mary demonstrating her hot dog holder thingy to Tami that was shaped like a dog LOL…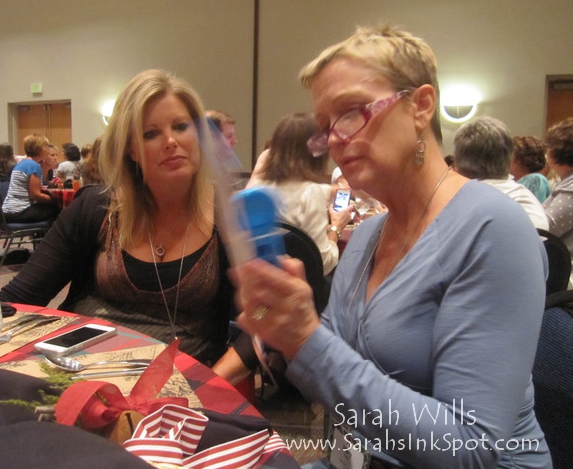 And then it was on with dinner…first course…delicious salad…with pear & walnuts…YUM!!!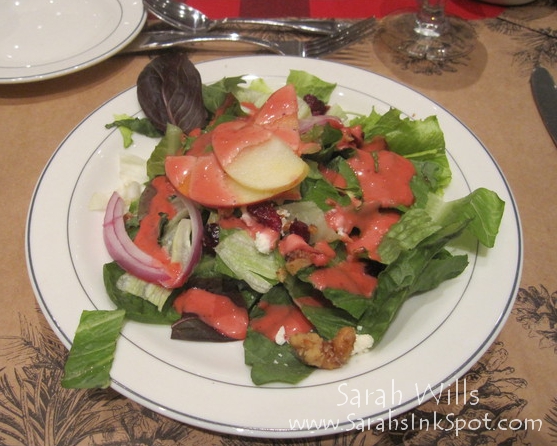 Second course…yummy holiday dinner with ham, stuffing, mashed potatoes and green beans…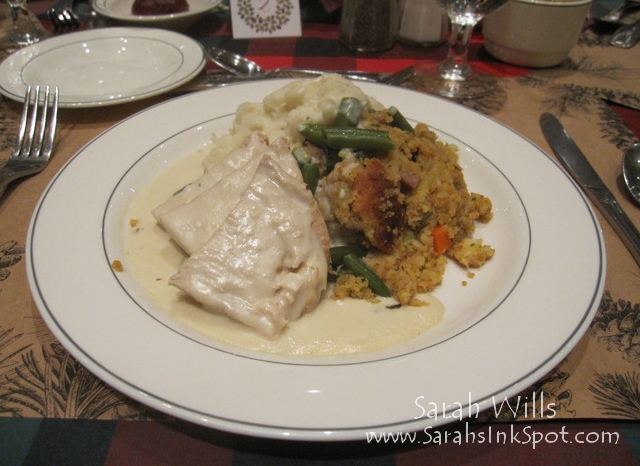 And lastly…delicious chocolate pot with fruit…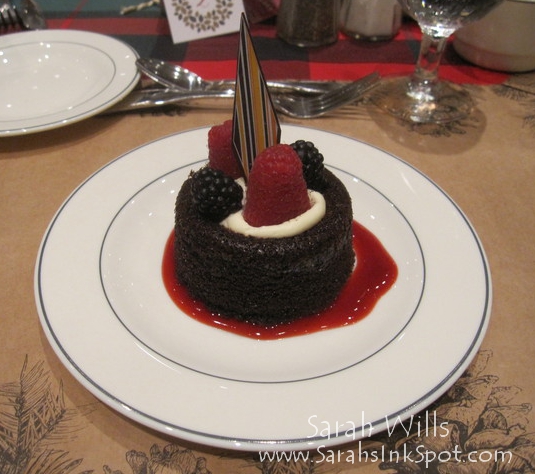 After dinner we headed back to the hotel and because there were lots of flights out early the next day, said our goodbyes…and headed to our rooms…
To find the fabulous last pillow gift that the Stampin Fairies had delivered…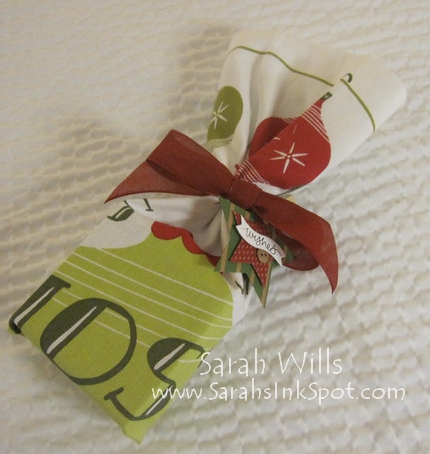 Check out that tag…I have loved receiving these tags and am going to be making a bunch of them…again, it is made using Stars Framelits Dies, Under the Tree Specialty DSP, Gold Metal Buttons and a Clothespin – gorgeous!!!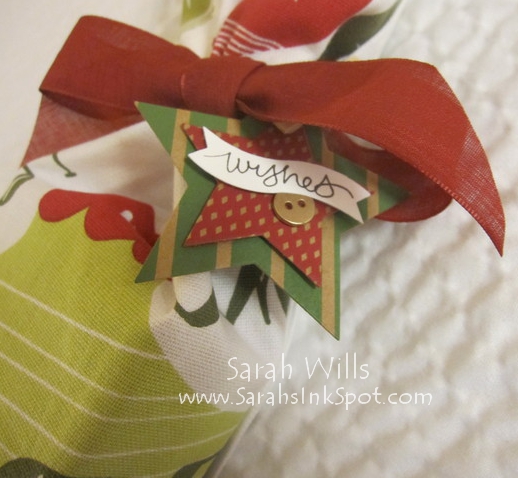 And the tea towel…LOVE this one – it's bold, bright and fun!!!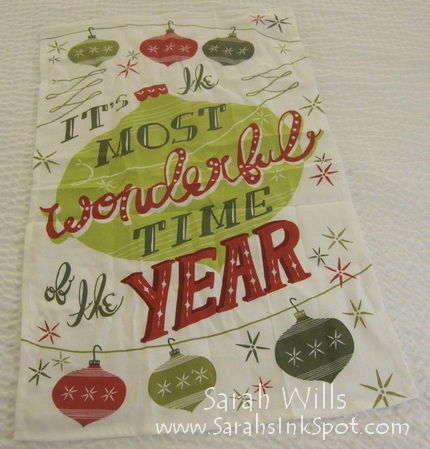 And what was it wrapping?  This beautiful wreath charm…it is now a tradition at Founders Circle that on the last night you receive a charm for a bracelet that Stampin Up gives you when you achieve your first Founders Circle…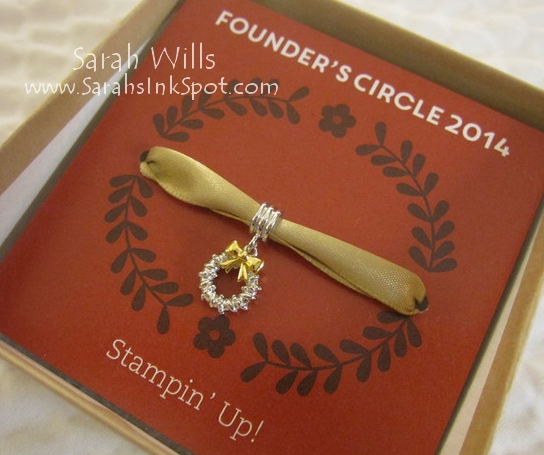 And I realized that I forgot to show you the prize for the day that I got down in the Gathering Place earlier today…here it is…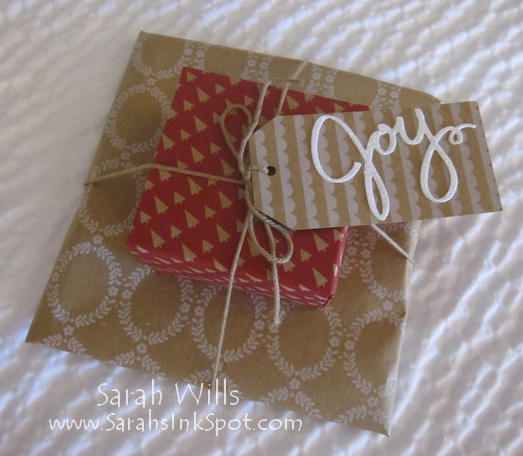 Wrapped using patterned brown paper from the fab Festive Designer Kraft Paper Rolls (pg 10 Holiday Catalog) and red Under the Tree Specialty DSP  (pg 5 Holiday Catalog) – and held together using Baked Brown Sugar Twine.
The tag…is made using a piece of paper from Under the Tree Specialty DSP that has been shaped using the Angled Tag Topper Punch (pg 221) and the word 'Joy" was die cut from Dazzling Diamonds Glimmer Paper (pg 193) using a die from Wonderful Wreath Framelits Dies (pg 9 Holiday Catalog)…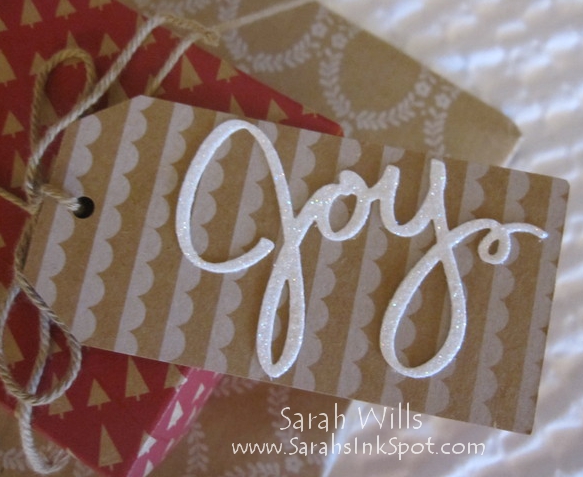 And inside the package were these goodies…a pack of Gift Card Enclosures and a roll of Natural & Olive Two Tone Trim…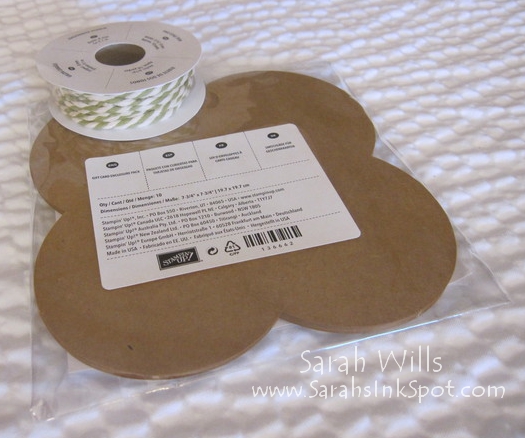 Sadly I saw this truck outside earlier today…which always signals the end of an event…sniff…LOVE the colorful truck but I don't like what it means today LOL…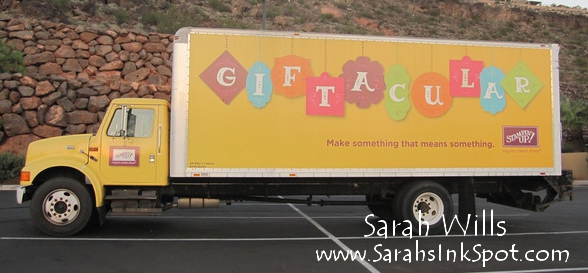 This was an amazing Founders Circle trip – THANK YOU to all of the wonderful Stampin Up staff and Marriott Courtyard staff who worked so hard to make it happen…
I had a fantastic time – got to meet new friends and spent a lot of time catching up with old friends and am going home refreshed and rejunvenated and full of Stampin Mojo!!!
Come back and see me soon!
Sarah
Founders Circle 2014 – Day Four – Final Event Dinner and evening…