Saturday was a day filled with relaxation, stamping, shopping and chatting…and then at 4 pm we boarded the buses to take us to the secret Final Event…
This event is always fun and so I was intrigued to see what they had planned for us this year…we arrived at the local Convention Center and were led into a huge room that had 3 stations and at each station there was a giant Christmas tree!
We found out that we would be decorating those three trees, which would then be donated to the Festival of Trees which is an annual event in Salt Lake City in early December where people bid on the trees to raise money for the Children's Hospital there – what an amazing cause and what a great thing for us to be able to participate in!
Here is one of the tree decorating stations…each had a different theme & color scheme…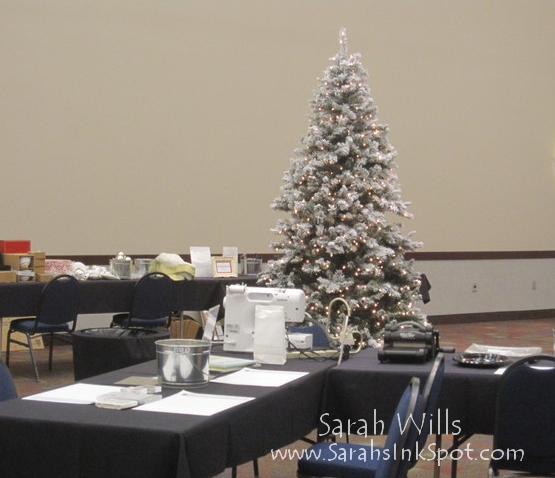 Each tree was worked on by several teams – our team found our table and got to work…some got to make handmade decorations and others got to decorate the tree using both those and store bought decorations…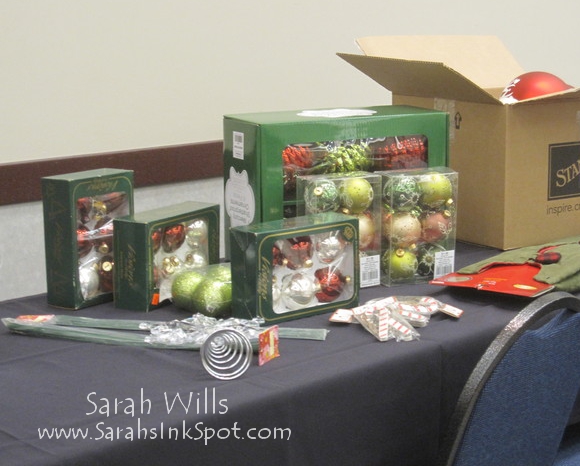 Here are some ladies busy at work making decorations…
 And some decorating a tree…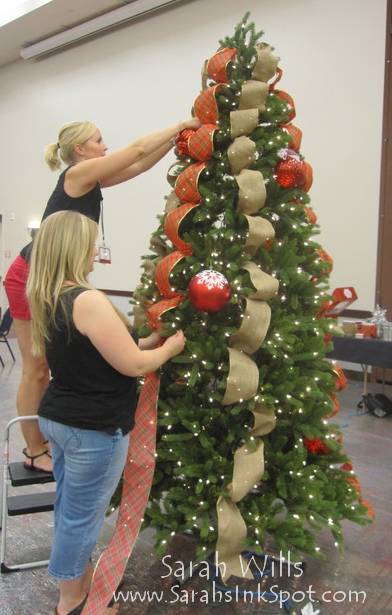 We wrapped boxes to put under the trees…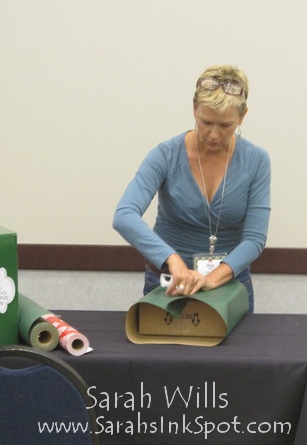 And they started coming together really quickly and really beautifully…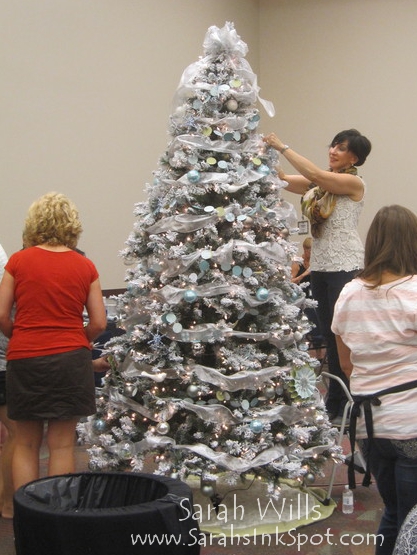 And here is JUST A SAMPLING of some of those GORGEOUS handmade ornaments…I WILL HAVE A BLOG POST DEDICATED TO THEM BECAUSE THERE ARE SO MANY SO BE SURE TO CHECK BACK SOON!

A silver pine cone…made using a foam ball and circles of Silver Glimmer Paper (pg 193) that overlap…tied to the tree using a piece of Silver 1/8″ Ribbon…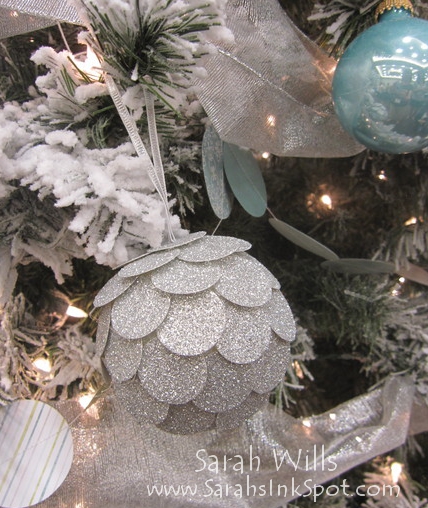 A twine wrapped bauble…super simple & easy for a rustic look…simply a bauble wrapped with Natural & Olive Two Tone Trim (pg 29 Holiday Catalog) and tied to the tree using a piece of Cherry Cobbler Seam Binding (pg 207)…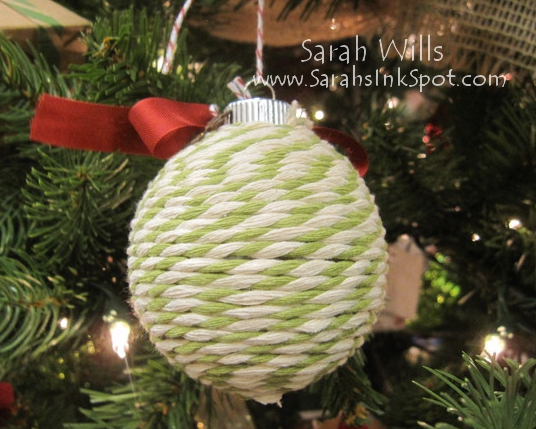 AND CHECK OUT THIS FABULOUS BOX STAR…made using pre-cut & folded paper from a new upcoming product called MANY MERRY STARS SIMPLY CREATED KIT that will go on sale when the Holiday Supplement goes live on OCTOBER 20th!!!
ALL of the items to make this ornament that you see below are included in that kit along with many others items – isn't that a neat star?  LOVE those wooden snowflakes, the gold die cut word and the newsprint stars (YES – they are ALL in the kit too!)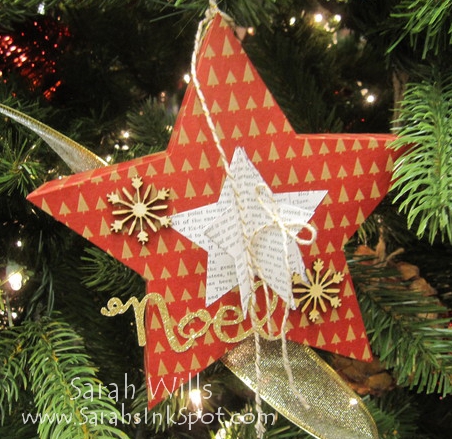 A simple filled bauble…LOVE this as it is so easy and fun – recognize that noel die cut?  Yup – from that kit above!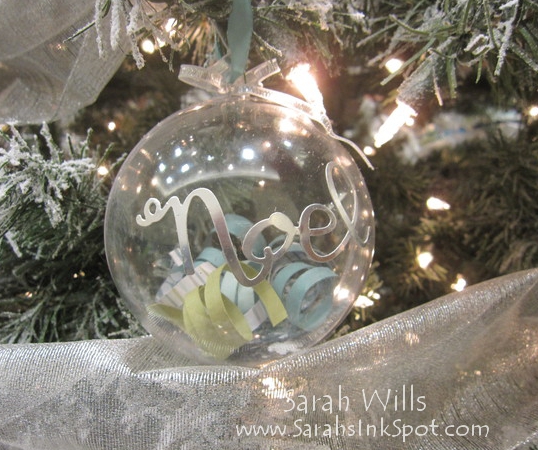 Here is my favorite store bought ornament…isn't he CA-UTE?!  I love how he has been 'Stampin Up accessorized'!!!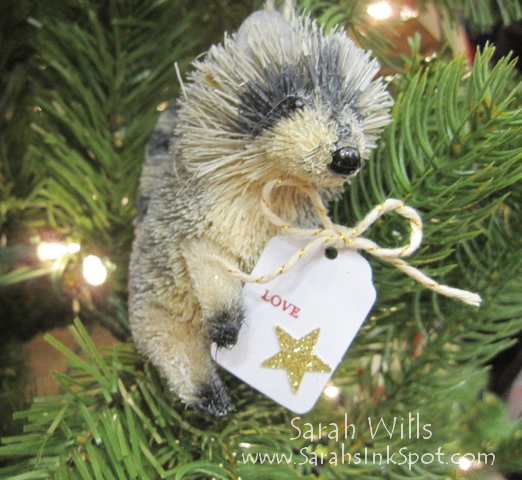 Here is one of the trees that featured lots of decorated & glittered boxes…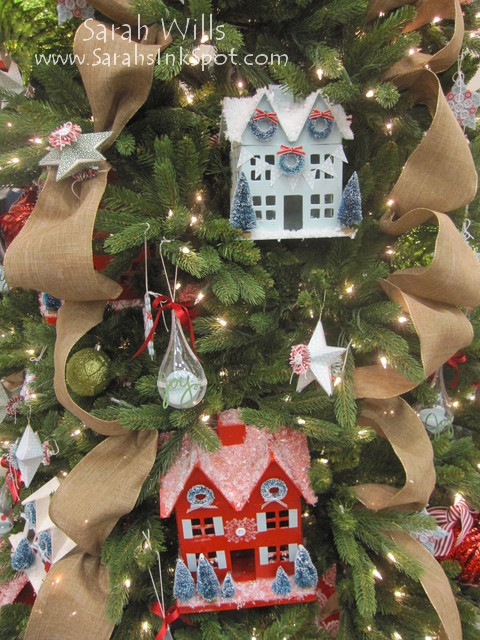 This is how my favorite tree turned out…LOVE that blue & silver frosty look…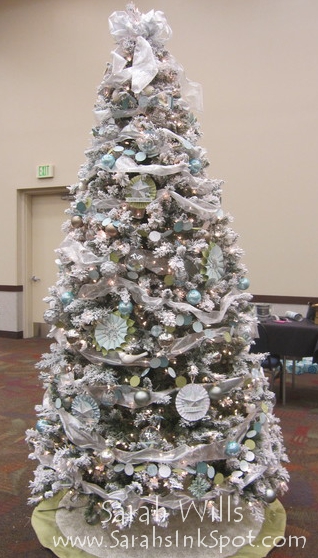 AND a close up to show you how AMAZING all of those ornaments together look – WOW!!!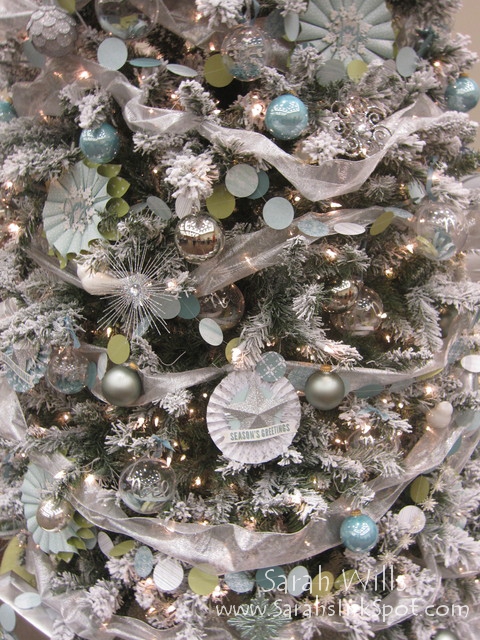 I hope that this has given you some inspiration to make some ornaments…and I cannot WAIT to get my hands on the new Many Merry Stars Simply Created Kit when it comes out in a couple of weeks – that is going to be a GREAT kit that will make it easy to make beautiful ornaments…and be sure to LOOK OUT FOR MY DEDICATED ORNAMENT POST SOON that will give you lots more ideas!!!
I will post more about the Final Event Dinner and goodies in a while…this was so much fun and for such a great cause – what a wonderful idea Stampin' Up! – thank you for giving us the opportunity to give back & help the kids!
Sarah
Founders Circle 2014 – Day Four – Final Event…