On to the first evening's activities at Founders Circle…
We met downstairs an hour before dinner for an activity with our fellow team members – I was on team 'Very Merry's' and had a lot of fun with those fab ladies!
Each team was assigned a table…where we found a gingerbread house kit along with decorations – we all needed to create a 'creative' house using candies, icing and of course Stampin Up embellishments…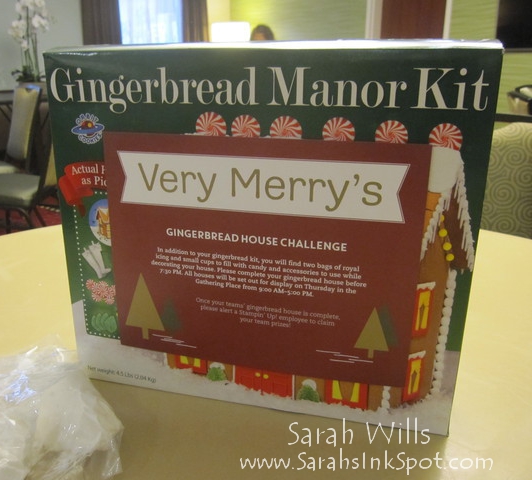 Oh my what fun…we heard shrieks of delight from other tables whose houses were collapsing!!!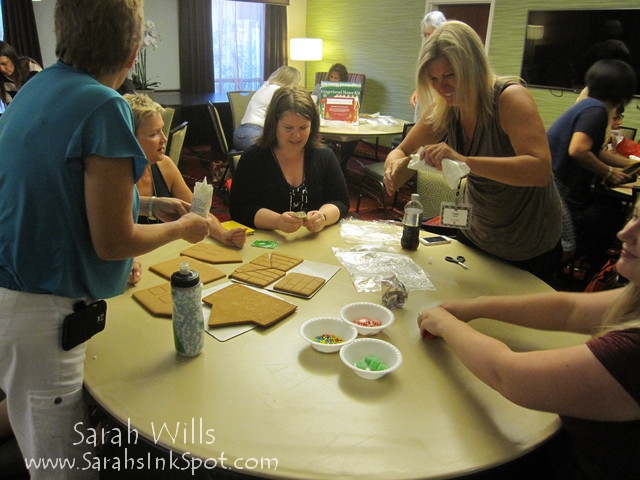 Here was team Very Merry's finished product…at least it was upright and intact LOL…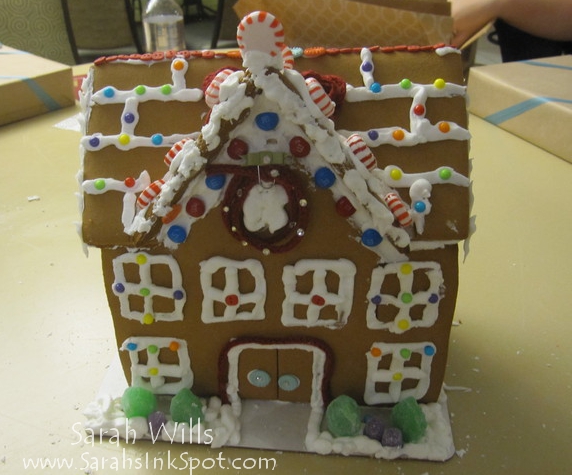 At the end of the activity Pam Morgan handed out a gift wrapped box to everyone…isn't that beautiful packaging?  The ribbon is Lost Lagoon Silky Tafetta and I absolutely LOVE those silver metal snowflakes dangling from the bow – they are from All is Calm Snowflake Embellishments…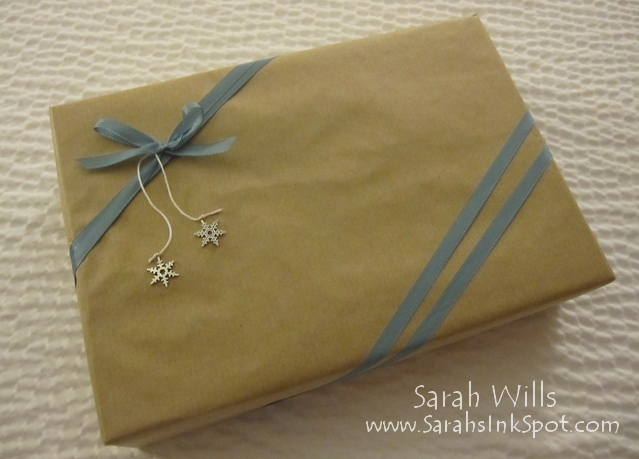 And inside was an Under the Tree Tag a Bag Accessory Kit along with a pack of Petite Cafe Gift Bags…LOVE them both!
And then it was on to dinner…we walked into the room and found beautifully decorated tables and each place setting had a wrapped gift…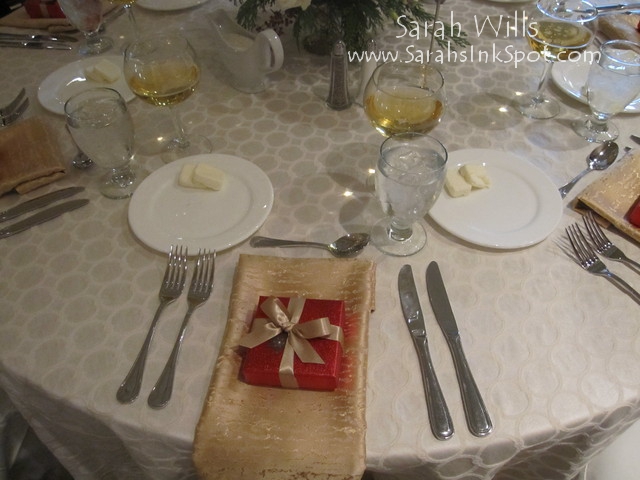 And a beautiful floral centerpiece…as you can see, we sat with our teams for dinner so that we all got to know each other better…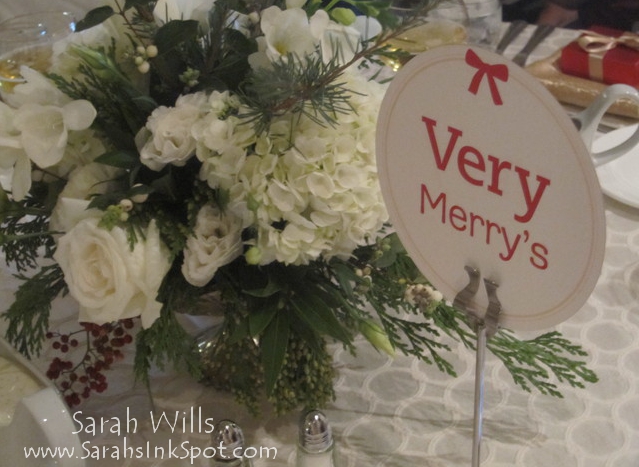 Here is my place setting...inside that box are some handcrafted chocolates…YUM!!!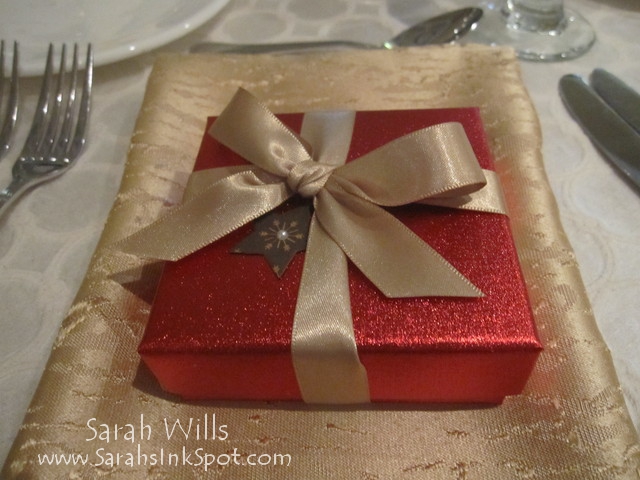 And on to dinner…first up was salad (I forgot to take a photo of that!)…and then this delicious main course…
And finally delicious dessert…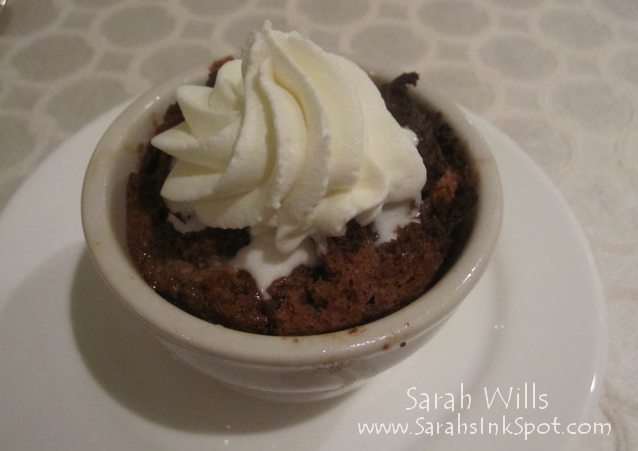 After a very fun evening catching up with old friends and making new ones, I went to my room…to find a fab pillow gift had been put there by the Stampin Fairies…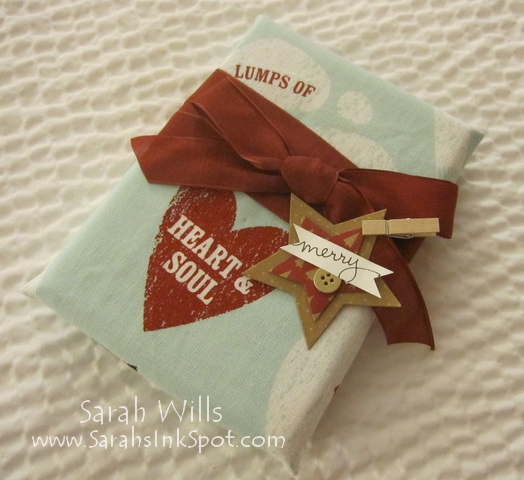 It was wrapped up in a Holiday themed tea towel and had gorgeous Cherry Cobbler 1″ Sheer Linen Ribbon wrapped around it…isn't that just gorgeous?  You can see how beautiful that ribbon is for gift wrapping (you can find it on pg 7 of the Holiday Catalog in case you want to get any of your own!)
And that tag is beautiful too…it is made using Stars Framelits Dies, Under the Tree Specialty DSP, Gold Metal Buttons and a Clothespin – what a beautiful and unique tag!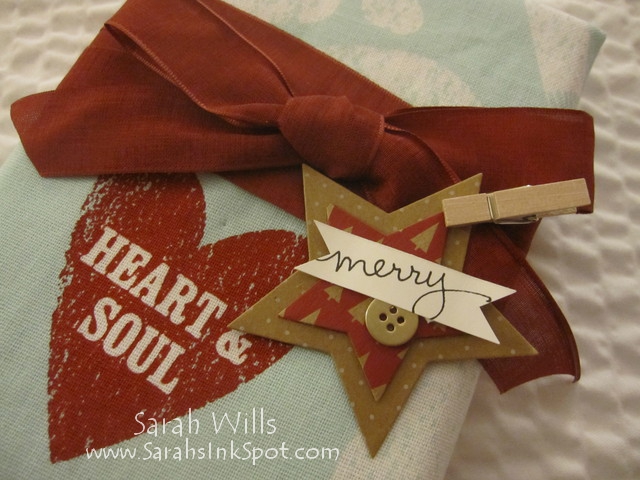 And this is the tea towel…isn't that fun?  My girls are going to LOVE it…do you think this will encourage them to help wash dishes?!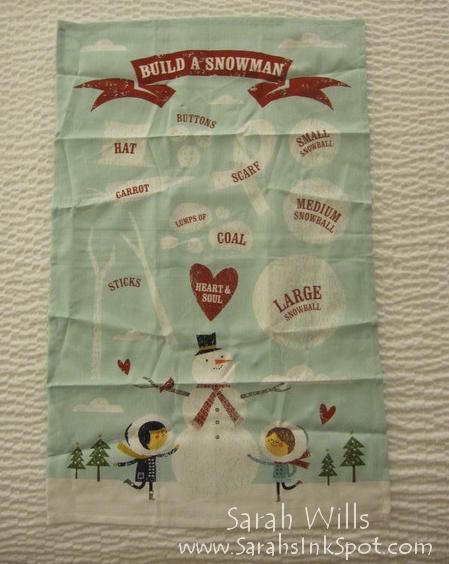 And what was inside that package?  Oh my – that would be the most FABULOUS Stamp Set called 'Crazy about You' and set of Dies called 'Hello You Thinlits Dies' – they co-ordinate with one another beauitfully and are from the Occasions Catalog that doesn't debut until January 2015 – how lucky we are to get this sneak peak in our hands!!!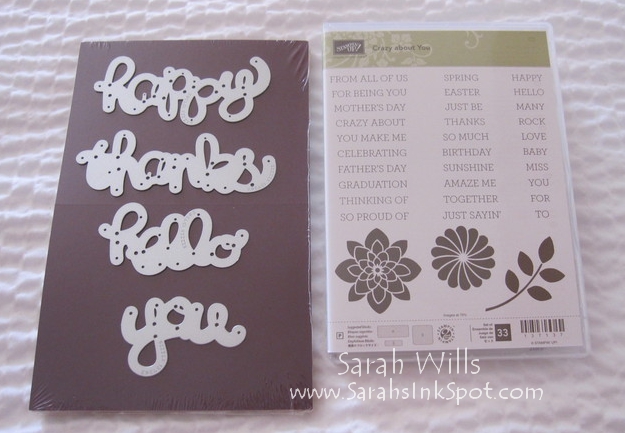 What a wonderful end to a wonderful first day…I will be showing you what I made using those new stamps & dies over the next few days because Stampin Up gave us make & take packages so that we could stamp whilst on our vacation!
Sarah
Founders Circle 2014 – Day One – part 2…