The end of the first 6 weeks of school arrived and with it report cards…
These are the first report cards from Middle School and the girls did absolutely fantastically GREAT!!!
When they get great grades, they get to choose a reward…but if that don't use their rewards within a few weeks, I forget whether they have had it or not…lol…must be an age thing!
Sooo this year I decided to make them little coupons so that we can keep track easily…and so I did that…but then I decided that those little coupons needed a little card to go into…and tI came up with some simple but sweet cards…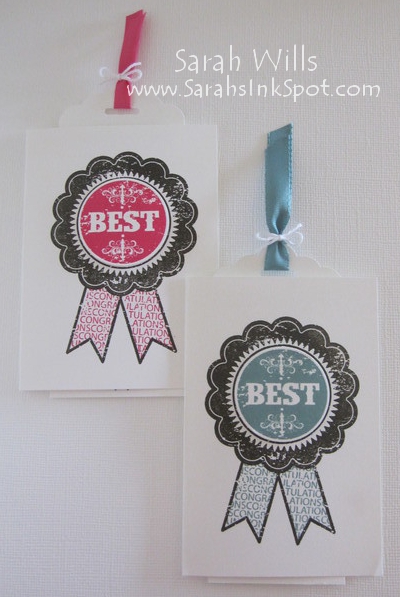 They are small as I didn't want anything huge to leave on their desks…but I love the bold impact of those stamped awards…
The card base…is a piece of cardstock that measures 6″ x 4 1/4″ folded in half to give a card front that measures 3″ x 4 1/4″…
The award image…uses 3 stamps, all of which are in the set Blue Ribbon (pg 136).  The award shape is stamped in Early Espresso, the blue is Lost Lagoon and the pink is Melon Mambo – their favorite colors!
The center 'best' image was stamped on a scrap piece and punched out using the 1 3/8″ Circle Punch…here is a close up of the blue one…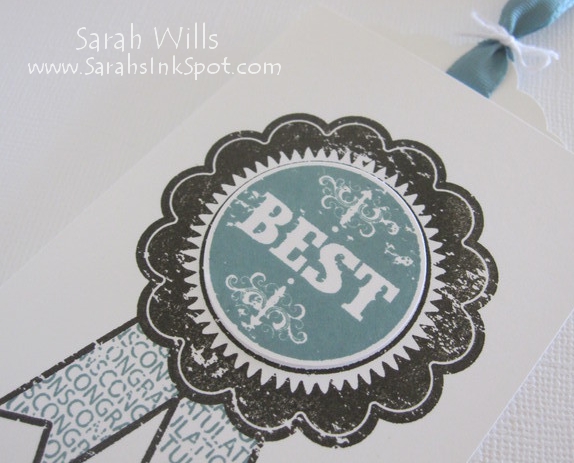 Inside the card is my favorite bit…I made the coupon by printing my text using my printer, cutting it to size and shaping the top with the Scalloped Tag Topper Punch (pg 221)…
I then threaded ribbons through the tag – Lost Lagoon 3/8″ Silky Taffeta (pg 22 Holiday Catalog) and Melon Mambo 1/4″ Cotton Ribbon (pg 207) and finished with a bow made of White Bakers Twine (pg 206)…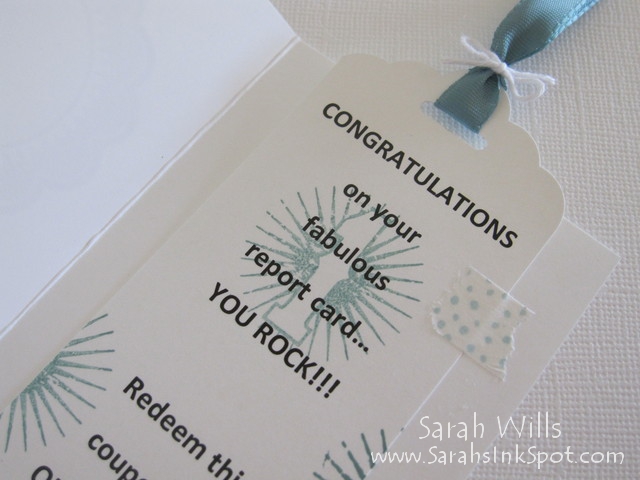 I did some background stamping and to make the images more subtle, I stamped them off first – meaning I inked up my stamp, stamped it onto a piece of scrap, and then stamped it onto my coupon.
To attach my coupon…I wanted the coupon to be removable, so I secured it to the card using two small piece of Washi Tape – the blue dotted one is from All is Calm (pg 22 Holiday Catalog)…
And the other one is from Beach House (pg 190)…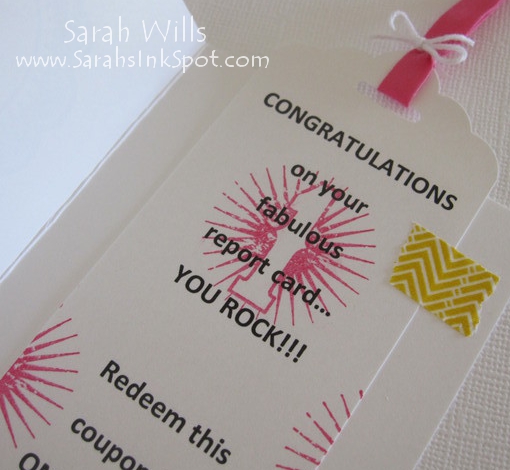 I hope that they like 'em – I popped them on their desks so that when they got home they will find them!
Here are the images featured in the stamp set Blue Ribbon – click on the blue words to find online: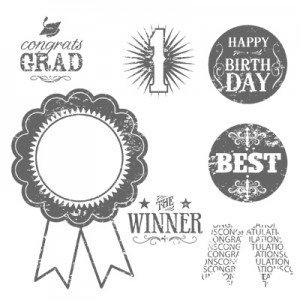 Supplies used to make these cards:
Stamps: Blue Ribbon (CM 125981/WM 131964)
Inks: Early Espresso (126774),Lost Lagoon (133644), Melon Mango (126948)
Washi Tapes: All is Calm (135844), Beach House (133689)
Ribbon: Lost Lagoon 3/8″ Silky Taffeta (135841), Melon Mambo 1/4″ Cotton (134566)
Punch: Scalloped Tag Topper (133324)
Misc: Dimensionals (104430), White Bakers Twine (124262)
CLICK HERE TO ORDER YOUR STAMPIN UP SUPPLIES ONLINE!
Blue Ribbon Report Cards…