So the Tooth Fairy got busted a while back – to be honest I am amazed that she lasted so long in our house!!!
But the girls still wanted something special to happen when they lose a tooth, and so the Tooth Fairy visits are continuing but in a different way…the letter still continues but there is some fun humor in there now…
So the 'Tooth Fairy' got to thinking about how to package a little special something that is suitable for a tween girl and this is what she came up with...a cute little gift ensemble featuring a starry wand (which is actually a glittered pencil) and a Curvy Keepsake Box with a gift inside it…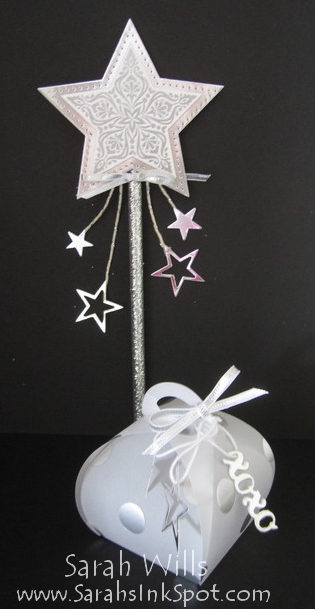 It was tricky to take photos of the silvery foil items so please excuse any reflections!
I wanted to continue with a magical fairy type of theme that is age appropriate along with an elegant silver & white color theme – when I figured out that I wanted to make a wand, the star theme fitted in perfectly!
The gift box…I wanted to create a semi-transparent box and so I used a die cut a piece of patterned vellum from Silver Fancy Foil Designer Vellum (pg 193) – yup, it has those beautiful silver dots printed on it and it is beautiful!
I die cut the box pieces using the Curvy Keepsake Box Die (pg 11 Holiday Catalog) and assembled it and popped my gift inside…
So what did I pop in there?  A pair of earrings!  She had her ears pierced just over 6 weeks ago and it is time to take out those starter earrings and replace them with a cute pair – and so it was perfect that the Tooth Fairy could being her some cute new ones!
The ribbon...I tied a bow on the handle using a piece of Silver 1/8″ Ribbon (pg 206) and then used White Bakers Twine to hang…
The charms…tween girls LOVE charms and so I added a few easy ones…the BEAUTIFUL silver stars are leftovers from my July Paper Pumpkin kit called Wish Big…LOVE that they look like metal!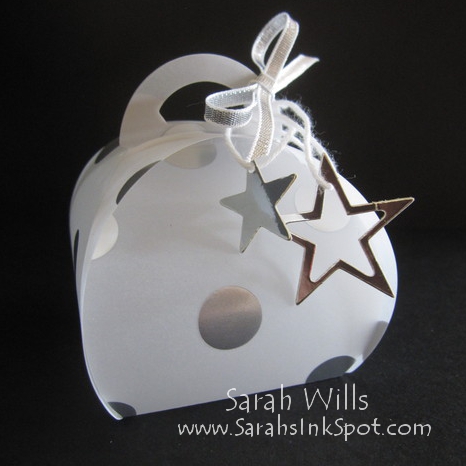 The 'XOXO'…is a die that you can find in Circle Card Thinlits (pg 228) – I die cut it out of a piece of a Silver Foil Sheet (pg 193) and WOW – it looks just like a metal charm – I was amazed!!!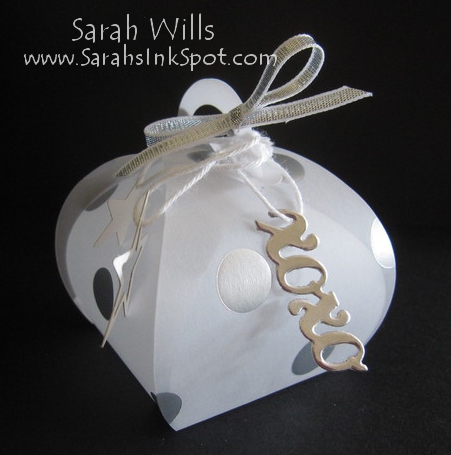 Now onto the Wand…fun & easy to make and I think it turned out beautifully…of course my daughter is no longer into playing with wands, so I used a glittered silver pencil for the 'handle' so that she can use it and I hot glued the star onto it…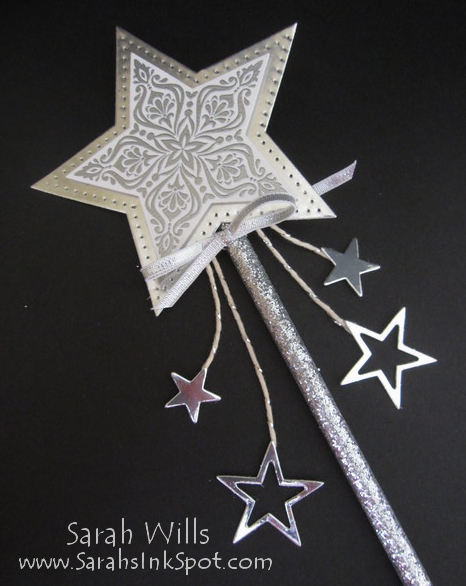 The star theme worked brilliantly for this project and to create it, I used a stamp from Bright & Beautiful (pg 25 Holiday Catalog) along with the perfectly co-ordinating star dies featured in various sizes in Stars Framelits Dies (pg 231)…
And this project shows you that the beautiful stars in Bright & Beautiful are not just for the Holidays – you can use them for all sorts of projects year round!
The silver star tamp…I used a beautifully patterned stamp from Bright & Beautiful and stamped it with Versamark Ink (pg 210), sprinkled on Silver Embossing Powder and heat set it using my Heat Tool (pg 213) – I then die cut it out using a die from Stars Framelits…
The foil background star…is die cut using a larger star die and a piece of Silver Foil Sheet (pg 193) – I made the holes all around the edge of the star by using a perfectly co-ordinating star paper piercing template that you can find in the Ecletic Paper Piercing Pack (pg 218) – I HIGHLY recommend the Paper Piercing Tool & Pierce Mat when using these templates – you get perfect results when you use em!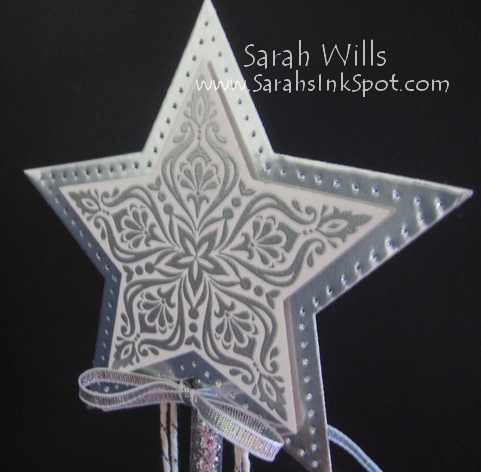 The small hanging stars…these are more leftovers from my July Paper Pumpkin kit – you get SO MANY EXTRA die cut stars in that kit – LOVE how useful they are and will be great for Holiday cards!
And it was left by her bed last night and it was a HUGE hit – she LOVED it – AND the Tooth Fairy was very happy too!!!
Did you know that if you are a CURRENT Paper Pumpkin subscriber you can order refills of past kits including that Wish Big July Kit? – click HERE to find them – there are FIFTEEN REFILL KITS AVAILABLE! 
And if you are not currently a subscriber, why not become one so that you can purchase the past kit refills too?  There are two ways to do this:
Purchase a PRE-PAID SUBSCRIPTION – simply pop the item code onto your regular order and check out as usual – choose from 1, 3, 6 and 12 month options – click HERE to find them!
Automatic Monthly Subscription – Click HERE to set up your account – you can cancel at any time (even after just 1 month) with no penalty!
Supplies used to make these projects:
Box:
Dies: Curvy Keepsake Box (135853), Circle Card (133480)
Paper: Silver Fancy Foil Vellum (133364)
Ribbon: Silver 1/8″ (132137)
Paper Pumpkin Refill Kit: Wish Big (136713)
Misc: White Bakers Twine (124262)
Wand:
Stamp: Bright & Beautiful (135029)
Cardstock: Whisper White (100730), Silver Foil Sheets (132178)
Dies: Stars Framelits (133723)
Embossing: Versamark Ink (102283), Silver Stampin Emboss Powder (109132), Heat Tool (129053)
Paper Pumpkin Refill Kit: Wish Big (136713)
Ribbon: Silver 1/8″ (132137)
Paper Piercing: Eclectic Pack (133778), Paper Piercing Tool (126189), Pierce Mat (126199)
Misc: Silver Glittered Pencil (Target), White Bakers Twine (124262), Dimensionals (104430), Mini Glue Dots (103683)
CLICK HERE TO ORDER YOUR STAMPIN UP SUPPLIES ONLINE!
Tooth Fairy treat for a tween…