Well, I was looking for some quick & easy treats to make for Halloween (guess who left the school treats to the last minute again?!) and I came across a fantastic idea from Dawn Olchefske that is fun, quick & easy to make – and just perfect for those last-minute treat makers like me!!!
These are SO MUCH FUN to make and you can easily make them with kids too – my girls are going to LOVE putting these together later today, and all you need are a few basic supplies to make them…
Here is the Hershey bar mummy…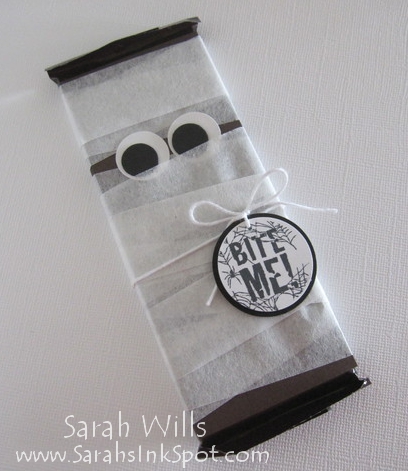 Isn't that CUTE?!!!  Yup – it is simply a chocolate bar that is wrapped in filter paper strips – easy, cheap & lots of fun to make!
The chocolate bar…use any that you like – I chose Hershey bars as they are my kids favorites…and the size – I bought a 6 pack of chocolate bars for around $5.  Then adhere a piece of cardstock to the front of your chocolate bar to cover the writing and give you a nice solid colored base to work with – I used a piece of Chocolate Chip sized 2 1/8″ x 5 1/4″.
The paper strips…simply cut 1″ strips of very thin paper such as White Filter Paper (pg 193) and tape the end to the back of the bar and wrap it around and around – always finish at the back for a neat look.
Work your way up and down until the bar is covered and overlapped a couple of times – and leave a little space for the eyes to peek through – this is what you will have when you are done wrapping…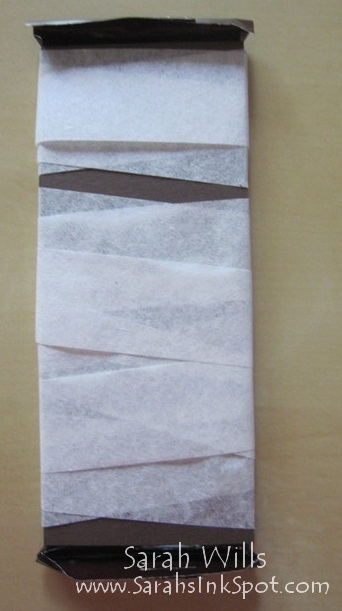 The eyes…you can use googly eyes or use Circle Punches to make them – I used 1″  & 1/2″ Circle Punches to make them (all are on pg 221) – and adhere in place…
Tthey look cute just peeking out from underneath a bandage…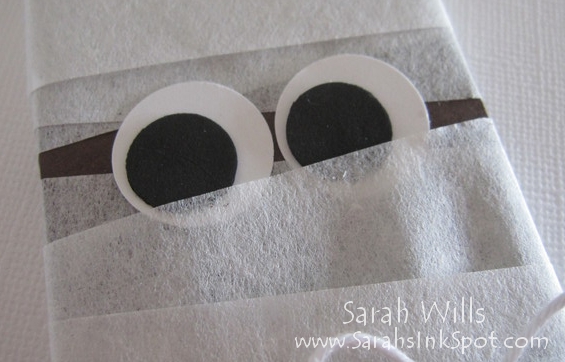 The tag…is made using a stamp from Bite Me (online only stamp set – click HERE to find it!) and I shaped it using more punches – the 1 3/8″ & 1 1/4″ Circle Punches – and attached it with a piece of White Bakers Twine (pg 206)…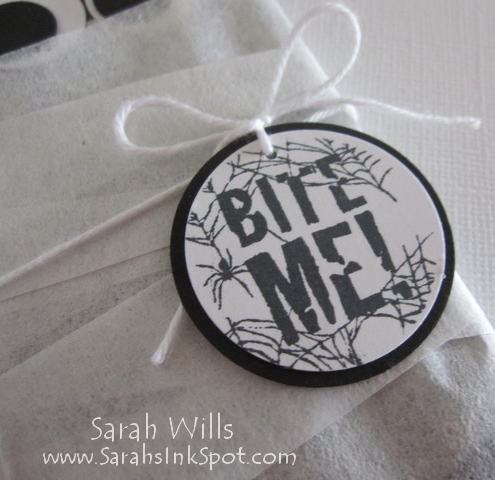 Thank you for the great idea Dawn – I absolutely LOVE how these turned out and will be making a bunch more this week with my girls!
Supplies used to make this project:
Stamp: Bite Me (134622)
Paper: White Filter Paper (129393)
Cardstock: Chocolate Chip (102128)
Ink: Memento Black (132708)
Punches: 1 3/8″ Circle (119860), 1 1/4″ Circle (127811), 1″ Circle (119868), 1/2″ Circle (119869)
Misc: Hershey Bar, White Bakers Twine (124262)
CLICK HERE TO ORDER YOUR STAMPIN' UP! SUPPLIES ONLINE!
Quick & easy Hershey bar Mummy…