Happy 4th July!  We are having an easy day here and popping out to a bbq dinner with friends later followed by watching fireworks over the lake – but before I go, I just wanted to show you a cute treat that I whipped up in minutes to take with us to share…
Now these past few months I have become a bit of a Mason Jar addict LOL and just can't stop using them…did you know that you can use them for almost anything?  I will start showing you the ways in which I use mine and here is today's…
It's a festive red white & blue candy dispenser…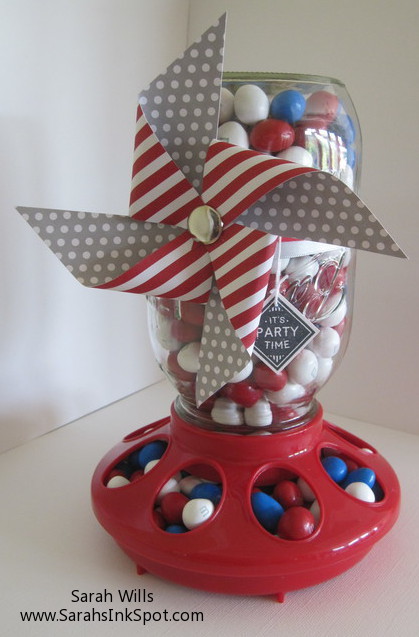 How fun is that?  It is filled with M&Ms in July 4th colors that I picked up in Target – and yes – I had to buy an extra bag because I managed to chomp my way through one of them whilst I worked!
So how did I make it?
The base…is a red plastic feeder base for birds – I found it on amazon.com but if you have an animal feed/supply store nearby, you will easily pick one of these up there – LOVE this color – it will be perfect for the holidays too…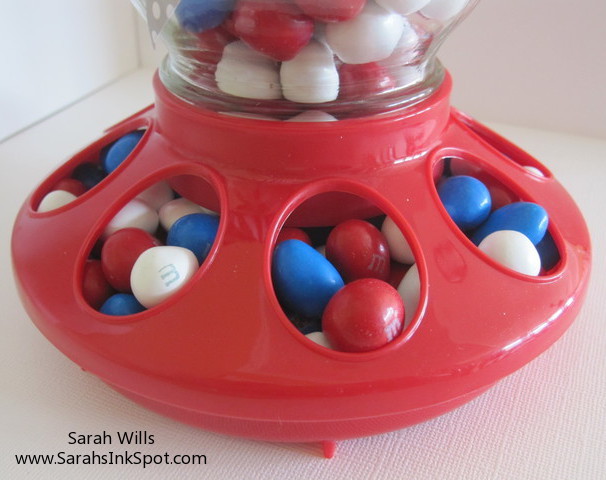 The jar…is a quart sized Mason jar that I picked up in my grocery store – pint sized jars will also fit onto this feeder but the quart size looks better AND of course you can fit more candy into it…
Sarah's Note: BE SURE to get jars with 'standard' openings – the 'wide' opening jars do not fit this feeder base!
To assemble…simply fill your jar with candy and slide the metal lid across the opening – fill the base with candy – then carefully tip the mason jar upside down, pop onto the feeder base opening and quickly slide out the metal lid and screw in place – and there you have your dispenser ready to go – quick & easy but awesome!
The decorations…well of course I couldn't leave it bare and just had to embellish it with some Stampin Up goodies – I wrapped around a piece of Silver 5/8″ Satin Ribbon and a piece of Real Red 1/4″ Cotton Ribbon and secured both in place with tape…
The pinwheel…is from the Paper Pumpkin Pinwheel Party Kit and makes such a great focal point – if you want this kit grab it fast because it is shortly retiring – find it by clicking HERE
The finishing touch…I used a stamp from the set 'All About Sugar' to create a tag and punched it out using my 1″ Square Punch and tied it to the ribbons using a piece of White Bakers Twine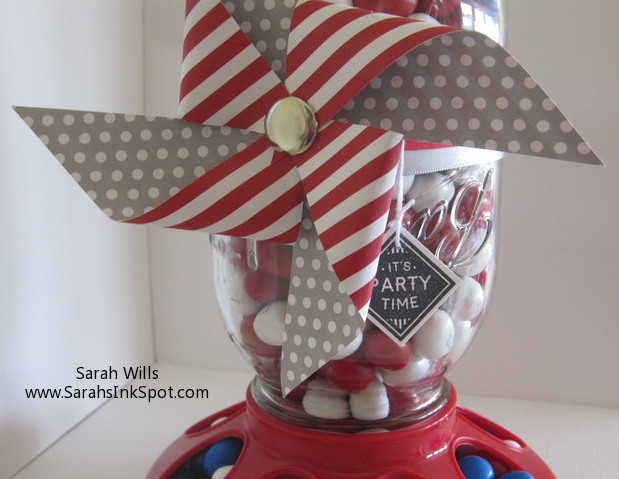 Have fun making your own – you can theme these candy jars for any occasion and they are super economical to make!
I am going to start showing you my other mason jar ideas starting on Monday so be sure to check back then!
Supplies used to make this project:
Stamp: All About Sugar Photopolymer Stamp Set (138684)
Pinwheel: Pinwheel Party Paper Pumpkin Kit (136711)
Ribbons: Silver 5/8″ Satin (134548), Real Red 1/4″ Cotton (134563)
Punch: 1″ Square (124094)
Misc: Bird Feeder Base, Quart Preserving Jar, Candies, White Bakers Twine (124262)
CLICK HERE TO PLACE YOUR ORDER ONLINE!
Happy 4th July with Mason Jar Treats!