Today I got out a perfectly themed brand new stamp set to make some Thank You cards & stamped envies for my customers who subscribe to Paper Pumpkin…
If you haven't already tried it, right now is a FABULOUS time to give Paper Pumpkin a whirl – because NEW SUBSCRIBERS get TWO MONTHS AT HALF PRICE – meaning that you will pay just $9.98 + tax for two months (AND YES – shipping IS included in the $9.98!)
AND it's not too late – subscribe with me now and YOU will get one of my next Thank You packs and pen in the mail too – read on to find out how to get your half price subscription and Thank You package!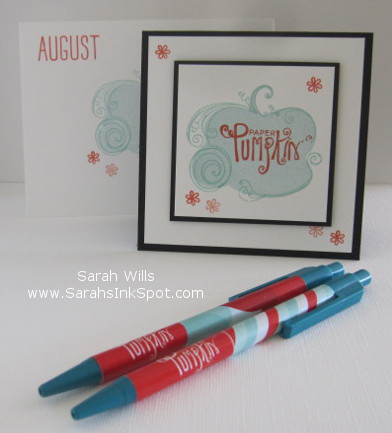 This is the card that my August subscribers have on the way to them…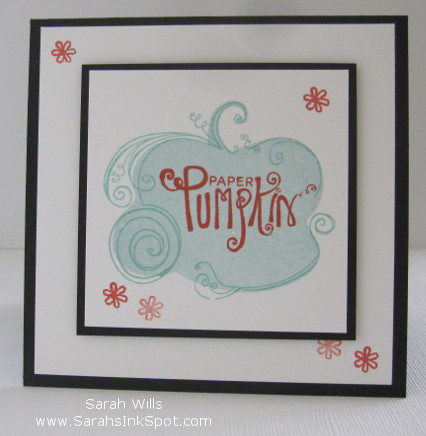 In a co-ordinating envelope…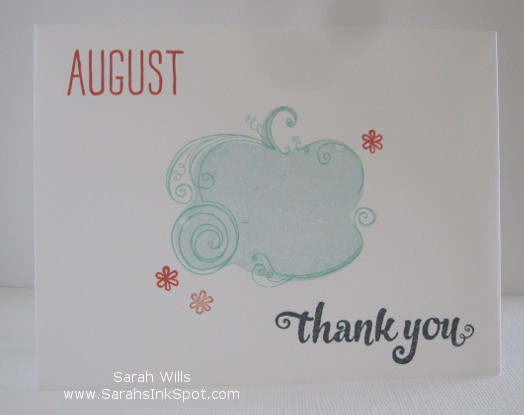 I cannot tell you how much I LOVE these pumpkin stamps – so stinkin' cute & fun to work with!  And as an extra thank you this month, my subscribers also get a Paper Pumpkin Pen in their Thank You package too…
But it's not too late – subscribe with me during August and you will receive my next Paper Pumpkin Thank You Package including a Pen!
So a quick re-cap – what is Paper Pumpkin?
It is a subscription whereby every month you get a kit delivered right to your door containing EVERYTHING you need to complete paper crafting projects!
Your Paper Pumpkin Kit comes packaged in a sweet box, and inside are all the stamps, ink, paper, and accessories you need to create projects like cards, journals, décor, and more…
And even better, everything is pre-cut, color co-ordinated and measured – all you have to do is the FUN bit of putting it all together! These kits are also fab to take on road/plane trips too!
How do you try Paper Pumpkin for 2 months at HALF PRICE?
And input Promo code HALFOFF
It should automatically show me as your demonstrator but if you have to choose a demonstrator be sure to pick me – Sarah Wills from Volente Texas
This offer is available for new subscribers only now through September 10th
If you decide that you don't want to continue receiving it after your 2 months are up, no problem – you simply cancel using the website – easy!
When will you receive your first Kit?
Subscribe by the 10th of the month, and you will receive that month's kit
August's kits have already gone out and so when you subscribe now, you will receive September's Kit
AND you will receive my September Thank You package along with your pen
And just a last photo to make you chuckle…I was looking for something to prop my envelope up so that I could photograph it…I happened to be in the kids play room and came across the perfect thing…and here he is…my 'man' behind the scenes who helped me out today…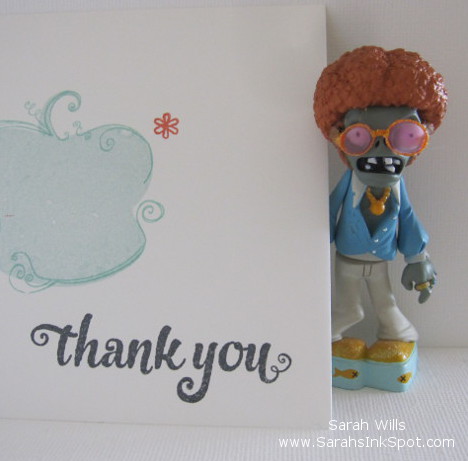 Thank you Mr Dancing Zombie from Plants vs Zombies world – you were superbly helpful although you look a little shy LOL!
CLICK HERE TO TRY PAPER PUMPKIN FOR 50% OFF!
August Paper Pumpkin Thank You's…