So today's card takes me WAY outside of my comfort zone…why?  Because it's bold and pretty bright…and I don't usually do bold & bright…I'm more of a regals/neutrals kind of gal!
But I dug out my pack of Bohemian DSP which has some fab designs and I thought why not challenge myself to use them on a card…and so I did…
And the whole time I was making it, I had that amazing song Bohemian Rhapsody by Queen going in my head…lol…talk about a flash back to the 1970s!
So here is my bold & bright card…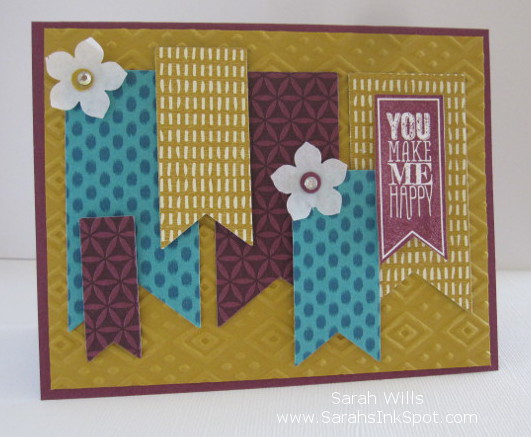 There is a lot going on here – colors, patterns, texture – but I have to say, I like how it turned out including those white flowers that break up the patterns well…
The card base…is Blackberry Bliss onto which I layered a piece of Delightful Dijon that I textured using the Boho Chic Embossing Folder.
The banner pieces…I picked out what designs of papers I wanted to use from Bohemian Designer Series Papers and used dies from Banners Framelits to cut those banner shapes – it was like a fun jigsaw puzzle working out which to put where!
I put the bottom ones directly onto the yellow layer and then used Dimensionals to put the next layer over the top…
The stamped one…that stamp is from the set Perfect Pennants (which is a set FULL of fun bold stamps!) – and I stamped it using Blackberry Bliss ink onto white cardstock and cut it out using one of the Banners Framelits dies…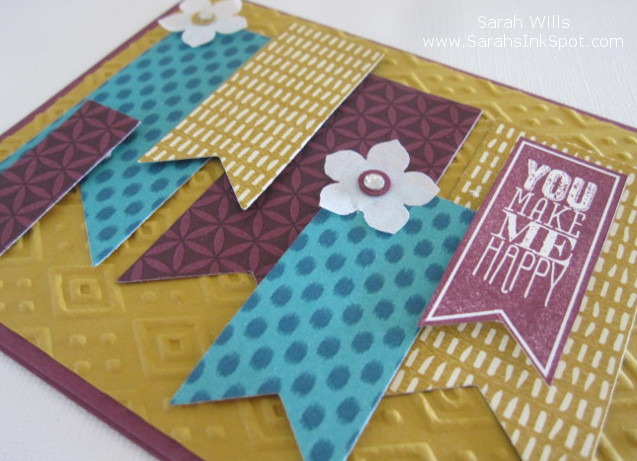 I think it fits in perfectly with the theme of the card – bright, fun and happy!
The finishing touches…I have TONS of those beautiful Tea Lace Doilies and decided to make some paper flowers using one of them – so I dug out my Petite Petals Punch and made two flower shapes…
Then made the flower centers by punching out 1/4″ Circles and adding a Rhinestone Jewel to the centers of each…
And I LOVE how those flowers just break up the patterns & textures to dilute the busy bold look just a touch!
Here are the other fantastic stamps you get in the set Perfect Pennants – click on the blue words below to view in the online store…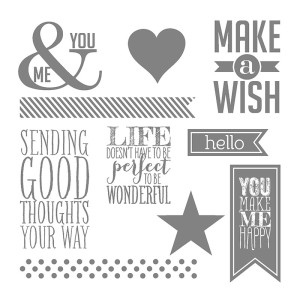 Supplies used to make this card:
Stamp: Perfect Pennants (CM 133230/WM 133227)
Ink: Blackberry Bliss (133642)
Cardstocks: Blackberry Bliss (133675), Delightful Dijon (138338), Whisper White (100730)
DSP: Bohemian (138446)
Embossing Folder: Boho Chic (138286)
Dies: Banners Framelits (132173)
Punches: Petite Petals (133322), 1/4″ Circle (134364)
Misc: Tea Lace Paper Doilies (129399), Rhinestone Jewels (119246), Dimensionals (104430), Glue Dots (103683)
CLICK HERE TO PLACE YOUR ORDER ONLINE!
Bohemian Rhapsody with Perfect Pennants…