I LOVE the names of those two stamp sets – just as much as I LOVE the stamps in them too – in fact they are amongst my very fav sets in the Annual Catalog…why?
Because You've Got This features that gorgeous flower stamp along with the versatile crosshatch background…and Happy Happenings simply has lovely sentiment stamps that can be used year round…I love versatile and stamp sets that I can use for more than one occasion and both fall into that category!
Here is the card that I made featuring stamps from both sets…it also uses two of my current favorite colors…which makes me hungry…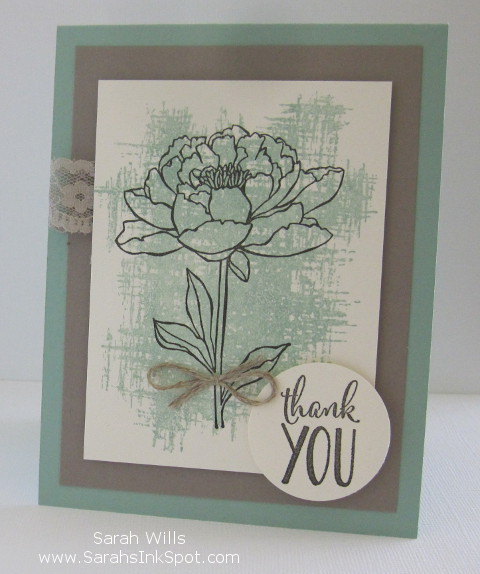 Hungry?  Yep – that brown & mint color combo reminds me of my favorite ice cream flavor, Mint Choc Chip…shortly after making this card I had a big craving for a bowlful!
The card base…is Mint Macaron onto which I layered a piece of Tip Top Taupe…
The flower layer…I inked up the big background crosshatch stamp from You've Got This with Mint Macaron ink and stamped it onto a scrap of paper – then immediately I stamped it onto the Very Vanilla layer without re-inking to give a softer background.
I then stamped the flower on top of that background using Early Espresso ink so that it really pops out and added it to the base using Dimensionals…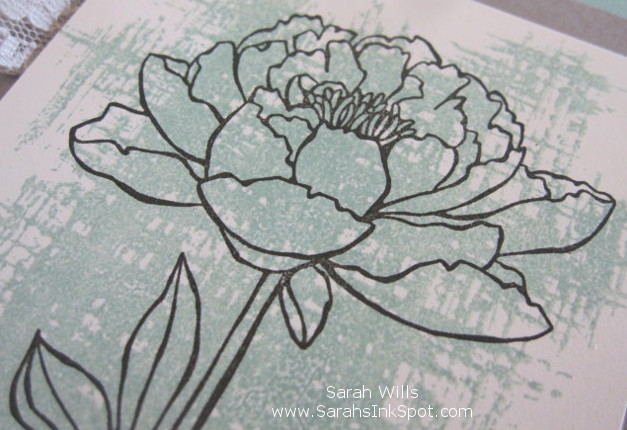 The bow…using Linen Thread I tied a bow and added it to the base of the stem – I love the addition of this cute accent!
The tag…I stamped the 'thank you' sentiment using a stamp from the Happy Happenings in Early Espresso ink onto a scrap of Very Vanilla and punched it out using my 1 1/2″ Circle Punch which I then added to the stamped layer using Dimensionals…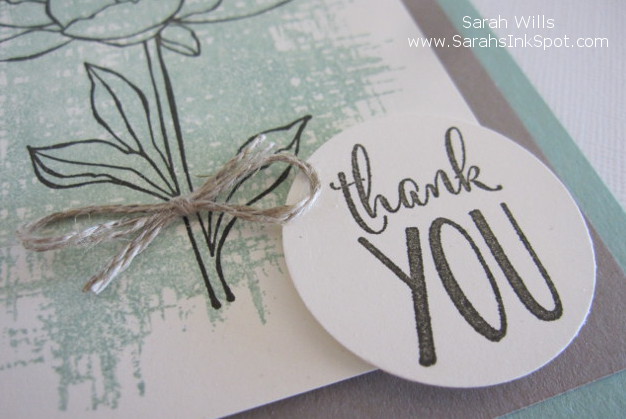 The finishing touch…I cut a piece of Sahara Sand Lace Trim, folded it in half and using a Glue Dot, popped it just under the floral layer so it looks like a tab.
Oh I just love how this card turned out…simple…elegant…kind of classic looking…not at all like me LOL!
And speaking of ice cream…I already have tomorrow's card made and ready to show you…my crafting mojo is finally back and on fire so hold on!
Here are the images you get in the set You've Got This – click on the blue words below to view in the online store…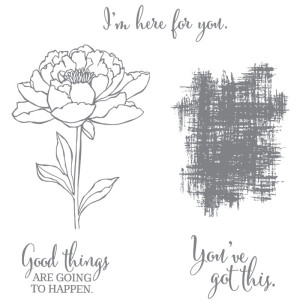 Here are the images in the set Happy Happenings: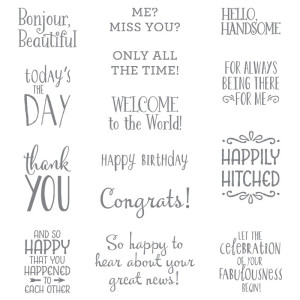 Supplies used to make this card:
Stamps: You've Got This (CM 139575/WM 139572), Happy Happenings (CM 139381/WM 138734)
Inks: Early Espresso (126974), Mint Macaron (138326)
Cardstocks: Mint Macaron (138337), Tip Top Taupe (138336), Very Vanilla (101650)
Ribbon & Twine: Sahara Sand 7/8″ Lace Trim (137866)Linen Thread (104199)
Misc: 1 1/2″ Circle Punch (138299), Glue Dots (103683), Dimensionals (104430)
CLICK HERE TO PLACE YOUR ORDER ONLINE!
You've Got This with Happy Happenings…