One of my absolute favorite stamp sets in the Holiday Catalog is one that I actually overlooked the first few times I went through it…
In fact I didn't even order it on my first order…but on a subsequent venture through the catalog I saw it and realized how incredibly versatile it was going to be and so I had to have it!
The stamp set is called Among the Branches and is featured on pg 39 – it has stamps for Halloween, the Fall, Thanksgiving and the Holidays too – all for the price of $17 making it an absolute staple and bargain!
I decided to make 3 cards showcasing how you can use this set for the different holidays – first up is my Halloween card…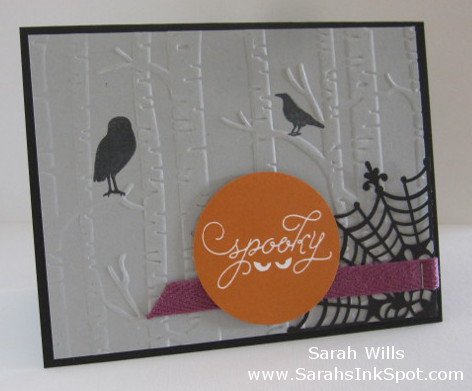 I used an idea featured in the Holiday Catalog for inspiration and I so love working with these stamps – and that textured background – which leads me to another versatile product that is also on pg 39…
The Woodland Textured Embossing Folder – how amazing is that?  And another product that you can use for Halloween, Fall, Thanksgiving and Holiday projects and year round too!
AND YOU KNOW WHAT?  YOU CAN BUNDLE UP & SAVE!  That's right – purchase Among the Branches stamp set with the Woodland Embossing Folder as a Bundle FOR JUST $21.50 – that is an incredible price for both products!  Find this bundle on pg 39 or in the store by clicking HERE
The card base…is Basic Black onto which I layered a piece of Smoky Slate…
The trees…are super simple to create using the Woodland Embossing Folder – Smoky Slate is also a great color for your Holiday cards but more about that tomorrow!
The birds…are stamps from Among the Branches and I stamped them directly onto that gray layer using Memento Ink for a crisp clear look…
The spider web…don't you just love it?  It is a quarter of a beautiful delicate doily!
You can find the Spider Web Doilies on pg 47 and you get a pack of 24 of them for just $4.50 – they are big and beautiful and if you want any, please order them NOW to avoid disappointment as Stampin Up have indicated that these might go onto Back Order!
This is what a full doily looks like…LOVE it…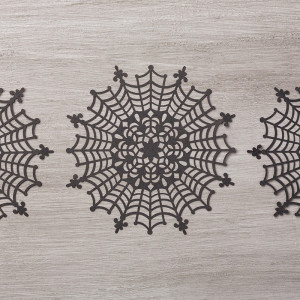 I attached the doily to my card by using a Glue Dot in the bottom corner so that the adhesive is hidden…
The ribbon…is thick and gorgeous and is called Into the Woods 3/8″ Cotton Ribbon in the color Rich Razzleberry (again, if you want any please order NOW to avoid disappointment!) and to attach it I simply secured it in place using my Handheld Stapler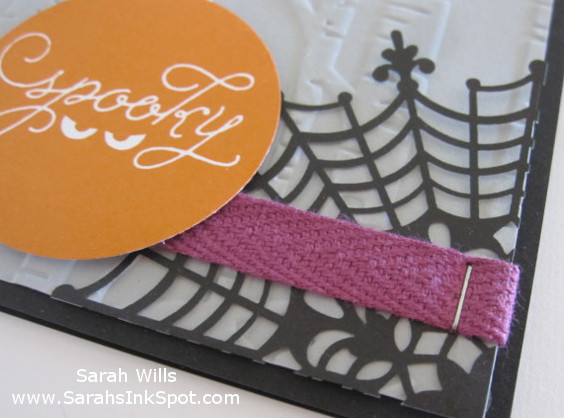 The Spooky image…is a stamp from Among the Branches – LOVE this big beautiful bold stamp!  I stamped it using Tangelo Twist Ink, cut it out using my 2″ Circle Punch and added it to my card using Dimensionals.
I absolutely adore how this card turned out – those colors work so well together – and these products are so much fun to use!
Here are the images that you get in Among the Branches…click on the blue words to see it in the store…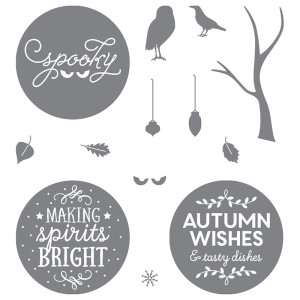 And here is the texture you get with the Woodland Embossing Folder…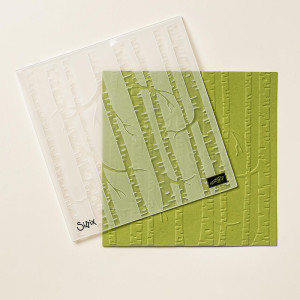 AND HERE IS THAT BARGAIN BUNDLE FEATURING BOTH PRODUCTS: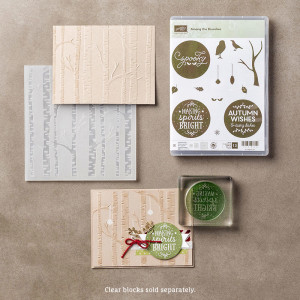 Tomorrow I am going to be showing you a Holiday card that I made using these stamps so be sure to come back & see it…
And remember to look through your Holiday Catalog several times…you might be amazed at what you missed the first few times through it, like I did!
Supplies used to make this card:
Stamps: Among the Branches (139823)
Embossing Folder: Woodland (139673)
BUNDLE: STAMP SET & EMBOSSING FOLDER (140872)
Inks: Tangelo Twist (133646), Memento Tuxedo Black (132708)
Cardstocks: Basic Black (121045), Smoky Slate (131202)
Punch: 2″ Circle (133782)
Ribbon: Into the Woods 3/8″ Cotton (139612)
Misc: Spider Web Doilies (139622), Handheld Stapler (139083), Dimensionals (104430), Glue Dots (103683)
CLICK HERE TO ORDER YOUR STAMPIN' UP! SUPPLIES ONLINE!
Spider Webs are Among the Branches…