That's right – the absolutely fabulous brand new HOLIDAY CATALOG has gone live for order – that means you can order from it TODAY!
The new Holiday Catalog is filled with beautiful brand new stamps, papers, ribbons, dies, embossing folders…punches…BUNDLES…the list is endless…this is, I think, the BEST Holiday Catalog EVER!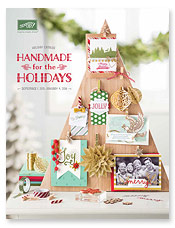 How do you order from this fab new Catalog?
All orders of $150 or more qualify for free Hostess Benefits – also known as Stampin' Rewards in the online store – choose any regular catalog merchandise for your free Hostess rewards or choose from the exclusive Hostess only stamp sets at the back of the Catalog
Want to view the Holiday Catalog online?
Click HERE to view the Catalog online – you can also download this file to your computer
Need a paper copy of the Catalog?
If you do not have a Demonstrator and would like a copy, please email me at sarah@sarahsinkspot.com with your mailing address and I will get one out to you!
If you have placed an order with me since June 2014 you should have already received a copy in the mail – if you have not, please email me and I will get one out to you asap.
PLEASE NOTE:
If there are any Kits that you want – especially the Season to Season Wreath and Witches Hat centerpiece featured on pgs 6-7 – please order those FAST to avoid the disappointment of them going into backorder – they are already extremely popular amongst demonstrators!
PLEASE NOTE – if you do purchase either/both of those kits, please be advised that in order to re-create what you see in the top photos, you will need to purchase THE STAMP SETS beneath them – die cut images in both Kits (the banners on the wreath and the label on the hat) come BLANK – I found this out the hard way LOL so be sure to add those stamp sets to your order!
BACKORDER RISK:
Stampin Up have released a list of items very likely to go into Backorder FAST due to popularity – these are:
Spiderweb Paper Doilies (item 139622)
Home for Christmas Designer Series Paper (item 139592)
Red Foil Sheets (item 139607)
Into the Woods 3/8″ Cotton Ribbon (item 139612)
Reindeer Paper Clips (item 139643)
Fine-Tip Glue Pen (item 138309)
IF YOU WANT ANY OF THOSE ITEMS PLEASE ORDER THEM AS SOON AS YOU CAN (TODAY if possible!) TO AVOID THE DISAPPOINTMENT OF YOU HAVING TO WAIT TO GET THEM!
CLICK HERE TO FIND THOSE NEW HOLIDAY CATALOG GOODIES!
You can order from the HOLIDAY CATALOG from TODAY!