THE BIGGEST STAMPIN UP EVENT OF THE YEAR – SALE-A-BRATION 2016 – IS HERE bringing with it TWO WAYS for you to get your FREEBIES – by SHOPPING or by JOINING!


Both are detailed below – if you have questions at all, please email me by clicking HERE and I will be very happy to help…
When you shop during Sale-a-bration you get to choose 1 item for FREE from the Sale-a-bration Brochure for EVERY $50 that you spend – no limits!
Click HERE to view the Sale-a-bration Brochure online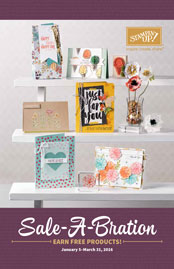 Not got a paper copy and want one?  Click here to email me and I will get one out to you TODAY!
How does shopping during Sale-a-bration work?
Sale-a-bration runs from NOW through March 31st 2016
During Sale-a-Bration you get to choose ONE FREE ITEM from the Sale-a-Bration Brochure for EVERY $50 that you spend!
It doesn't matter what you buy – anything from the Annual Catalog, the Occasions Catalog, the Clearance Rack, Weekly Deals – ANYTHING that you purchase from Stampin' Up! counts!
There are NO limits – meaning when you spend $100 you get to choose 2 free items, spend $150 and you get to choose 3…spend $500 and you get to choose 10…and so on…
And it gets even better:
at least 3 Free Sale-a-bration items
PLUS at least $15 in Hostess Dollars to choose free items with!
And there's even another level – when you spend $250+ you get:
at least 5 Free Sale-a-bration items
PLUS you get your regular Hostess Benefits – $25 in Hostess Dollars…
PLUS DURING SALE-A-BRATION YOU GET A BONUS $25 in Hostess Dollars – that's right – on orders of $250+ you are going to get an EXTRA $25 to spend – on a $250 order that gives you a TOTAL OF $50 IN HOSTESS DOLLARS TO USE!
Below is the chart of Hostess Benefits – EVERYONE who places an order of $250+ gets the extra free $25 in  hostess dollars!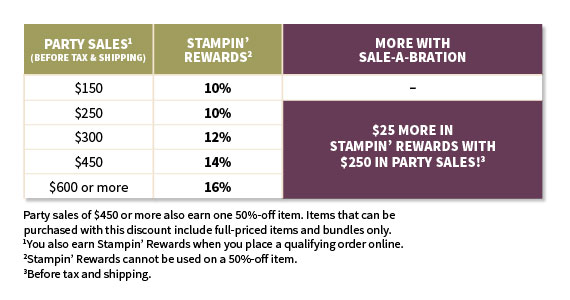 CLICK HERE TO SHOP ONLINE AND GET YOUR FREE SALE-A-BRATION ITEMS!
Thinking about joining to get a regular 20% discount off of all of your purchases? 


BUY YOUR STARTER KIT DURING SALE-A-BRATION AND YOU'LL GET TO CHOOSE $156 WORTH OF PRODUCTS TO FILL IT AND PAY JUST $99…
Here are the details:
Through March 31st your Starter Kit costs JUST $99 and YOU get to choose ANY $155 in products to fill it!
It ships to you for FREE!
Think of that as one BIG coupon!
Join in January and you will be an active Demonstrator through July 31st (with no further purchase necessary) which gives you an automatic 20% discount on ALL of your orders AND you will be able to order from the new annual Catalog debuting in the summer a month sooner than you can as a customer!
Interested and want to find out more?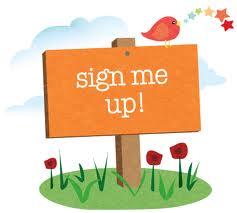 Already decided and are ready to join right now?
That link takes you to a page where you can find a video & further information – and a Join Now button!
You will get your Demonstrator number & information via email immediately
Click HERE to email any questions that you have to me and I will be very happy to help
Sale-a-bration 2016 is here!