Oh mason jars…I love, love, love them…we have hundreds of them and I know that a busy canning season is coming up soon because of all the empties that are stashed in the closet!
And so of course as soon as I saw the new stamp set Jar of Love, I squealed – how cool to have a stamp set full of mason jars!  And better yet – a set of dies to go with them!
It just doesn't get much better than that for a mason jar addict with a love for paper crafting – mason jar stamps + ink = LOVE  :-)
Sooo here is a card that I designed for my June customer Thank You cards using some of these stamps…you can see that I couldn't resist using that little fish to pop into one of them…not that I am planning to can goldfish…I don't think the kiddos would be too pleased about that!!!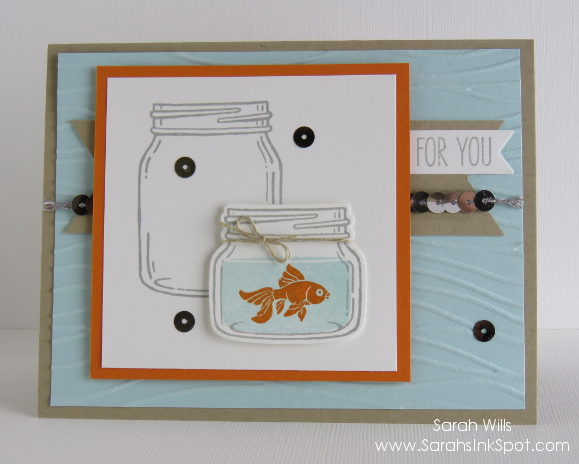 AND I've also been playing with a new camera today…well, I say new…hubby got a new super duper camera last fall and I have been putting off getting to know it because I just never seem to have the time…in reality it is that I never seem to MAKE the time…but today the kids are playing happily and so I decided to play around with it…
And I am SO happy that I did – the images are so much crisper than my old point & shoot one – I wish I'd done this months ago!  Oh the irony LOL!
Ok so back to my card…
BUT before we get into the details, if you want a printable/downloadable Project Sheet showing you how to make this card along with a supply list, you can find the link to it at the end of this post – yay!
I wanted my jars to be a bit glass like and so stamped them in Smoky Slate to give a subtle clear outline – the color of the water is Soft Sky and that goldfish I wanted to be a bit bold and so he is stamped in Pumpkin Pie…AND to make cutting it out super easy, I just used one of the co-ordinating dies in Everyday Jars Framelits…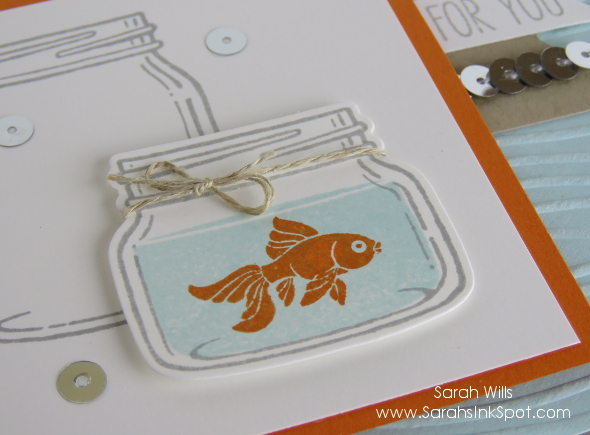 Once I had those core colors decided upon, I wanted to carry them into the background of my card but also wanted to combine them with a contrast color and so I chose Crumb Cake…oh I love me some Crumb Cake…it is so versatile!
And of course the background had to have a water theme which was super easy to create using the brand new Seaside Embossing Folder – I can see me using that ALOT this summer, especially in my Project Life scrapbooking projects…
Do you see the other little water themed bits?  I was looking for some ribbon or trim to put on my card and as soon as I saw the Silver Sequin Trim I knew I had the one – why?  Because a run of it reminds me of fish scales…and the individual sequins remind me of bubbles…and so I was sold on that and onto my card it went!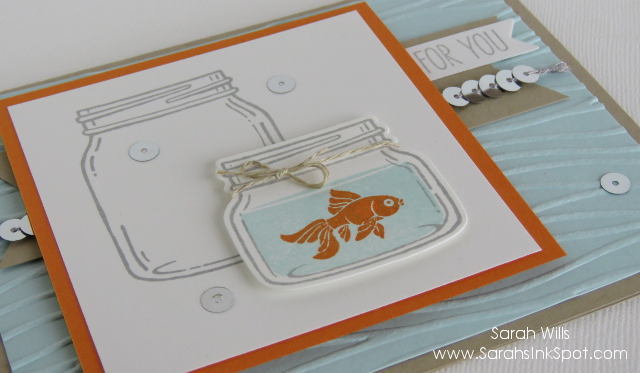 Sarah's Tips on making this card:
Tie the linen thread or bakers twine around the jar BEFORE adhering it to your card base – it's much easier!
I highly recommend the Banner Triple Punch – it makes creating banners easy – you can make banners up to 2″ wide and it is easily the most versatile and most used punch in my stash
Sequin Trim is such an amazing value for money product – use a length or pull of the individual sequins – I did both on this card – just think of the possibilities especially for holiday projects!
Want the stamp set?  When Stampin Up offers a Bundle like this one with both Stamps & Dies, seriously consider snapping it up!  It not only saves you money on the stamp set & dies BUT also saves you a lot of time – no fussy cutting!
Want to get your hands on one of these cards?
Easy peasy – simply CLICK HERE to place an order of any value with me during June and I will send you one in the mail along with a little Thank You gift :-)
BUNDLE UP & SAVE!
When you bundle this Stamp Set & set of Framelits Dies together you save 10% – sweet deal!
Click HERE to save on this bundle today – item code 142342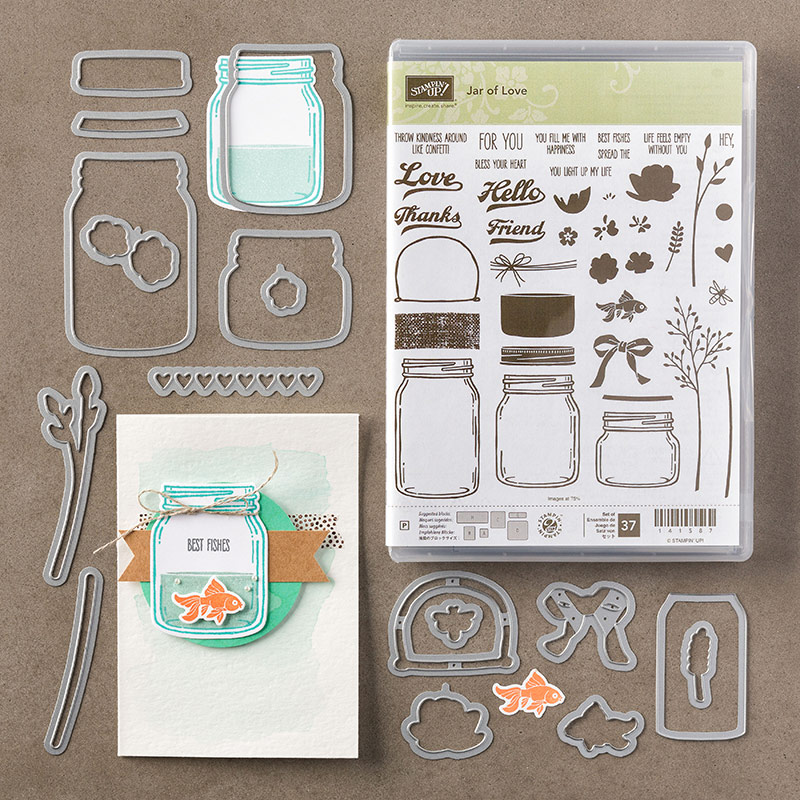 Want my FREE PROJECT SHEET showing you how to make this card along with a supply list?  
Click HERE to find it – then you can download it or print it out to keep for easy reference!
Supplies used to make this card:
Stamps: Jar of Love (141587)
Dies: Everyday Jars Framelits (141490), Bunch of Banners Framelits (141488)
BUNDLE: Jar of Love Photopolymer Bundle (142342)
Ink: Smoky Slate (131179), Soft Sky (131181), Pumpkin Pie (126945)
Cardstocks: Crumb Cake (120953), Soft Sky (131203), Pumpkin Pie (105117), Whisper White (100730)
Punch: Banner Triple (138292)
Embossing Folder: Seaside (141481)
Misc: Silver Sequin Trim (138399), Linen Thread (104199), Dimensionals (104430), Mini Glue Dots (103683)
CLICK HERE TO ORDER YOUR STAMPIN' UP! SUPPLIES ONLINE!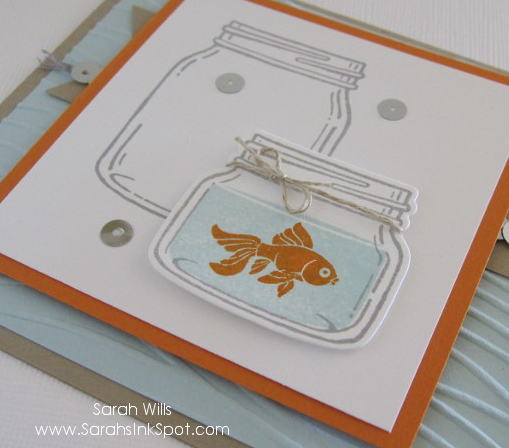 Jar of Love meets GoldFish…