Yesterday I was super excited to get my hands on some brand new Sale-a-bration freebies…there are 3 new items that will be added to the line up and my absolute favorite of these is a pack of beautiful sparkly Glimmer Papers…
If you are a glitter addict – OH MY you are in trouble!!!  These papers are GORGEOUS and come in three colors – Sweet Sugarplum (pink), Bermuda Bay (blue) and Mint Macaron (green) – let me tell you, you are going to LOVE them!  The 3 new items go live for customers on February 21st OR if you want them earlier, JOIN and you can ORDER them right NOW in your Starter Kit – details are below!
I was sooo excited I had to use some straight away and I had just the perfect project to use it on…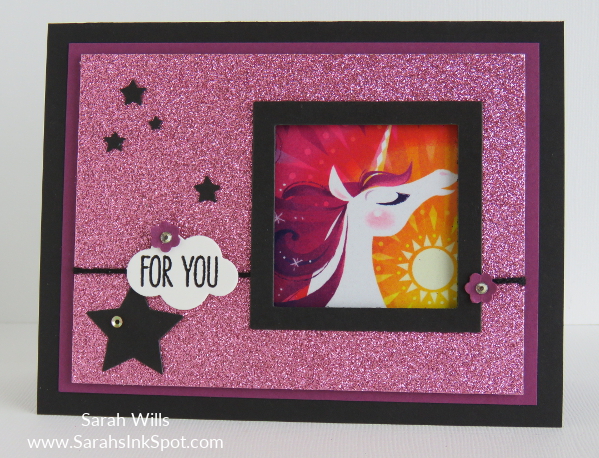 What do you think?  Isn't it CUTE?!  I love how this one turned out – see the sparkle of that glittered cardstock?  It's very hard to capture on camera but it shimmers at every angle and is simply amazing!
You will find a link to the printable/downloadable Project Sheet detailing all measurements, colors used & instructions on how to make this card below – look for the red text!
So what is the story of the Unicorn on this card?  Well, I was shopping in Target the other day for a gift card for a teenage girl's birthday and this Unicorn one caught my eye…isn't it cool?  Plus that purple color made me realize I could use it with Rich Razzleberry and so I just had to have it!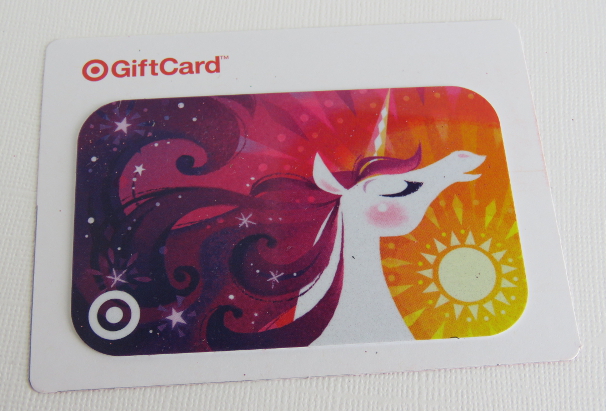 I love the artwork on this gift card so much that I decided to incorporate it into the actual card – and when I opened my pack of Glimmer Papers yesterday and saw the super sparkle of the Sweet Sugarplum, my idea was born…I decided to make a window through it that the Unicorn can peek out of!
Here is a close look at that window with the Unicorn peeking out…super easy to make using a scrap of black cardstock and two nesting dies that you can find in Layering Squares Framelits Dies – again, full instructions are on my Free Project Sheet – find the link at the end of this post…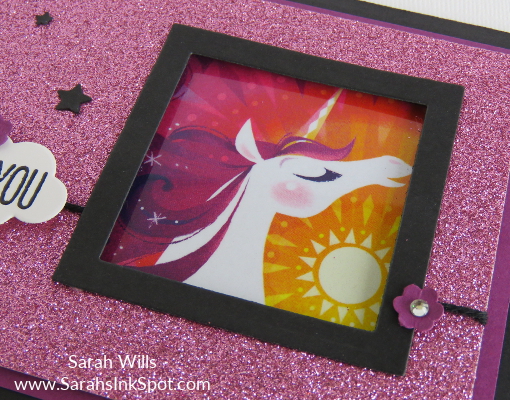 I know that teenagers don't like to be thought of as kids, but I wanted to keep some fun on this card and decided to add a little bit of a magical theme – I decided that stars for the embellies and a sentiment cloud would work well with my Unicorn…
I used a die from Stars Framelits for the big star and the small stars were cut using the Confetti Stars Punch
I made the cloud die cut around the sentiment using a die from Up & Away Framelits – there are a few different cloud dies in that set making it super versatile…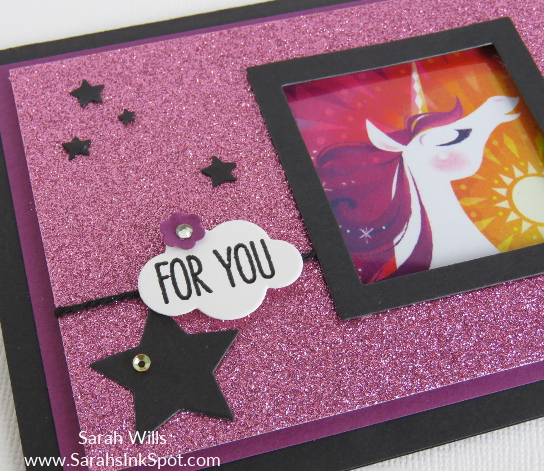 And here is the inside of the card…I did toy with adding ribbon and making a pocket on the outside of the card that the gift card could be pulled out of, but after playing I decided to go this route – it is simply attached with a few pieces of tape so that it's easy to remove and also that it's obvious what it is!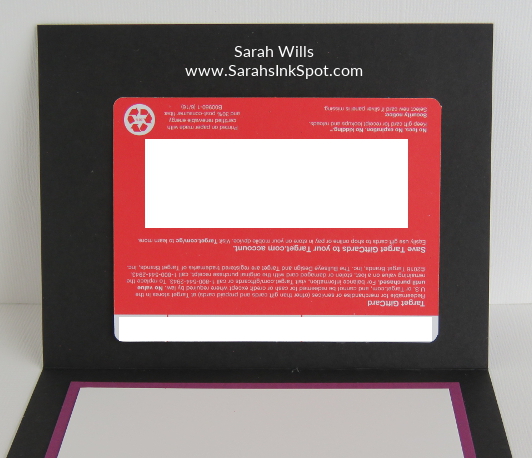 And here is another look…I tell ya, I just can't get enough of that sparkle…if you are a Twilight fan, you remember how Edward's skin looks like diamonds in the sun?  Seriously, this is what this glimmer paper looks like – whilst typing, I am sat here looking at this card on my desk and it literally SHIMMERS at any angle and in any light – I LOVE it!!!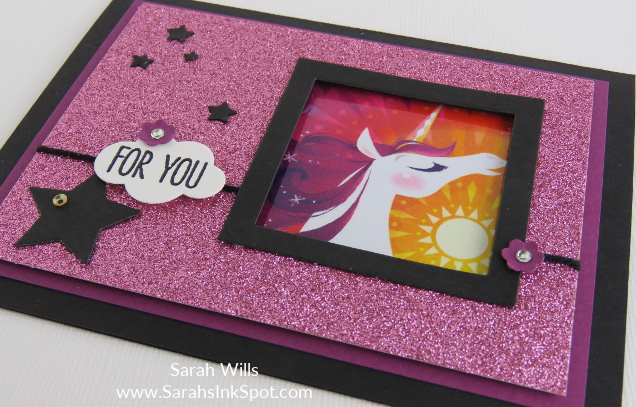 Sooo, when can you get YOUR hands on this luscious pack of Glimmer Papers?  It joins the Sale-a-bration line up on FEBRUARY 21st 2017
If you are not a Demonstrator – you have to wait until then to get it and the only way you can get it is as a freebie when you place a $50+order
CAN'T WAIT THAT LONG?  Don't despair – you could order this pack of papers TODAY as part of your Starter Kit when you join!  
Your Starter Kit will cost you just $99 and you get to choose $125 worth of product to put in that kit – AND right now Stampin Up are GIVING YOU TWO FREE STAMP SETS (total value up to $104!) with it – AND your kit ships to you for FREE – AND you can add all three of the brand new not-yet-for-customer-order 2nd Release Sale-a-bration items into your kit it you choose!
There is NO obligation to ever purchase anything again – this is an amazing deal – click HERE to find out more about joining my Team of INK SPOT STAMPERS!
Got Questions?  Click HERE to email them to me and I will be very happy to help.
WANT MY FREE PROJECT SHEET FOR THIS CARD?  Click HERE to find it – then you can download it or print it out to keep for easy reference!
And getting back to the papers – don't forget that there are two more colors in the pack too – Mint Macaron and Bermuda Bay – here they all are together…SO pretty…and Eastery…and summery…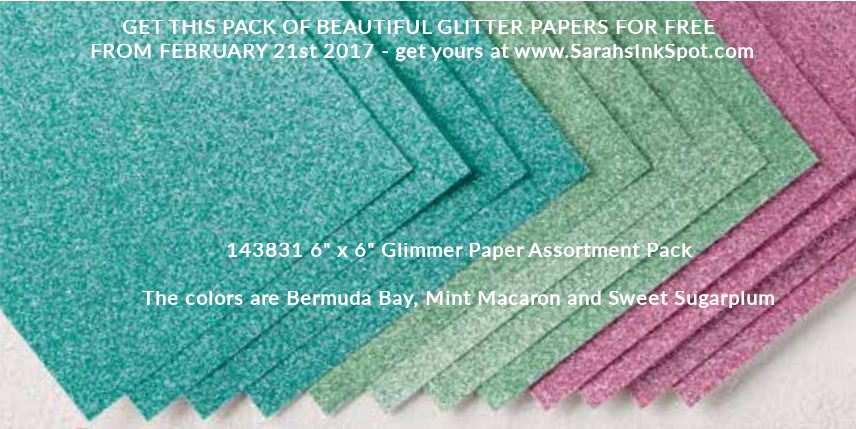 Here are the supplies I used to make this project – click on any of the products below to find them in my Stampin' Up! online store:
Thanks for stopping by – have a fantastic Friday!

Current Specials:
The Occasions Catalog is here – click HERE to find the new Spring & Summer products
It's Sale-a-bration! Choose ONE FREE ITEM for EVERY $50 that you spend!
And there is no limit – meaning the more you spend, the more items you get for FREE!
Got questions about how Sale-a-bration works?  Click HERE to email them to me and I will be very happy to help
And don't forget to use my February Host Code to get yourself a FREE PACK OF ENVELOPES or NOTECARDS & ENVELOPES!  Click HERE to find out more!