Welcome to the first ever Inky Friends Blog Hop!  In this hop we are each showcasing one stamp set from the brand new Annual Catalog and there are ten of us taking part – to take the whole hop click on the link at the end of this post to go forwards or backwards – all blogs link in a circle so either way, you will get to see all of the amazing projects…

If you are starting here, a big warm welcome – and if you are already hoping in order, you will have arrived from the amazingly talented Tanya Boser's blog who just convinced me that I absolutely need the set Magical Mermaid!
The set I am showcasing today is called Merry Mistletoe and you can find it on pg 113 – it features the most beautiful Reindeer, a lovely big Merry Christmas and some great greenery stamps.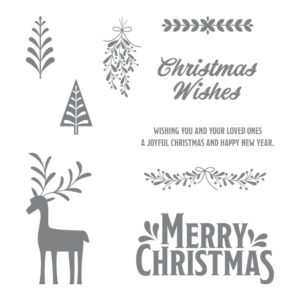 I designed three cards using these stamps and the two of them are here – the third is still under construction LOL – I didn't want to rush it and so thought that I would post it on Monday along with full details & more photos of all the cards.
First up is my Christmas card…I decided to create a moonlit snow scene with my Reindeer and decided to use three colors…Early Espresso, Cherry Cobbler and Whisper White…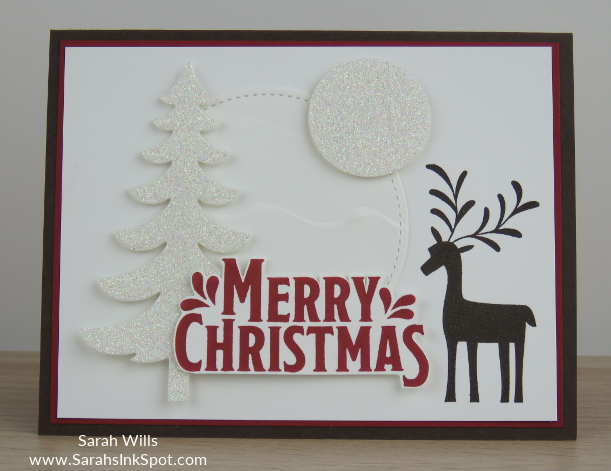 The tree & moon are the fabulously sparkly Dazzling Diamonds Glimmer Paper and check out that snowy circle…it's really hard to capture it on camera but I textured a piece of white cardstock using the brand new Ruffled Dynamic Embossing Folder and cut it out using a Stitched Shapes Die.
That embossing folder makes really deep ridges which are tricky to see here but it is absolutely perfect for a snow scene…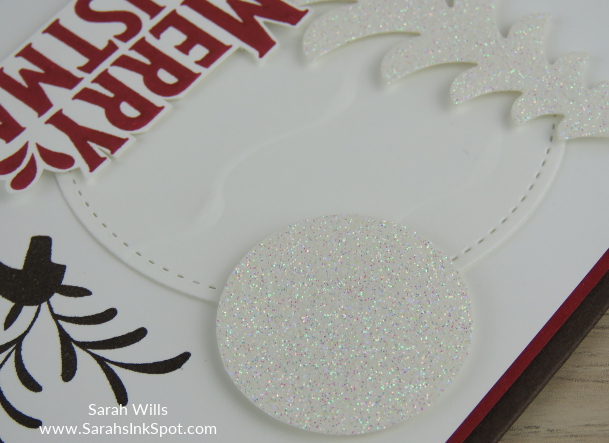 Making this card made me daydream of cool days and crisp evenings…I am thinking because it's hot here in Texas this week!
Next up I wanted to show you how versatile this cute Reindeer is and made a masculine birthday card using him…and by changing just the sentiment, this would double as a great card for Thanksgiving too…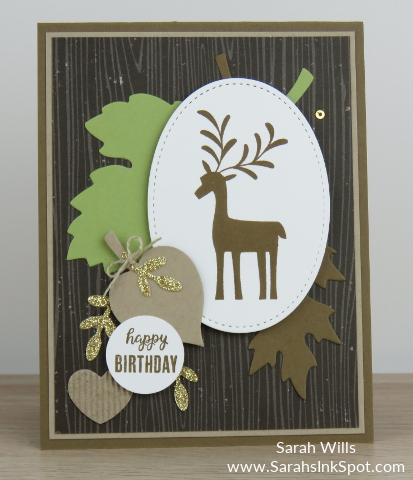 For this card I decided to use several browns – Soft Suede, Crumb Cake and Early Espresso – and added a pop of green and some gold for a bit of bling – can you tell I love those glitter papers?!
I used dies from Leaflets Framelits to make the big leaves and the small gold glittered ones were made with a die from Welcome Home Framelits
And that background?  It is a piece of patterned paper from Coffee Break DSP!  So surprised me when I saw that pattern in that pack – it is perfect for this card!
The 'happy birthday' stamps are also new – you can find them in 'Tabs for Everything' that you can find on pg 43 which is quickly becoming one of my 'go to' sets because it's just so versatile.  Here is a close up of the detail…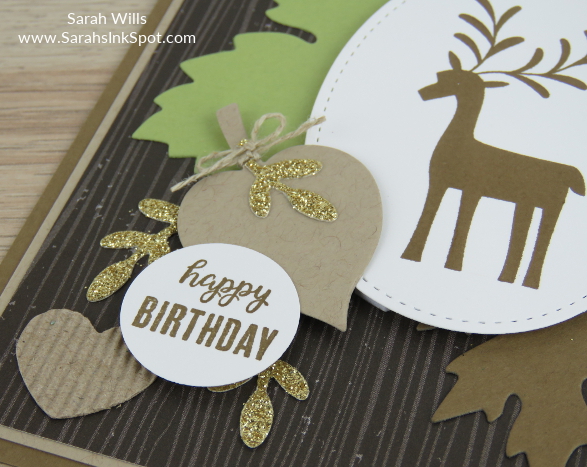 I will post my third card on Monday along with full details & supplies for the above two cards so be sure to check back if you are intrigued – all I will say about my third card is that it has a bit of a love theme to it!
A big thank you for visiting – click on the 'Next Blog' button below to go and visit Cindy Elam and see what cool projects she came up with…
The Inky Friends Blog Hop featuring Merry Mistletoe and one cute Reindeer…