Welcome back to 3-D Thursday and this week it is my turn to show you a little something that I created…now being August, I have back to school in mind…which is bittersweet this time around as my babies are starting high school – how in the world did that happen so fast?!

So thinking of back to school, I decided to make a treat that would be perfect to give to teachers on the first day back which is pretty to look at and also has a little chocolate in there too for a well deserved treat…further down this post you will find a link to the FREE Project Sheet that has step by step instructions & color photos that you can save to your computer or print out and have on hand for easy reference.
Here is my treat…it's a Paper Flower Vase filled with yummy chocolate Ghirardelli squares…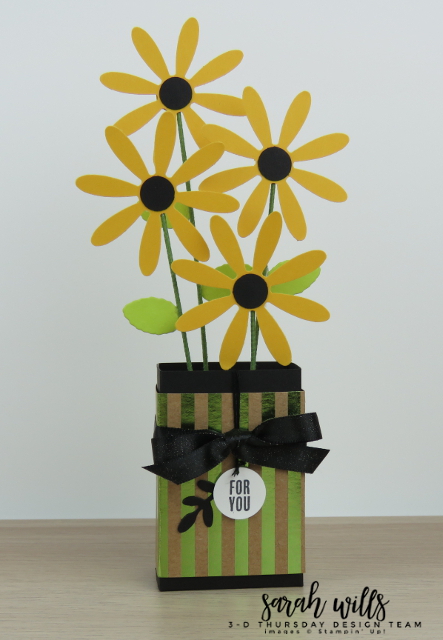 I wanted it to be bright, vibrant and cheerful and I also wanted to make it so that you could make a bunch of these treats for multiple classes in a pretty short amount of time as back to school requires a lot of preparation which in turn can take a lot of time!
In order to achieve that, I designed it so that this project lets the card stocks, patterned paper, ribbon and basic shapes do the work for you – once you've cut & scored all of the pieces, you just need to assemble them which I love to do whilst watching a show or movie.
Here is a close up of the vase section…that pretty Lemon Lime Twist & Kraft striped paper is from Foil Frenzy Specialty DSP and the metallic green stripes are super shiny!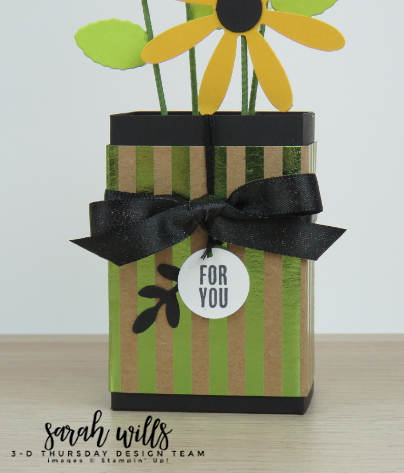 The only stamping on this project is the tag which uses a stamp from Tabs for Everything – I deliberately kept the stamping to a minimum to keep this project quicker to make – but I have to tell you, I was so tempted to stamp the flowers!  But I managed to restrain myself whilst chanting 'keep it simple Sarah' LOL!
The ribbon tied around the vase is beautiful – it is the Basic Black 3/8″ Shimmer Ribbon and has lots of sparkle to it – you can see a bit of this with the sparkle flecks in the photo below – in real life, it is much sparklier and very, very pretty.
Here is a birds eye view looking down into the vase…see the foil wrappers?  Yup, there are 4 Ghirardelli chocolate squares nestled down in there…but I can tell you that a few more were eaten in the making of this…hehehehe…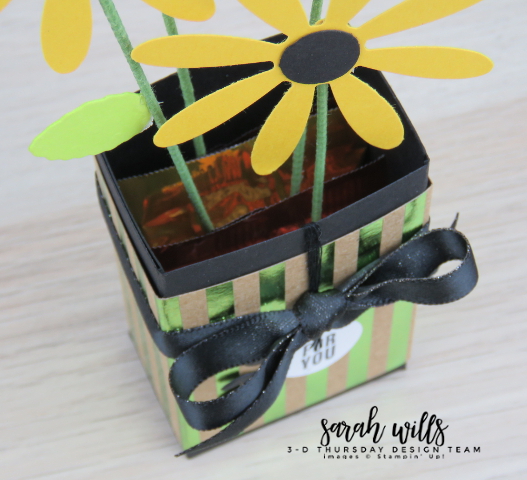 Those chocolate squares are layered using Dimensionals, which are positioned in lines & staggered so that they provide support for the flowers.
And speaking of flowers, here is a close up of those…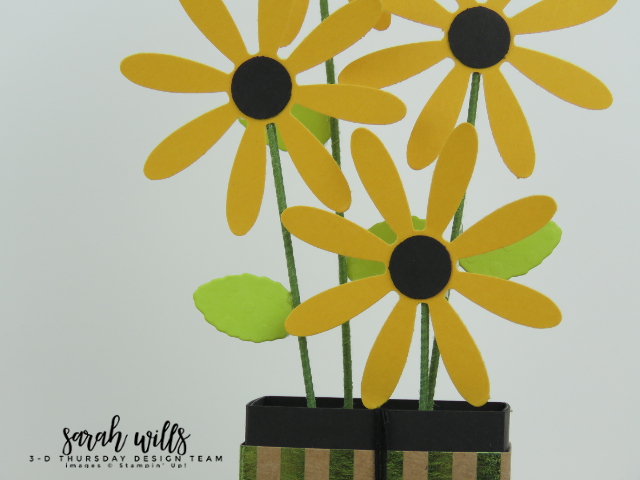 The flowers were cut out of Crushed Curry card stock using the new Daisy Punch, the centers a circle of Basic Black and the fab new Lemon Lime Twist for the leaves – for the stems, I used some thick gauge florists wire that I found at a big box store.
All punches & dies that I used on this project can be found in the Supply List & on the Project Sheet below – additionally on that sheet you will find ALL measurements & step by step instructions so you can make some of your own.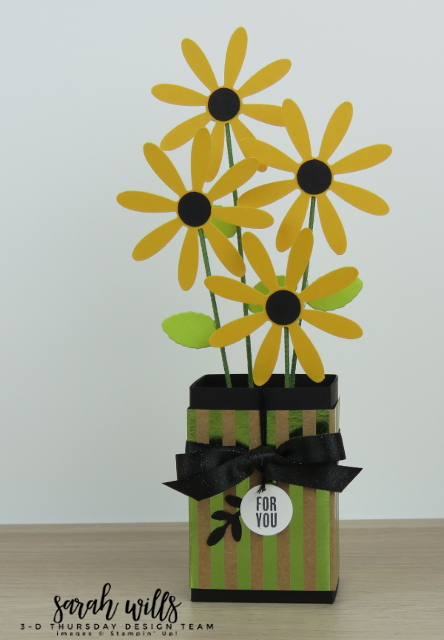 WANT THE FREE PROJECT SHEET FOR THIS PROJECT?  Click HERE to find it – you can download it or print it out to keep for easy reference (it will open in a new window)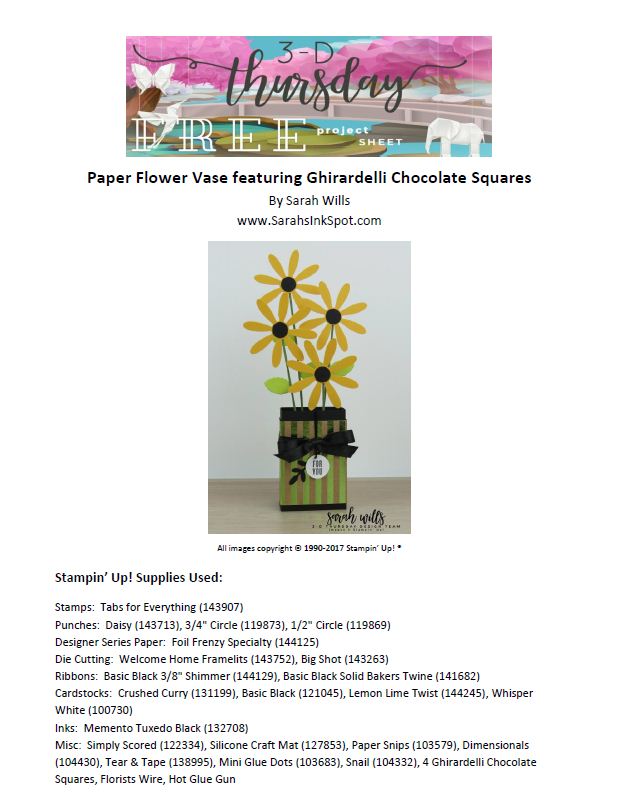 Here are the supplies that I used to make this project – click on any of the products below to find them in the Stampin' Up! online store:
Thanks so much for visiting – be sure to come back next Thursday for the next 3-D project when it's Twila's turn to create something – to make this easy, you can subscribe to my blog using the 'Get Blog Posts by Email' button on the right so that new posts will be delivered automatically into your inbox!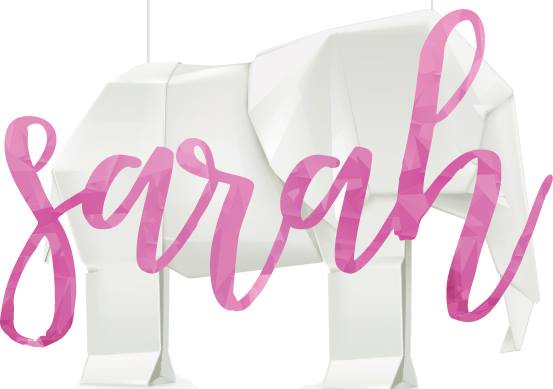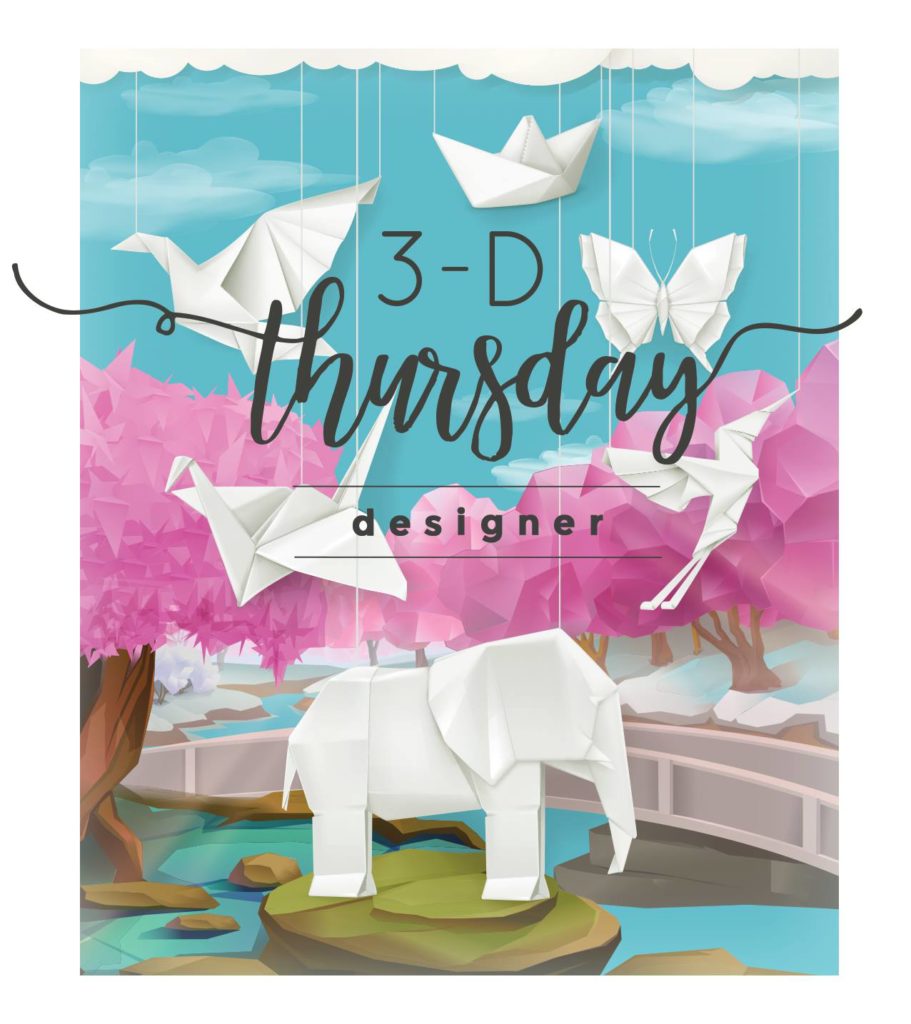 Current Specials:
USE MY AUGUST HOST CODE to get yourself a FREE roll of ANY Stampin' Up RIBBON of your choice – click HERE to find out more!