Welcome to the Color Fusers Blog Hop for August!  As soon as I saw the color combo that we were given to work with this month, I was wowed and here they are...we have to use ALL of these colors on our cards – does it look easy or challenging to you?  
Well, at first I took a look and I absolutely loved the colors and thought 'you know what?  This is going to be easy' – hahaha – I am now laughing at myself because when I got down to actually creating, I was SO torn…which color do I use as the strongest?  Which ones as the accents?  Which as the base?  I have to say that I think this is the most challenging color line up I have used in a long time simply because I had so many ideas swirling around in my head!
And so ultimately I made four cards using this combo and just couldn't decide which one I liked the most to showcase today – but in the end I chose the 'loudest' most eyecatching one and here it is…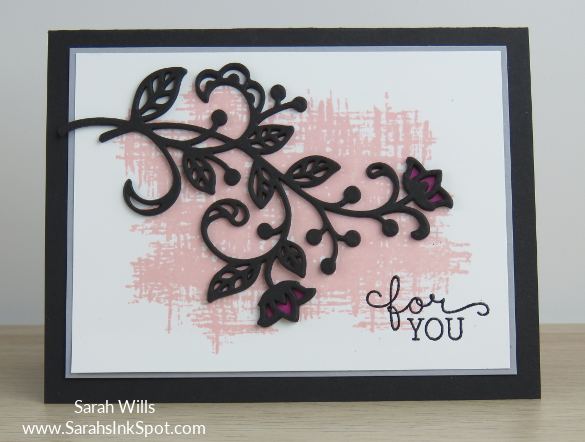 I have a Project Sheet for you below detailing all measurements, the colors I used & full instructions on how to make this card below – look for the red words to find it…
This card incorporates all of those 5 colors – I choose to use the Black as the 'main event' with the Smoky Slate and White as my mats and the two pinks as the accent colors.
To make that intricate die cut really pop, I cut out four of those shapes and layered them on top of one another – it looks like it would be tricky, but it really isn't if you have good light and a steady hand!  I attached the layers to one another using small blobs of Multipurpose Liquid Glue – that adhesive is perfect for things like this, as it doesn't instantly stick firmly in place – you have some wiggle room for a while which is helpful when stacking die cuts like this!
Here is a close up of the stacked layers…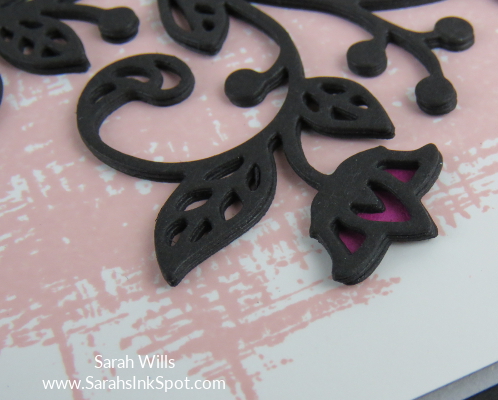 For the stamped texture I used the crosshatch background stamp from the set 'You've Got This' and stamped it using Powder Pink Ink to get a sweet subtle background…
And I popped the Berry Burst color underneath the flowers – to make it easy to do this, simply die cut the flower sections from a piece of scrap cardstock – trim a little to keep the berry color from peeking out and adhere to the bottom of the stack…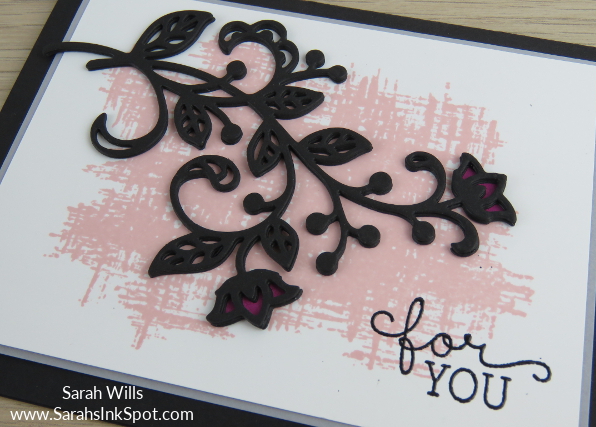 I hope you enjoyed my card for today and be sure to take the whole hop by clicking on all of my team members below – there are A LOT of pretty cards here to give you some inspiration:
Heather Osborne
Paola Phillips
Jo Anne Hewins
Melissa Kerman
Robin Messenheimer
Pat Ertman
Debbie Henderson
Sarah Wills (that's me!)
Barb Mullikin
WANT MY PROJECT SHEET FOR THIS CARD?  Click HERE to find it – then you can download it or print it out to keep for easy reference!
Here are the supplies I used to make all this card – click on any of the products below to find them in my Stampin' Up! online store:
Thanks so much for visiting & enjoy the hop – happy Monday!

Current Specials:
USE MY AUGUST HOST CODE to get yourself a FREE roll of ANY Stampin' Up RIBBON of your choice – click HERE to find out more!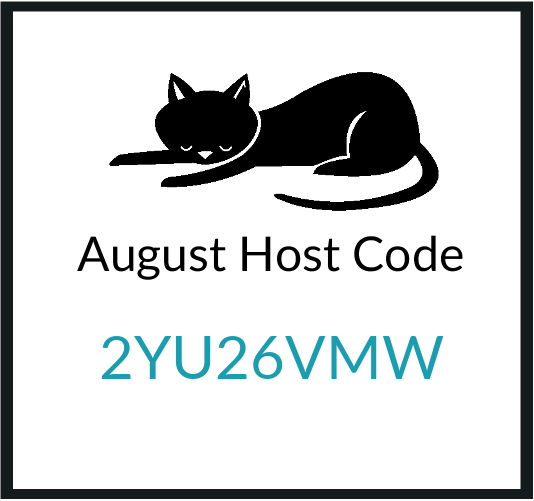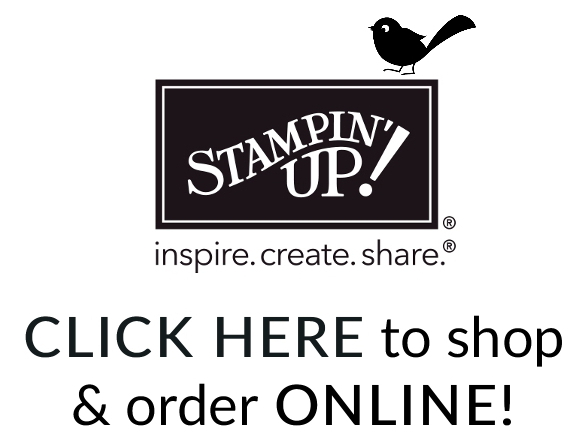 Welcome to the Color Fusers Blog Hop for August 2017…