The card I am showing you today is one that I designed to celebrate my Team members accomplishments this month – I wanted it to be pretty and bold and feature some stacked die cut letters – have you seen how awesome they can look stacked up on each other?
The dimension added when you do this is amazing and here is how I used them…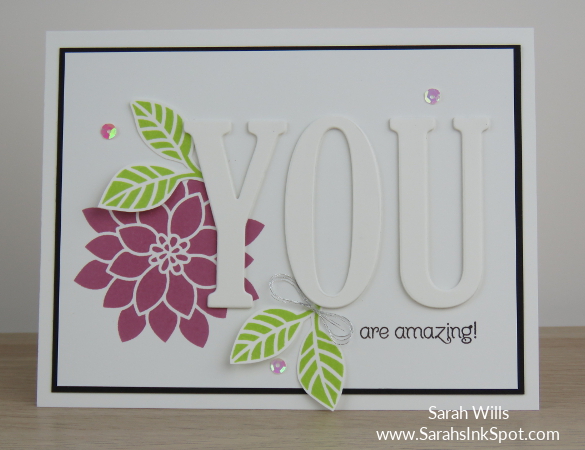 I have a Project Sheet for you below detailing all measurements, the colors I used & full instructions on how to make this card below – just look for the red words to find it…
So I wanted to create a card that had a white base and some white stacked letters onto that base with some splashes of color under and around them…I adjusted the lighting to be a little darker when taking photos of it so that you can see the dimension of those letters more easily.
Funny snipet – one of my girls walked into my craft room whilst I was photographing my project and said 'mama, I really like it but I think the letters should be a different color from the white background'…I said, well that is what I wanted – white letters on a white background with a little colorful stamping behind them…and she said 'oh, ok – well, it's absolutely perfect then' – I LOVE the things that kids say :-)
Here is a closer look of how the letters really stand up from the background – I love how a splash of color just underneath even a bit of a letter makes it pop a little more – I used Sweet Sugarplum to stamp that beautiful big flower…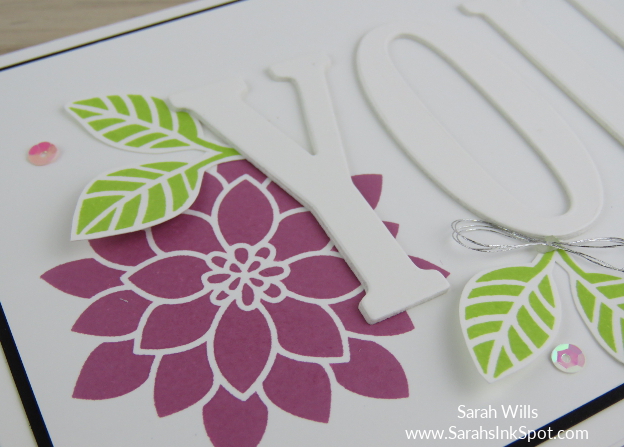 Stacking letters is fun & easy – simply die cut letter each several times (I like to do 4 layers) and then use a glue pen to dot glue onto the first one, hold it in your hands and careful position another above it, smoosh them together being careful to keep them lined up with your fingers, and continue up the stack until all are attached together.
And when it comes to adding them to the layer I like to use a piece of grid paper and a ruler – line up your card layer on the grid lines – then line up a ruler along another grid line where you want the bottom of the letters to be – and stand your letters against the ruler edge…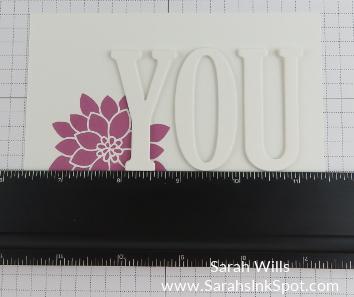 When happy with the positioning, use a glue pen to adhere them in place – I like to do the center letter first as it helps to keep the letters perfectly spaced.
I stamped the leaves using the fun new Lemon Lime Twist Ink, cut them out and tucked them just under the Y – I adhered one of the leaves of each to the layer but left the second unstuck, so that it pops up a little to give a realistic leafy look – here's a wider look…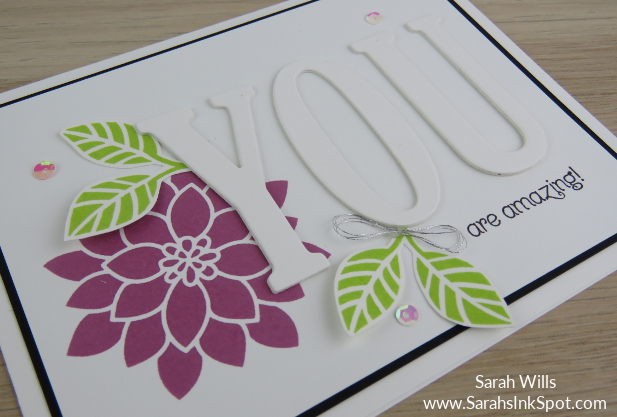 And the sequins?  Well, I thought they would add a subtle bit of bling and they do – LOVE those shades of iridescent pink!
WANT MY PROJECT SHEET FOR THIS ITEM?  Click HERE to find it – then you can download it or print it out to keep for easy reference!
Here are the supplies I used to make this card – click on any of the products below to find them in my Stampin' Up! online store:
Thanks so much for visiting & have a great weekend!

Current Specials:
USE MY AUGUST HOST CODE to get yourself a FREE roll of ANY Stampin' Up RIBBON of your choice – click HERE to find out more!