A warm welcome to the Inky Friends Fall Blog Hop!  We all picked a Fall themed stamp set to work with from the Holiday Catalog and you can find the links to hop around at the end of this post…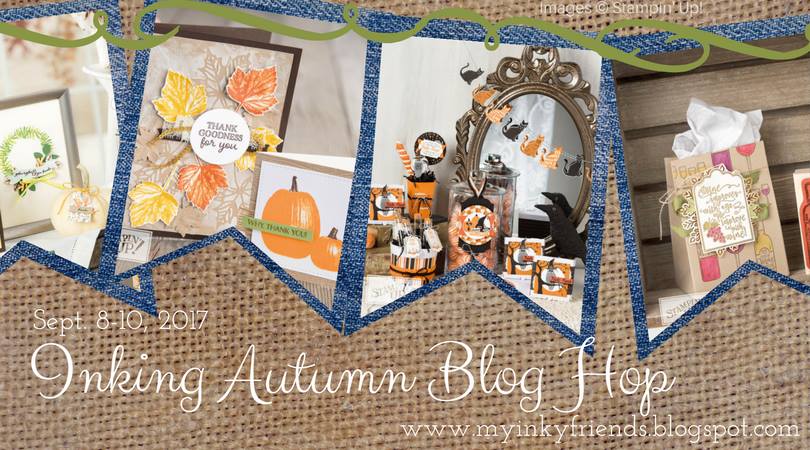 If you are starting here, a big warm welcome – and if you are already hoping in order, you will have arrived from the wonderful Cindy Elam's blog who just showed you her beautiful projects using stamps from Count Your Blessings – one of my favorite new sets…
I am using stamps from Pick a Pumpkin and the coordinating dies from Patterned Pumpkins Thinlits on my projects today and I have two projects to show you – come back on Monday to see a bonus third project and full details & extra photos of each of them including colors & supplies used PLUS a free Project Sheet for each too!
Full details including all colors & supplies used on this card will be detailed on my Project Sheet and blog post on Monday along with a bonus card!
First up is a Thankful Fall themed Card…I wanted to create a little pumpkin-leafy scene and something I can mail at Thanksgiving…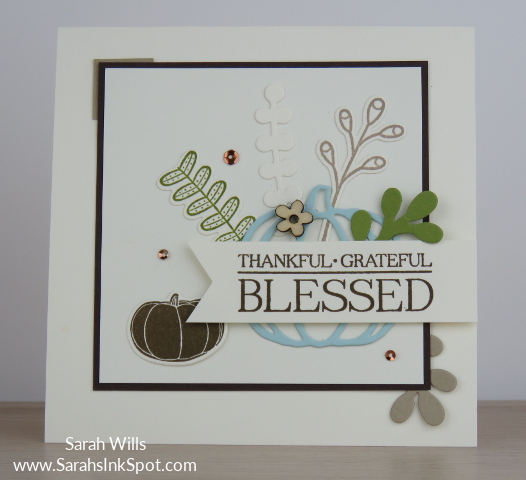 The stamped leaves and pumpkin you see there all have coordinating dies in Patterned Pumpkin Thinlits = no fussy cutting = one very happy stamper lol!  Plus it's always fun to dig out the Big Shot and get die cutting!
As for colors, I wanted to use some classic fall colors but also add some splashes of brighter colors and decided on adding a mix of blue and green – I LOVE that beautiful blue color…
Here is a closer look at the main panel…I dotted a few copper sequins around and added a wooden flower from Touches of Nature Elements…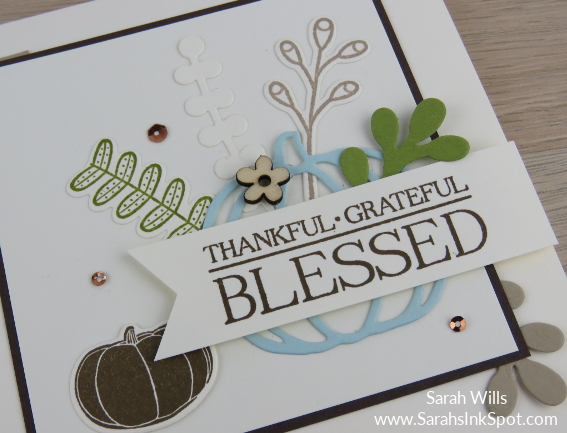 Next up are Halloween sweet treats packaged up in test tubes…this treat topper here makes me chuckle…the ghost is behind the jack-o-lantern and from the look on his face, it looks like he is really spooked by the ghost shouting 'boo' behind him!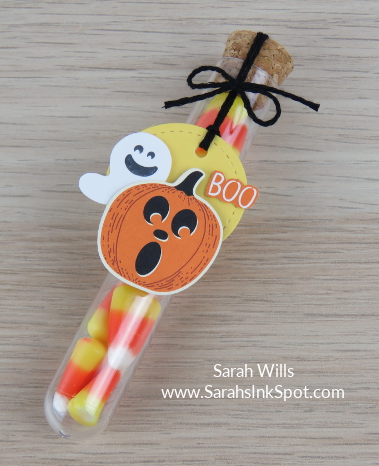 The tubes are called Treat Tubes in the store but whatever you call them, they are fantastic when putting together quick treats because they are food safe – fill each with candies which literally takes a minute and then onto the fun bit of decorating them or making a topper!  If you don't have these tubes, let me tell you that you need them – they are awesome to have on hand for year round treat giving…
I deliberately kept the designs simple for these toppers so that they are quick & easy to make a bunch of, because lets face it – you usually need to make a lot of treats at Halloween!  And this is where die cutting images makes your life so much easier when turning out a lot of items quickly.
Do you see how I used the stamps & dies here?  That little ghost is actually the GOURD DIE in Patterned Pumpkins Thinlits!  I just rounded off a bit at the small end and there is one cute ghost shape!
His face is a stamped using a stamp from Pick a Pumpkin – the stamp I used has a frowny mouth but here you will see that I changed it to be a smiley one – find out how on Monday!
And here is another one…this one has a happy ghost flying around!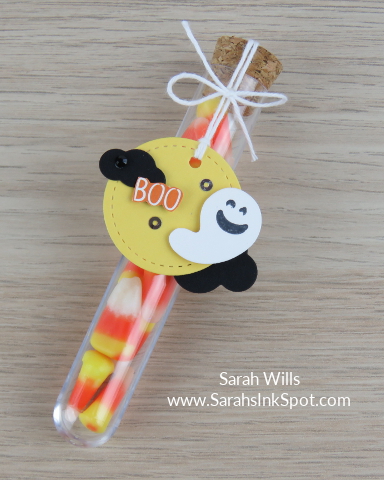 I used black die cut clouds to give more of a nighttime spooky feel and as you can see on both tubes, I took the thread up from the tag and over the top and secured it on the back with a little bit of tape – I like to do this because it helps the cork to stay snugly in place = no accidentally spilling candies!
I will have free Project Sheets for all of these items here on Monday along with more information & photos so be sure to check back then…
A big thank you for visiting – click on the 'Next Blog' button below to go and visit the talented Betty and see what projects she came up with using the fun Spooky Cat set…
Thanks so much for visiting & enjoy the hop – have a wonderful weekend and if you are on the east coast, please stay safe – you are in my thoughts…

It's the Inky Friends Fall Blog Hop and I decided to Pick a Pumpkin…