Welcome to the Color Fusers Blog Hop for September!  We have a fun bunch of colors to work with this month and the challenge is that we have to use ALL of these colors on our projects – yes, all 6 of them!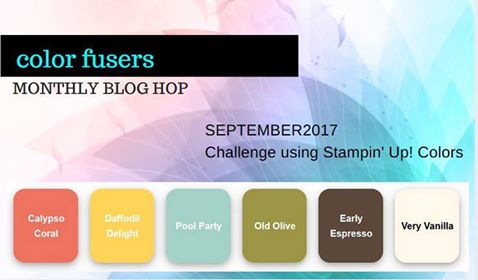 I first looked at them and thought I would make a fall themed card…but once I started looking at what product I had with those colors, one in particular stood out at me – the Memories & More Petal Garden Card Pack – I started looking through the contents of it and when I came across a beautiful gold foil die cut rose, I knew I had to change my plans and feature it…
And so that is what I did…isn't that rose beautiful?  We are allowed to use metallics on our projects and so I decided to make it the main focal point on this card…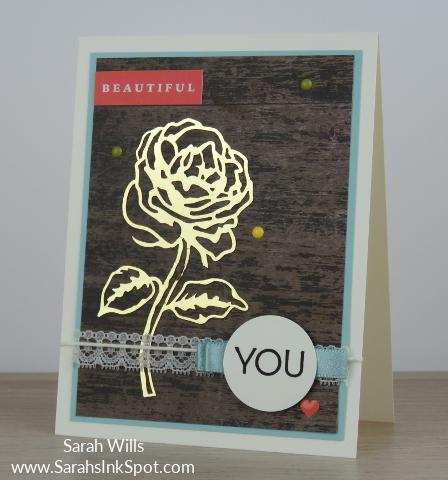 The biggest challenge I had with this card was actually getting a good photograph because of that shiny rose!  I tried over & over to get the perfect shot but it just wasn't happening – there was always a dark spot on a part of it and so the snapshot above is the best I could get!  But I think I managed to capture how beautiful that die cut rose is!
I have a Project Sheet for you below detailing all measurements, the colors I used & full instructions on how to make this card below – look for the red words to find it.
I used Very Vanilla for the card base along with a Pool Party mat – and that lovely dark brown piece of wood effect paper is from Wood Textures DSP – I think there is some Early Espresso in that paper but to be safe, I stamped the 'you' in that ink to cover all bases!
And that rose – oh my it's pretty – it is a gold foil die cut that comes in the Memories & More Petal Garden Card Pack – if you've not seen this new line of cards, you can find them by clicking HERE – they are fab value for money at $10 a pack and they are not just for scrapbooking – you can use the cards & accessories in them for scrapbooking, card making and general paper crafting!
I added two beautiful pieces of ribbons in Very Vanilla and Pool Party and a bit of Vanilla Bakers Twine too…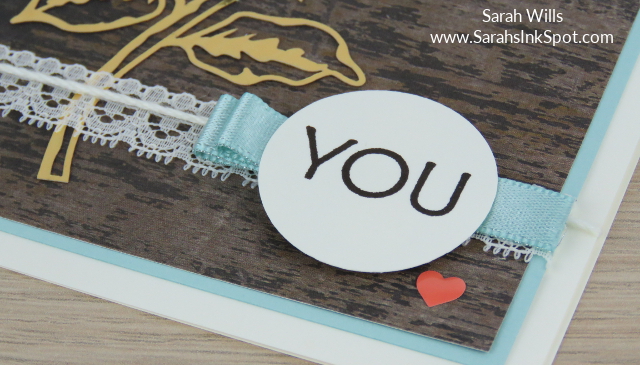 And check out that little Calypso Coral heart from Subtles Enamel Shapes…isn't it cute?
And for a bit more Calypso Coral, I added a sticker from the Petal Garden Card Pack to the top of the card to make the phrase 'beautiful you'…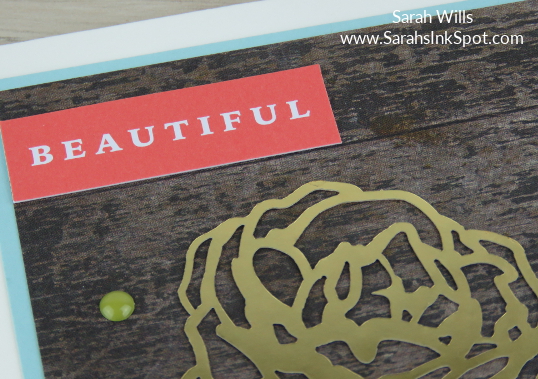 The 'you' is a part of a stamp that I found in One Big Meaning and I used masking tape to use just the 'you' bit, stamped it and punched it out with a circle punch.
I had two colors left to use and I decided to add dots of them around the wood background – both are from Brights Enamel Shapes – and they add just a splash of color.
I hope you enjoyed my card for today and be sure to take the whole hop by clicking on all of my team members below – there are A LOT of pretty cards here to give you some inspiration:
Heather Osborne
Paola Phillips
Jo Anne Hewins
Melissa Kerman
Pat Ertman
Debbie Henderson
Sarah Wills (that's me!)
Barb Mullikin
Tammy Civello
Katie Spencer
WANT MY PROJECT SHEET FOR THIS CARD?  Click HERE to find it – then you can download it or print it out to keep for easy reference!
Here are the supplies I used to make all this card – click on any of the products below to find them in my Stampin' Up! online store:
Thanks so much for visiting & enjoy the hop – happy Monday!

Current Specials:
USE MY SEPTEMBER HOST CODE to get yourself a FREE PACK OF HOLIDAY CATALOG EMBELLISHMENTS of your choice – click HERE to find out more!