Oh my that's a fun title, eh?!  I wanted it to reflect some of the fun new Halloween items that I used on my card today and I used bunches of them!
My Halloween goodies were calling out to be used as was my brand new jar of Embossing Paste and today was the day I decided to put them all together and play!
And here is my card…you will see a cat, pumpkins and a jack-o-lantern and all of those images are cut from sheets of Spooky Night DSP – and the reason that they are cut out perfectly is because there is no fussy cutting – there are coordinating tools that are perfectly sized to do that for you – the cat shape is a punch and the pumpkins are dies – isn't that neat?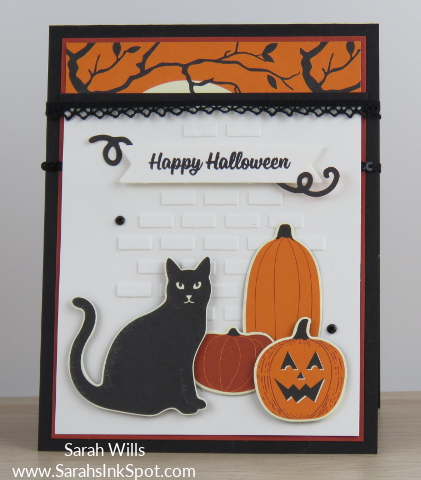 I have a Project Sheet for you detailing all measurements, the colors I used & full instructions on how to make this card below – just look for the red words to find it…
This card was a fun one to make especially because of the background – I wanted to create a card that featured a cat & pumpkins against a white brick wall and I used the fun new Embossing Paste and a stencil from Pattern Party Decorative Masks to make it – you basically pop your mask onto cardstock, secure with a bit of tape so it doesn't move and smear the paste all over it using a palette knife – then you peel off the mask and voila – an amazing textured raised image that you can even color or glitterize!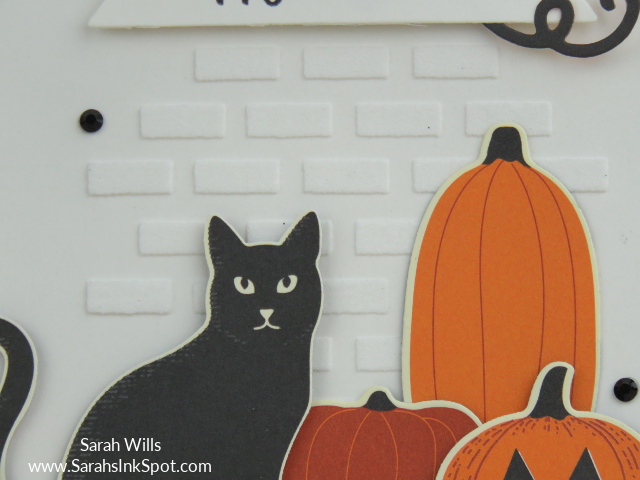 And because I wanted just a portion of a brick wall I used masking tape to tape off the bricks on the mask that I didn't want to use – easy, it works great and you get a nice clean look…
Next up the black cat – isn't he adorable?   He is from a sheet of paper in Spooky Night DSP that has multiple cats printed all over it and the Cat Punch is sized to cut them out giving you plenty to add to your Halloween cards & treats…
And the images are printed onto a vanilla background – this worked out great for this card where I have a white background because that little vanilla border around each shape helps give them even more definition…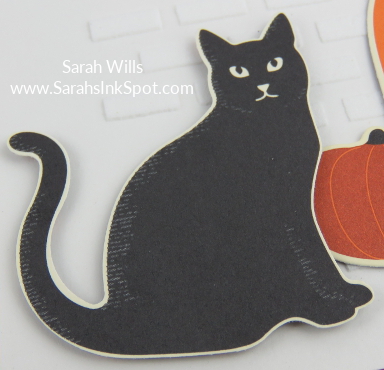 The pumpkins & the jack-o-lantern are from another sheet in that paper pack and the dies that coordinate with them can be found in Patterned Pumpkin Thinlits – how cool is that?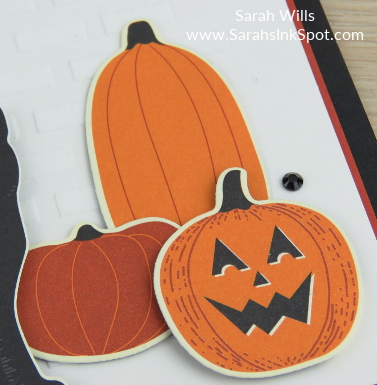 I stamped my banner using a stamp from the set Spooky Cat and shaped it with a die from Bunch of Banners Framelits and the swirly bits are cut from more dies found in Patterned Pumpkin Thinlits…

The top bit of the background is yet another design of paper from Spooky Night and I love how the moon looks like it's rising just behind the brick wall…seriously, this pack of paper is AWESOME and is designed so that you can get A LOT of cards, treat toppers, banners etc out of just one pack!
To finish up I added some ribbons & trim and a couple of the fab new Black Rhinestone Jewels – the full list of supplies that I used is below & on my Project Sheet and you can find all of the new Holiday Catalog items I used on this card on pgs 51-55 of the Holiday Catalog.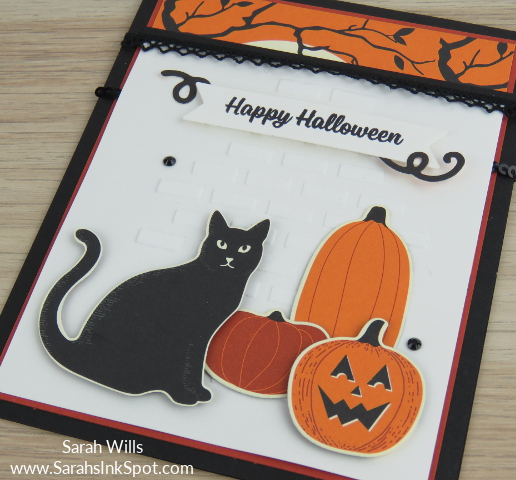 This card is a great example of pretty patterned papers doing the hard work for you – add some tools and the fact that Stampin' Up! makes it sooo easy to color match (like you just don't have to worry if your orange pumpkins will match your orange background paper – they just do!) and it is simply FUN to make stuff!
As for the papers I used, you get bunches of images per sheet in Spooky Night DSP so one pack is going to go a LONG way for your Halloween treat making – you get 12 double sided sheets total, 2 of each design – you get 2 sheets of the cat design giving you 32 full cats per sheet = 64 per pack – 12 of those tree/moonlight scenes per sheet giving you 24 per pack – and too many pumpkins and witches hats to count plus some fab background designs too!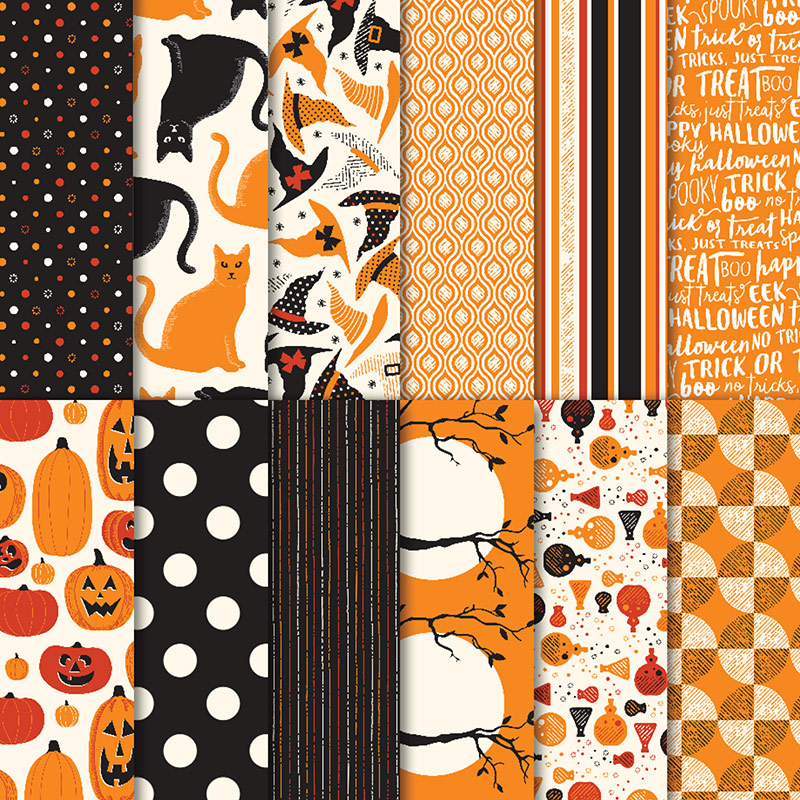 And here are some ideas from Stampin' Up! on how you can use these papers on projects – I love those little cards with the moonlit background and the cat banner is simply adorable…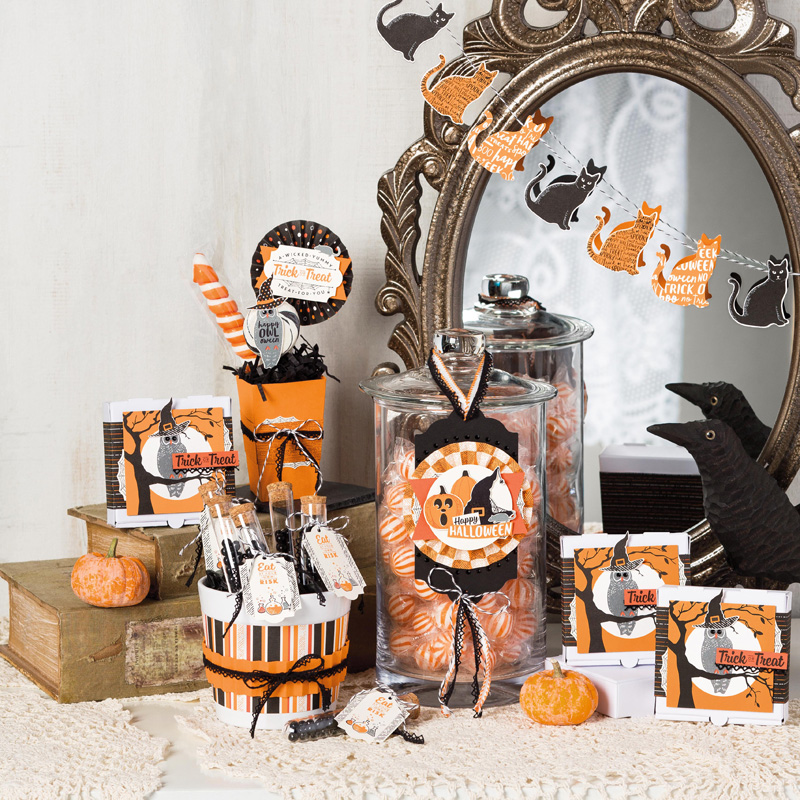 WANT MY PROJECT SHEET FOR THIS CARD?  Click HERE to find it – then you can download it or print it out to keep for easy reference!
Here are the supplies I used to make this card – click on any of the products below to find them in my Stampin' Up! online store:
Thanks so much for visiting & happy hump day!

Current Specials:
USE MY SEPTEMBER HOST CODE to get yourself a FREE PACK OF HOLIDAY CATALOG EMBELLISHMENTS of your choice – click HERE to find out more!