Welcome to 3-D Thursday and because there are 5 weeks in March, this week you get a BONUS – you get to see FOUR projects today and each has it's own FREE PROJECT SHEET for you to download/print!   
We were all tasked with using the Silver Mini Gable Boxes featured on pg 13 of the Occasions Catalog to create a little something and what I came up with is below – to find out what my team mate's made, please click on the 'next' button at the end of this post – enjoy the tour!


Further down this post you will find a link to the FREE Project Sheet that has step by step instructions & color photos that you can save to your computer or print out and have on hand for easy reference PLUS you will find a full list of Supplies used to make this at the end of this post.
And here is my project – I decided to turn my Silver Gable Box into gift packaging for a wedding gift card and transformed it into a Church!  And it even lights up!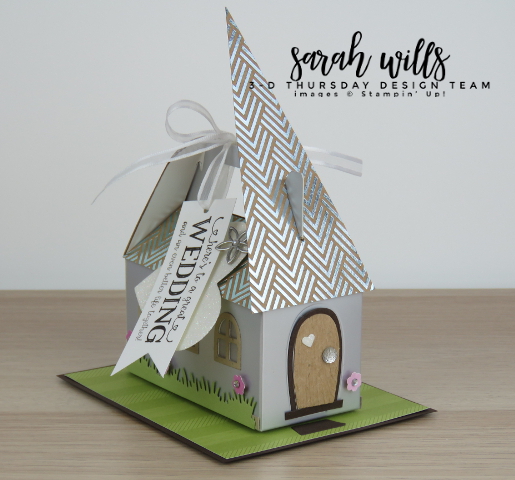 I wanted to create an English style country church with a wooden door and windows surrounded by grass but you could easily make it more elegant.
I added a tag on to the side…the stamp is from the set Better Together and I popped it onto a big glittery heart cut from Dazzling Diamonds Glimmer Paper using a large heart die from Sweet & Sassy Framelits.  I finished it up with a sweet metal flower from Petal Passion Embellishments and tied it onto the handle using a piece of Whisper White Organza Ribbon…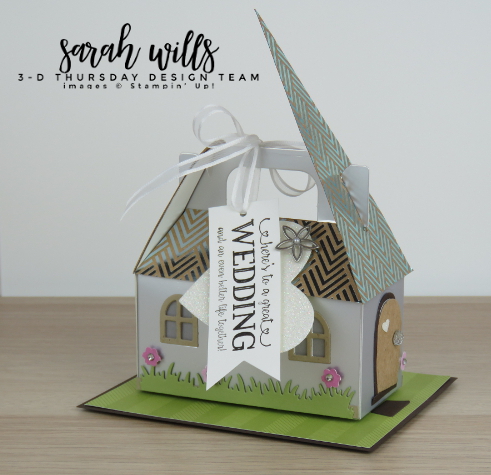 And on the other side is a row of windows with some pretty little flowers in the grass…the door and windows were all cut using dies from Home Sweet Home Thinlits and I used vellum on the inside of the windows.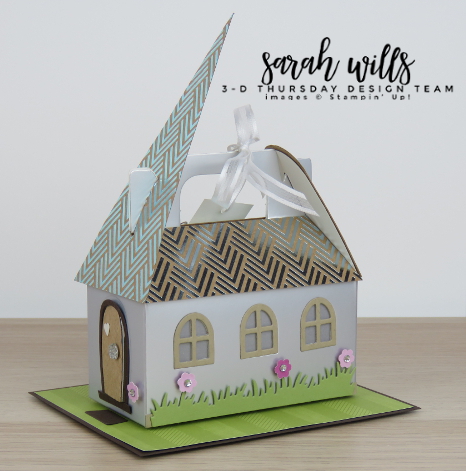 The roof and steeple are paper from Foil Frenzy Specialty DSP – simply trace the shape of the box onto the paper and cut it out – for the steeple I simple extended up into a triangle.
Here is a close up of that tag and below the grass with pretty flowers…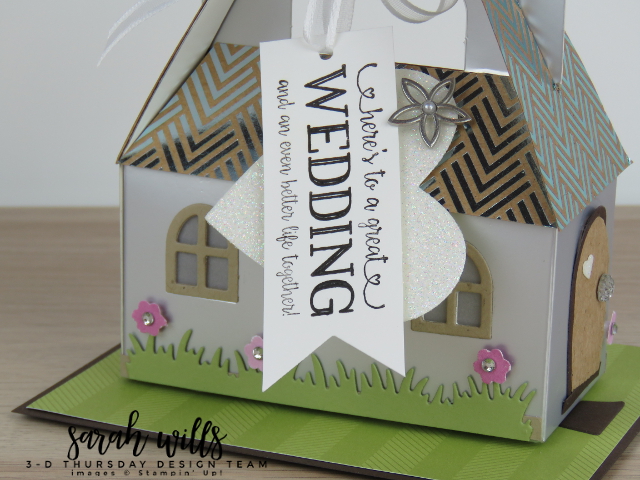 And for the garden – the grass strips on the side of the church were cut using a die from Picnic Basket Builder Framelits and the flowers punched out using the Tree Builder Punch – a little sparkly Rhinestone Jewel in the center sets them off and the grass is a piece of paper from Petal Garden DSP.
And the front door…see the texture on the wooden door?  Created with the Pinewood Planks Dynamic Embossing Folder and the reverse side of the paper I used for the roof.  A Clear Faceted Gem for the handle and the doorstep was cut using another die from Home Sweet Home Thinlits…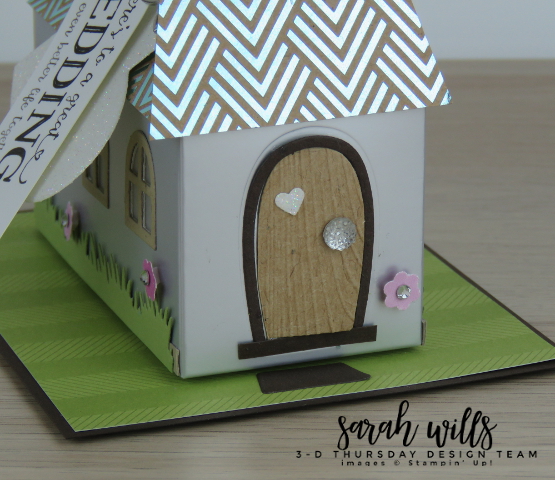 When die cutting the door and windows on a box like this you really want to line up the edge of your cutting plate with a score line or edge to avoid unwanted marks – definitely ear mark one or two boxes as practice ones to get your technique down – that's what I do!
And a little extra surprise – it lights up!  How cute is that?!  I popped in a small string of LED lights that I found on Amazon.com – click here to find them – and if you put the switch just inside the door you can easily turn them on and off.  You could also use a tea light if you prefer…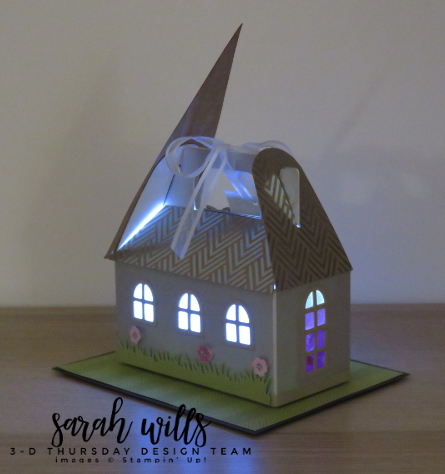 See the little stained glass window in the back?  I love how the lights showcase it!  To make it I cut strips of gradient pink paper from Color Theory DSP and a piece of Dazzling Diamonds Glimmer for the top panes.
And here is a look at front with the lights on…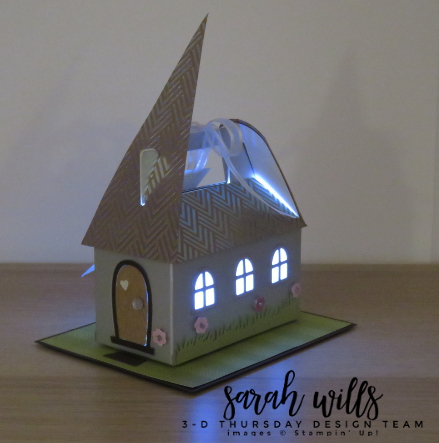 And the side…I love how it looks lit up!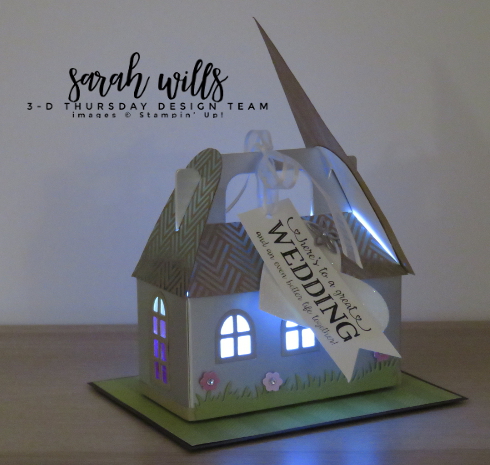 And here's one last look – here you can see the 'stained glass window' without lights…pretty pinks!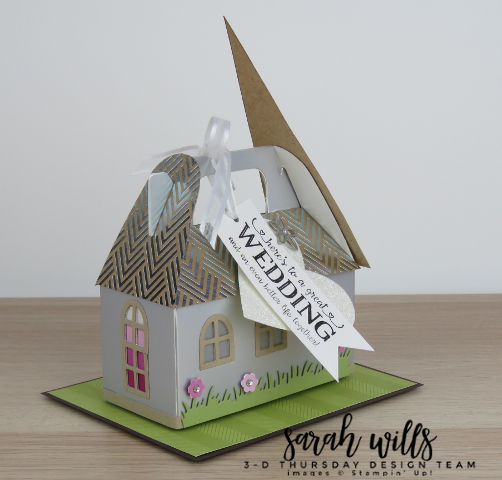 Here are the Silver Gable Boxes before they are blinged up…super cute as is, but very fun to alter and decorate – find them on pg 13 of the Occasions Catalog or CLICK HERE to find them in the store.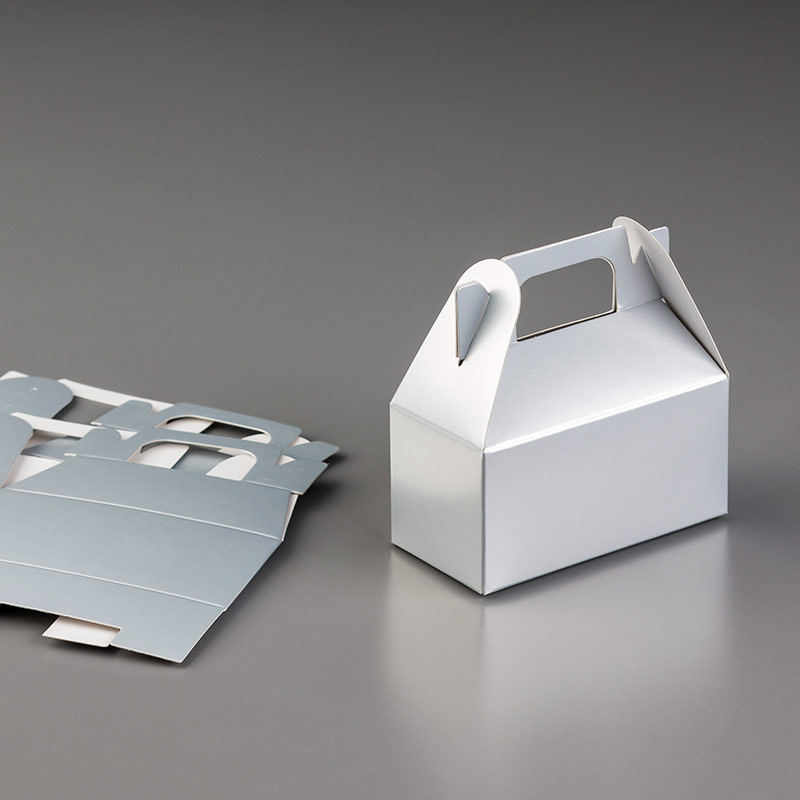 IF YOU WOULD LIKE A FREE COPY OF THE OCCASIONS SPRING CATALOG please CLICK HERE to fill in your mailing details and I will be happy to pop one into the mail to you.
WANT THE FREE PROJECT SHEET FOR THIS PROJECT?  Click HERE to find it – then you can download it or print it out to keep for easy reference!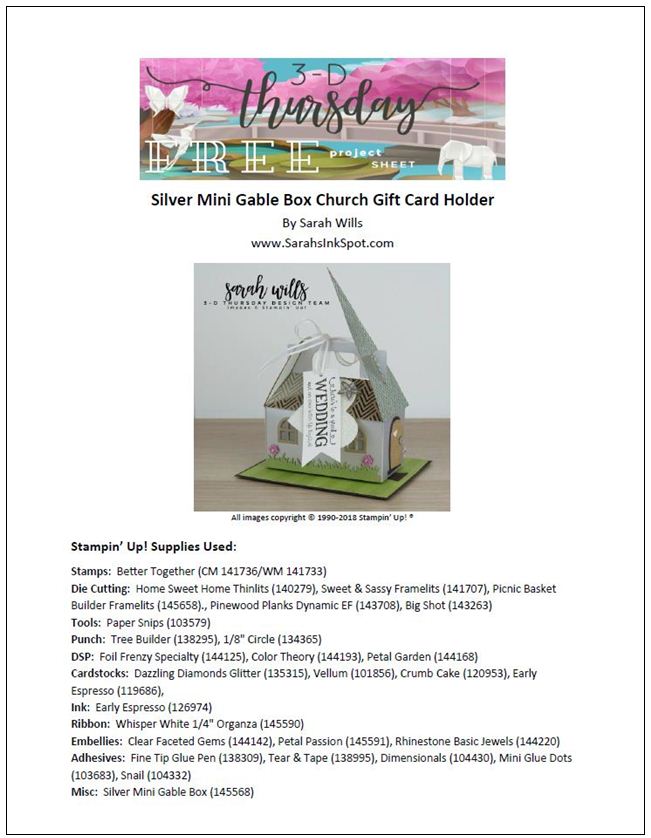 Please click on the graphic below to go to the next stop of our Blog Hop – your next hostess is Twila Davis at Stamp a Little Longer – I know you are going to love her project and please be sure you visit all the other 3 blogs so you get to see all of the fab creations!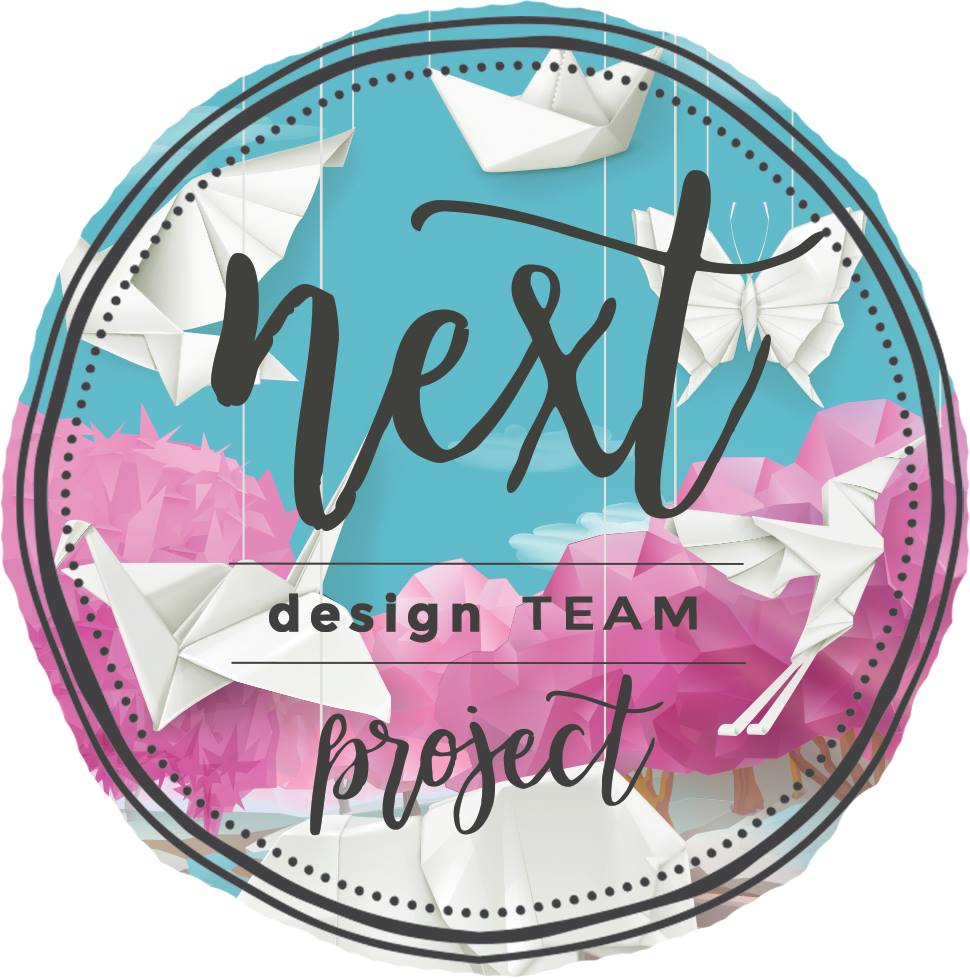 Here are the supplies I used to create this project – click on any of the products to find them in the online store:
Other supplies used:  String of LED lights
Thanks so much for visiting – be sure to come back next Thursday for the next 3-D project when it's Jenn's turn to create something – to make this easy, you can subscribe to my blog using the 'Get Blog Posts by Email' button on the right so that new posts will be delivered automatically into your inbox!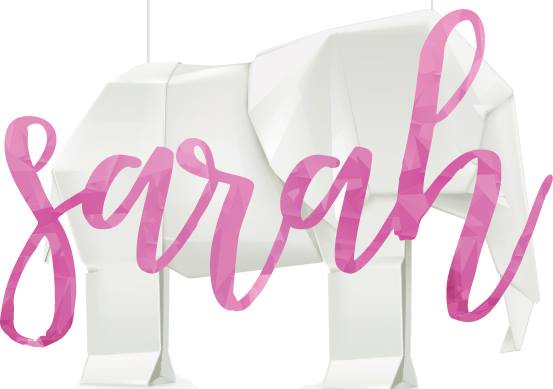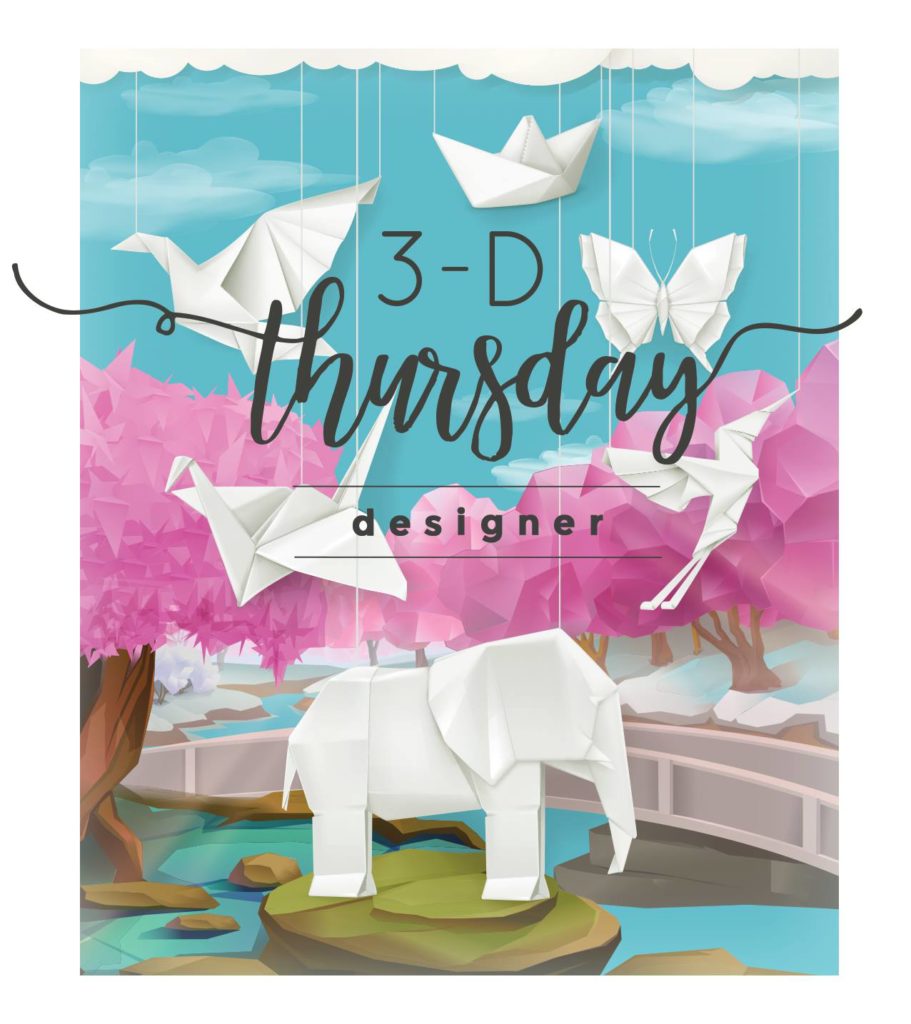 Current Specials: