Welcome to 3-D Thursday and HAPPY HALLOWEEN!  Because there are 5 weeks this month, this week you get a BONUS – you get to see FOUR spooky projects today!


We were all tasked with creating a simple Halloween project and what I came up with is below – to find out what my team mates made, please click on the 'next' button at the end of this post – enjoy your tour!
Further down this post you will find a link to the FREE Project Sheet that has step by step instructions & color photos that you can save to your computer or print out and have on hand for easy reference PLUS you will find a full list of Supplies used to make this at the end of this post.
I decided to create a simple GIFT CARD HOLDER and here it is…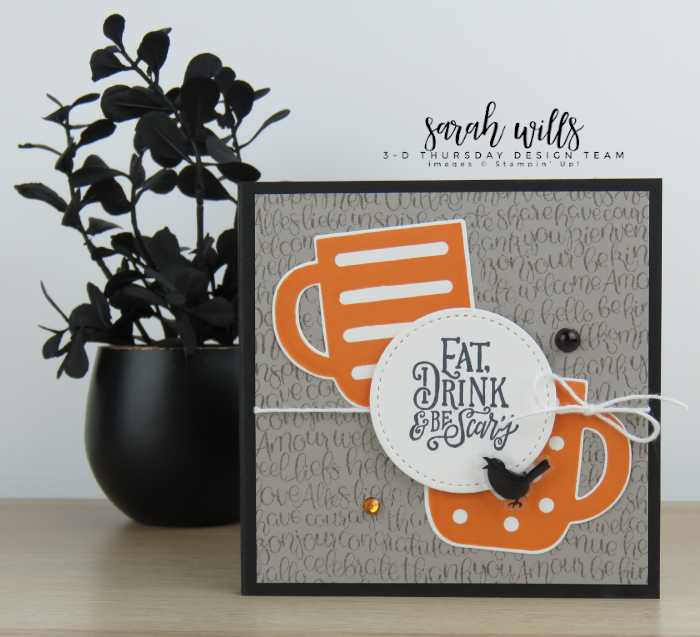 Super simple to make the base of this holder – all you need is a piece of cardstock and make two score lines – then you can decorate as easy or as complicated as you like.
The cup stamps are from the set Cup of Christmas and what is AMAZING about this stamp set is that those cup stamps are REVERSIBLE!  YES that's right – you can stamp either side of each one of them making the possibilities for using them endless!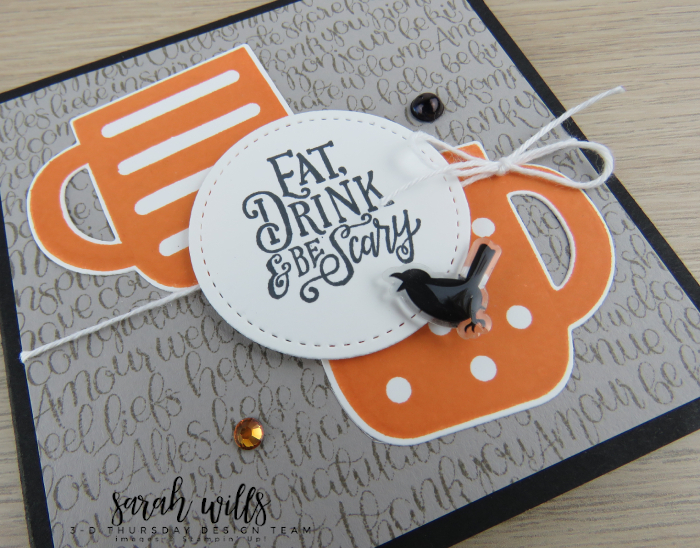 Sarah's Tip – don't have the color of Rhinestone or Dot that you want?  Simply use your Blends Markers to color them!  That is what I did with that big black one you can see above – it is a Clear Epoxy Droplet that I colored using my Basic Black Dark Blends Marker – it's brilliant – those markers are alcohol based meaning that they dry instantly so no wait time or messy hands!
Open up and inside is a gift card all snuggled inside it's simple holder – any guesses what I used to make that?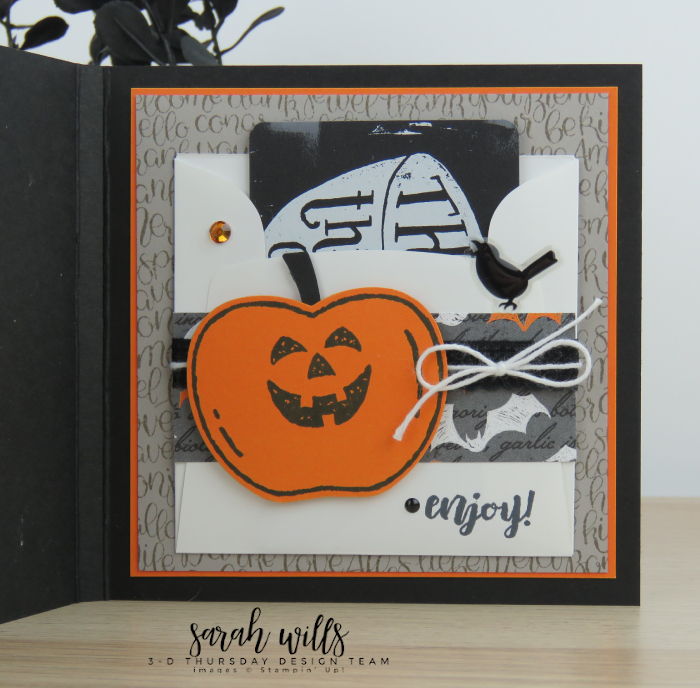 A 3″ x 3″ envelope!  Simply cut off the top flap and you have an instant gift card holder!  Quick, easy and oh so cost effective!
And as you can see, that gift card just slides right on out…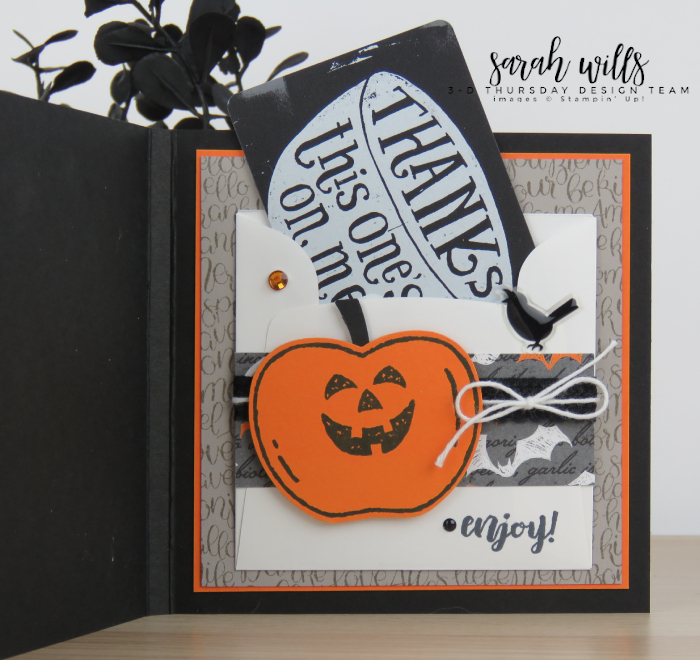 Here's a closer look at the inside panel – the jack-o-lantern was created using stamps from Harvest Hellos and punched out using the Apple Builder Punch…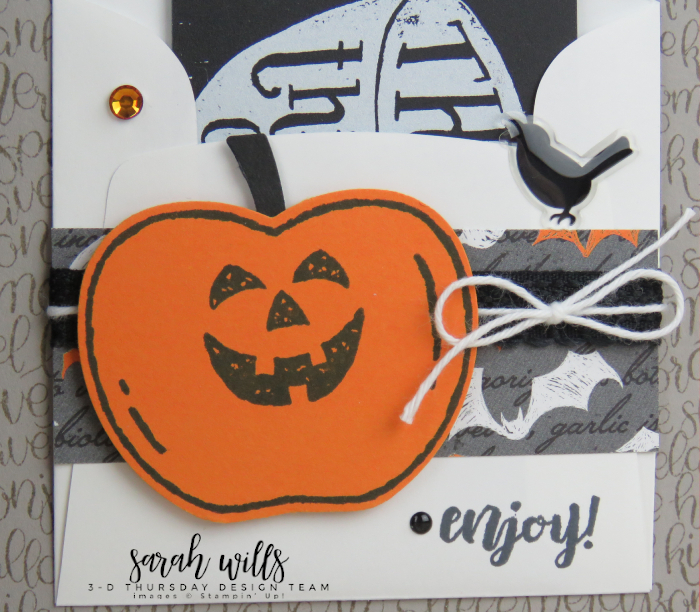 Another thing I love about this is that it fits in a standard card envelope – nothing special required – another thing that you will have on hand which is important when creating at the last minute!
And of course you can theme this for absolutely any occasion simply by switching out what stamps, papers and colors you use…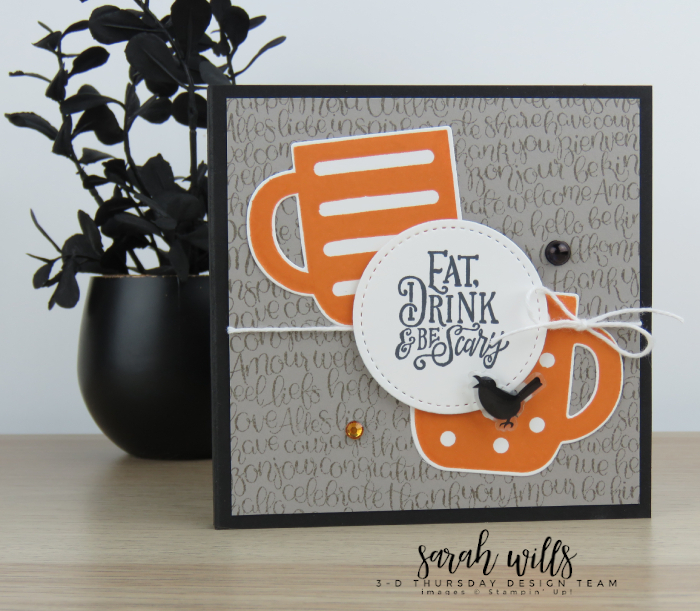 GET MY FREE PROJECT SHEET FOR THIS PROJECT!  Click HERE to find it – then you can download it or print it out to keep for easy reference!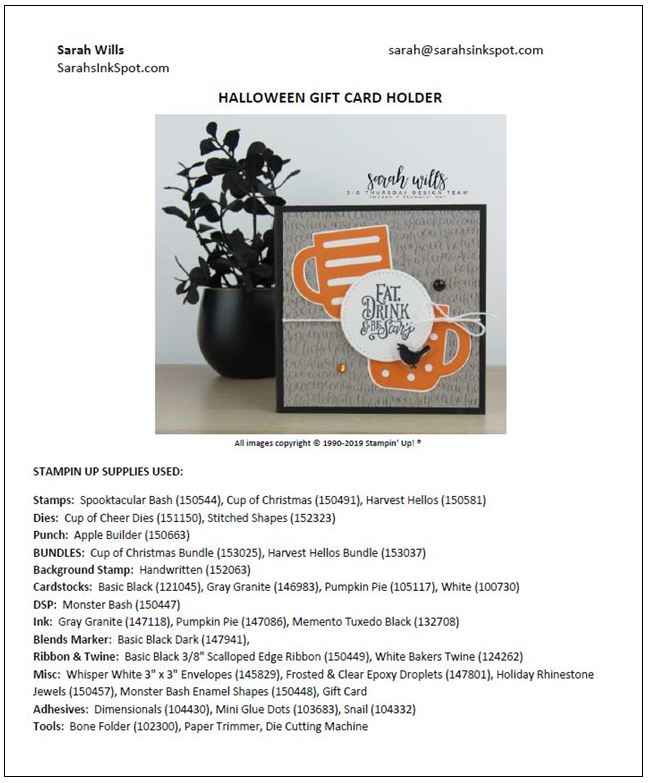 I hope you enjoyed my project – please click on the graphic below to go to the next stop of our Blog Hop – your next hostess is Twila Davis at Stamp a Little Longer – I know you are going to love her project because as always, it is ADORABLE!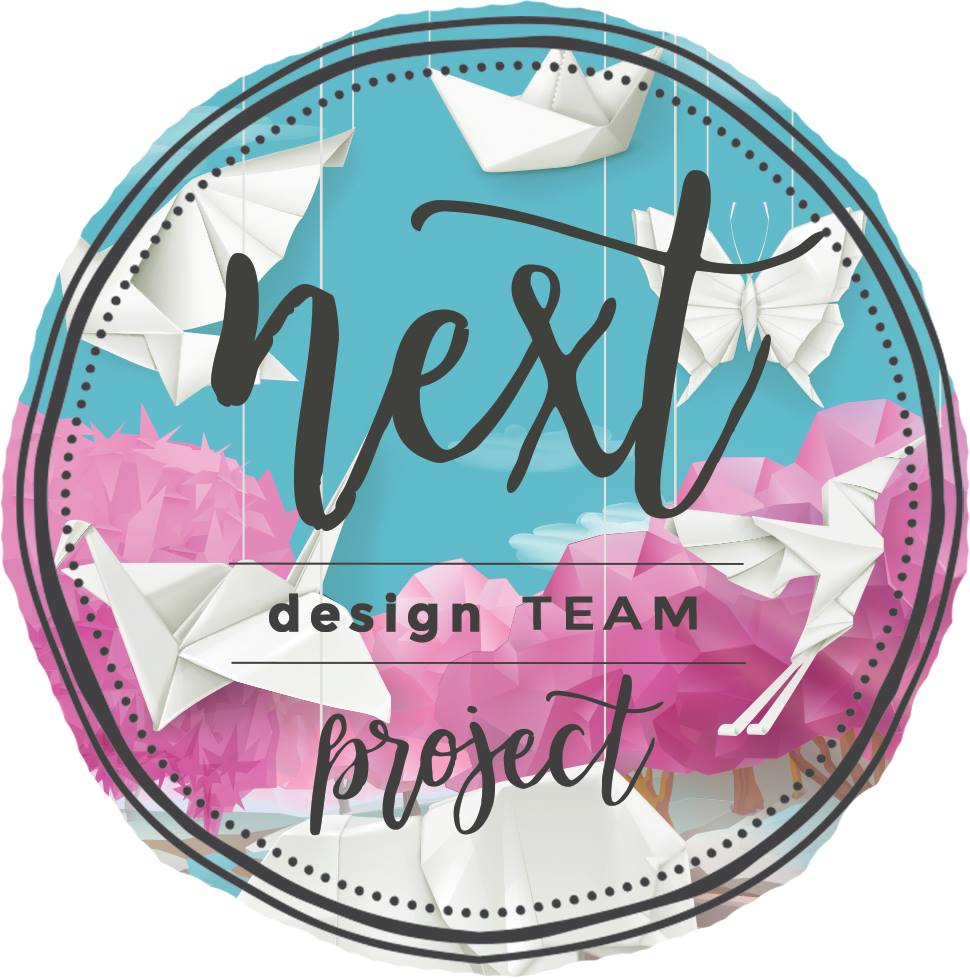 Here are the supplies used to create this project – click on any of the products below to find them in my Stampin' Up! online store:
Other supplies used:  Gift Card, Paper Trimmer, Die Cutting Machine
Thanks so much for visiting – be sure to come back next Thursday for the next 3-D project  – to make this easy, you can subscribe to my blog using the 'Get Blog Posts by Email' button on the right so that new posts will be delivered automatically into your inbox!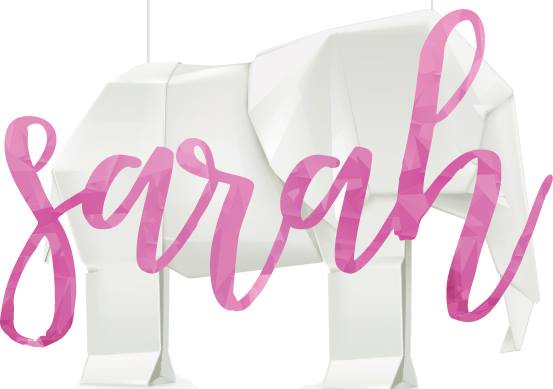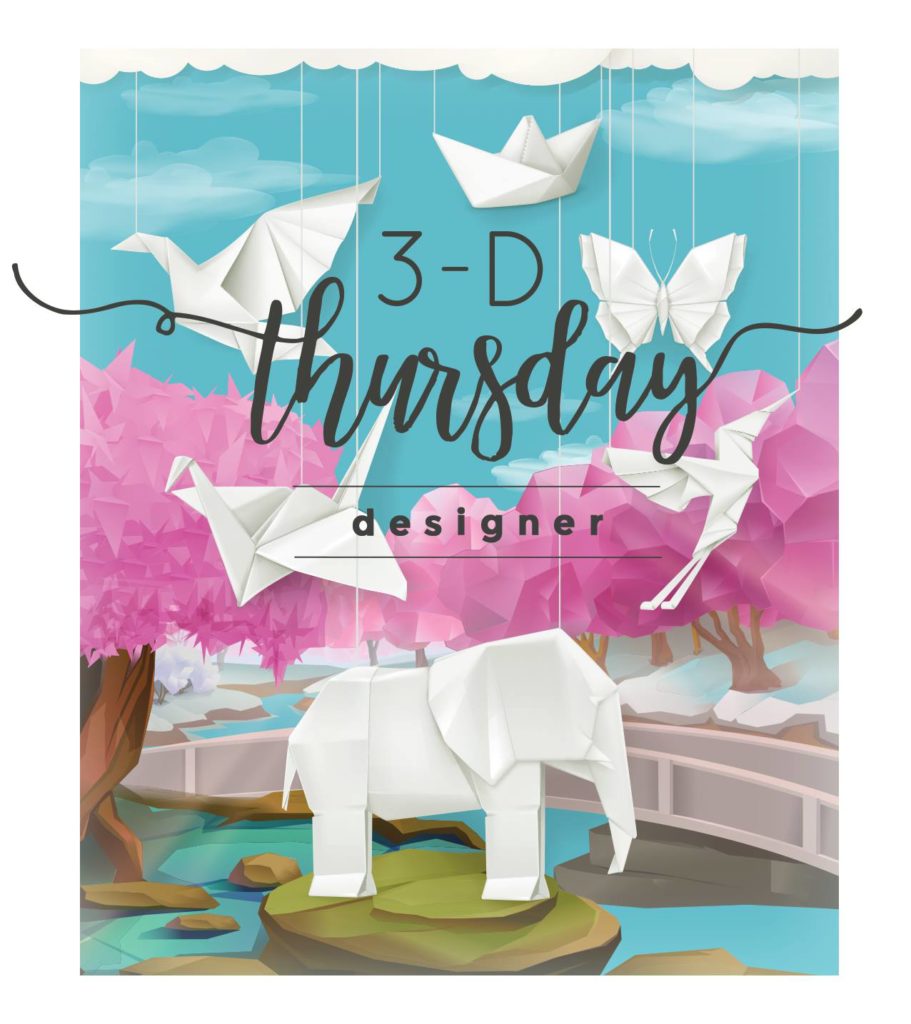 Current Specials:
MY NEW HOST CODE – NYB7CFQP – IS HERE GIVING YOU ONE FREE COMBO PACK OF THE NEW BLACK DIMENSIONALS WHEN YOU SPEND *$50+ – SPEND *$100+ AND GET EVEN MORE FREEBIES!  CLICK HERE TO FIND OUT MORE!