Well this month my Paper Pumpkin kit arrived super early which was a surprise and so I got straight into it and decided to make the original cards as is, and then tonight I am going to make some alternate projects to show y'all!
I must admit I was not really looking forward to this kit as my family is not into sports at all – I tried to get my kids interested in a team sport when they were younger but alas to no avail as they refused LOL but that's ok…in high school they have been a big part of the Marching Band and let me tell you, that is a SPORT people – good grief those kids work out on a concrete or asphalt band field for hours a day in the heat of the Texas summer!
AND I have a FREE Project Sheet showing you how to put these three cards together– because honestly I struggle with the small print on the instruction leaflet in the kits and figured that I am probably not alone in that!!  Look for this blue color text below to find instructions in a larger font!
Back to the scheduled programming…sooo these are the three cards that this kit – called BATTER UP! – makes: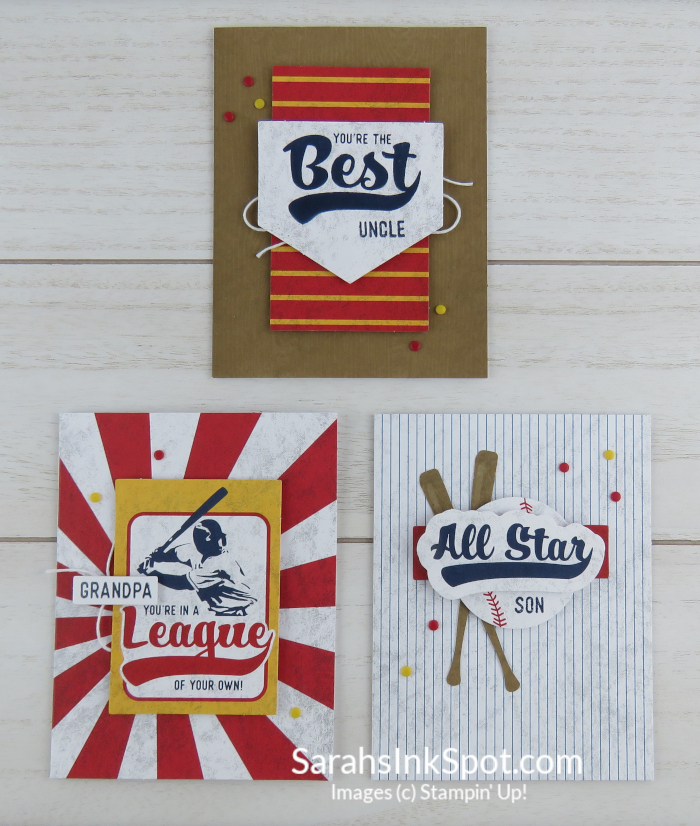 Definitely perfect for upcoming Father's Day in June as you can customize what stamps you use on all of them.
And I have to say it made me giggle when I opened the box lid to find three pieces of bubblegum in there too LOL!  Is this a baseball thing?!  Apologies but being an English gal not into sports, I don't know about these things!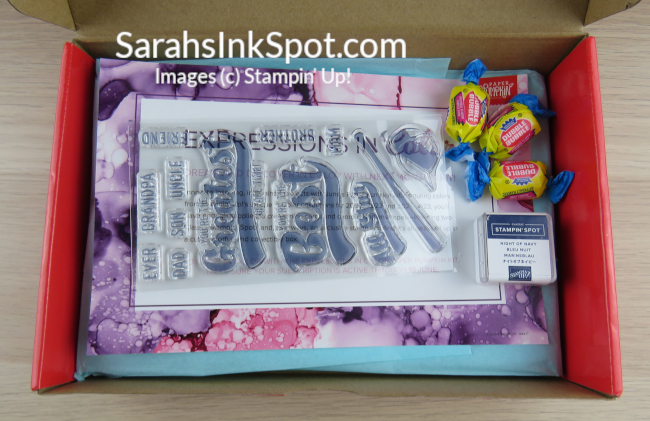 Here is the first card the kit makes – I love the boldness of this card background and can see so much potential for it in alternate projects…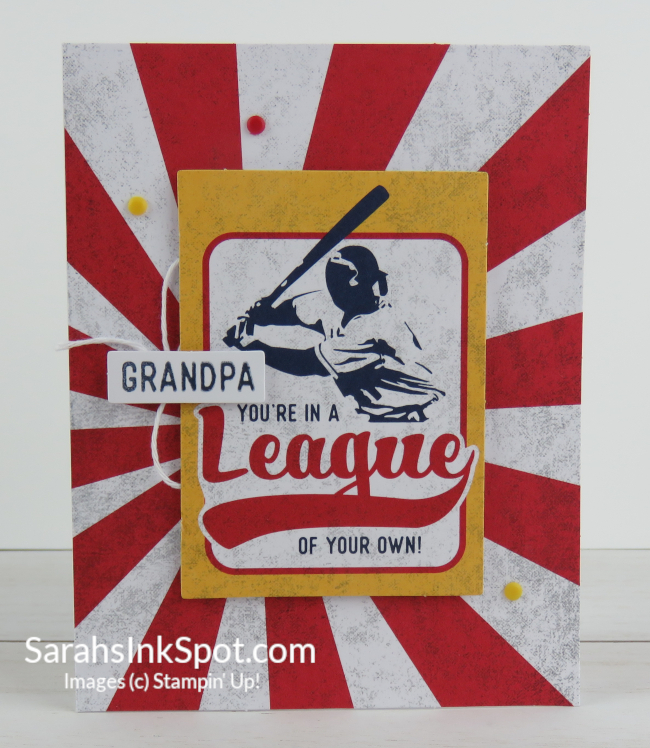 Here's a close up so you can see the dimension…pretty neat!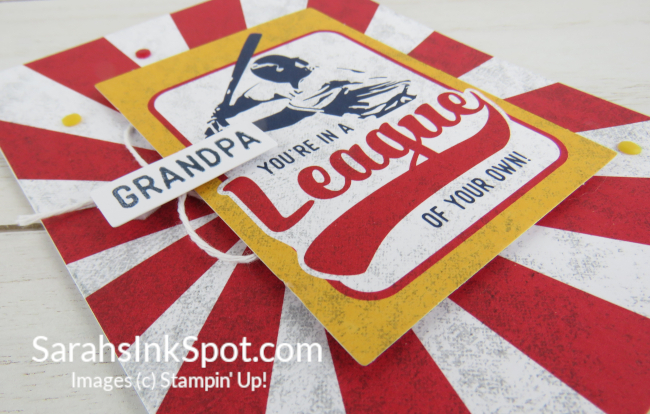 Here is the second card – I love the shirt stripes design on this one and the big fun die cut pieces…
But I noticed something – on the front of the instruction leaflet is the card as shown above – but inside in the detailed instructions is the version below!  Hmmm…so I decided to make both of them and I cannot decide which bat placement I prefer…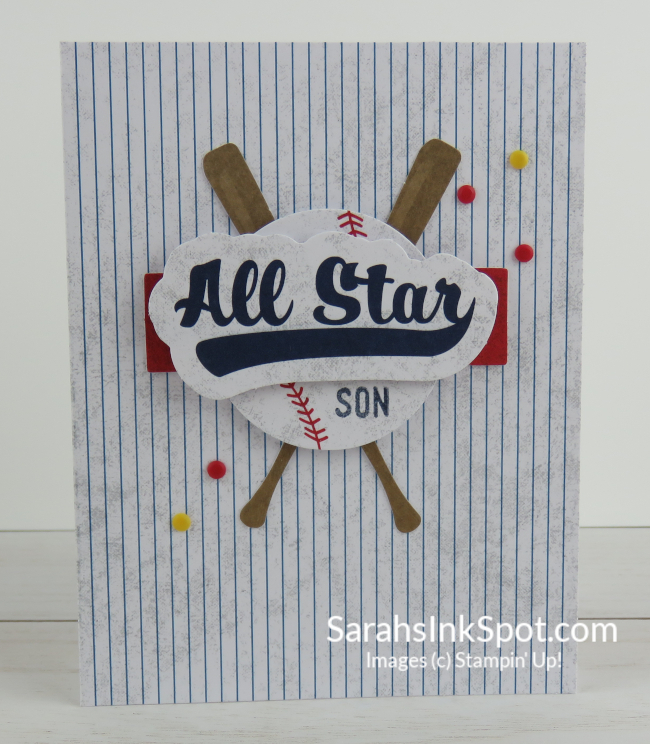 Here's a closer look – loving all the layering on this one…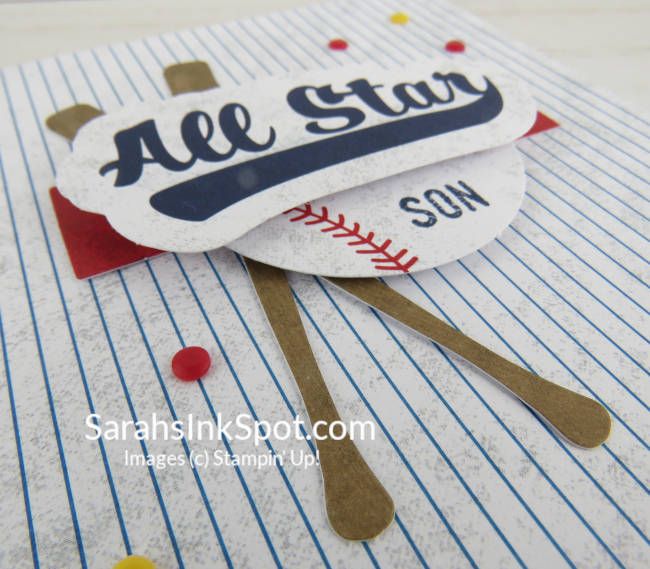 And here is the third card – I am liking the subtle wood effect background on this one and the pocket die cut piece and that big bold fun stamped image on it!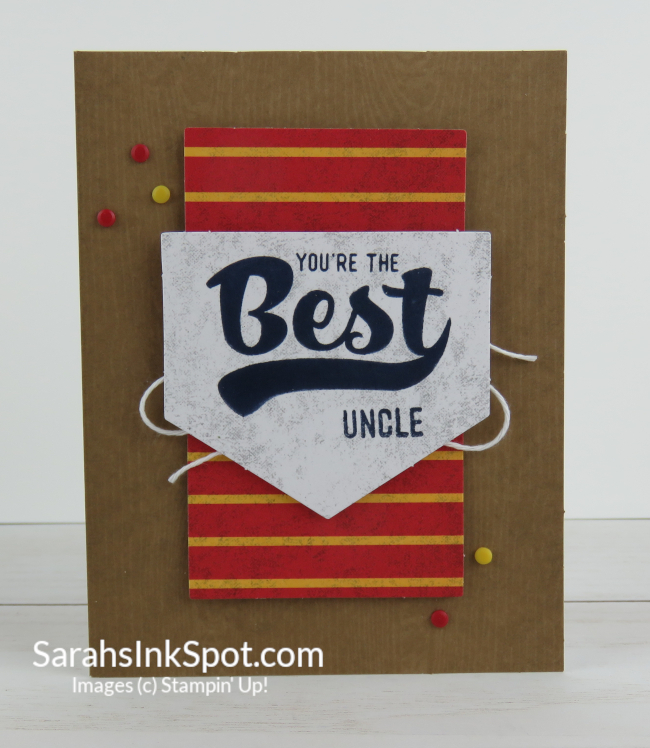 And a side peek of this one…that is one big bow under there!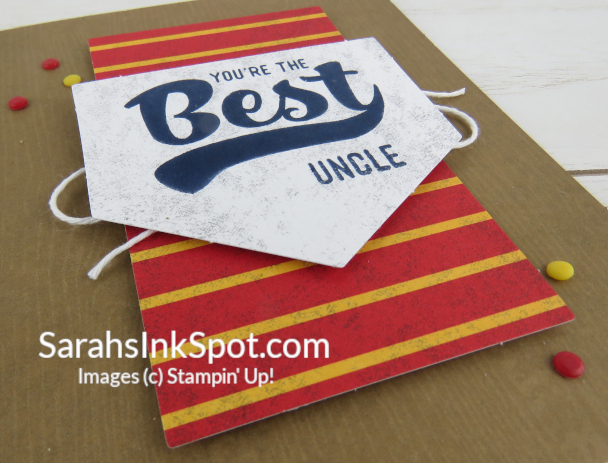 So what do you think?  I am very surprised by how much I actually like this kit and am really excited to make some alternatives using it.
Want my FREE PROJECT SHEET showing you how to put these cards together without use of a magnifying glass?!  Click HERE to download/print it!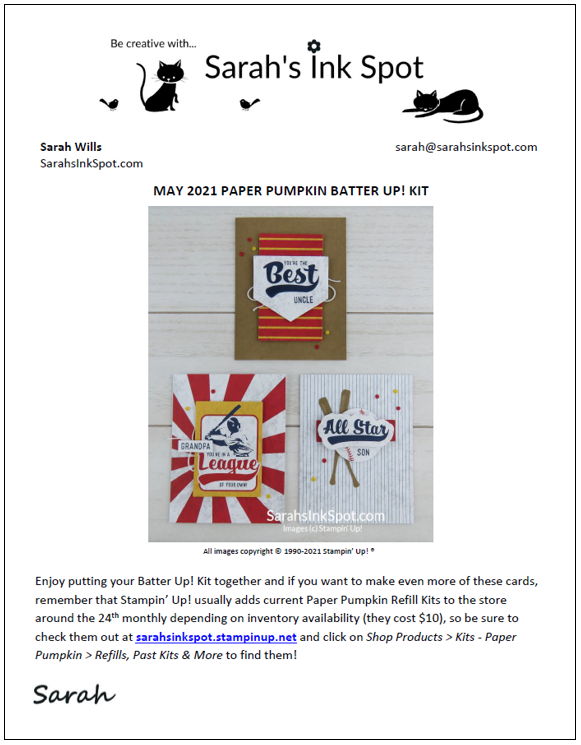 And I almost forgot – even the envelopes are cute in this kit too!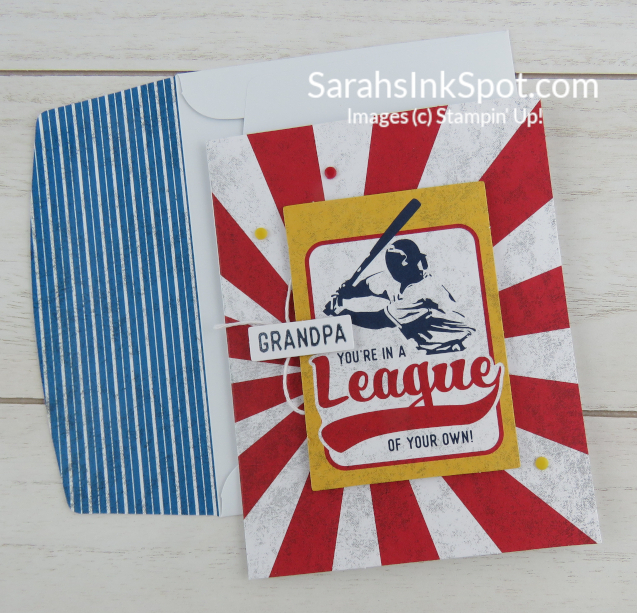 GET A FREE CARD KIT WHEN YOU PLACE AN ORDER WITH ME THIS MONTH!
When you place an order in my online store this month I will be mailing you all the components needed to make this beautiful card: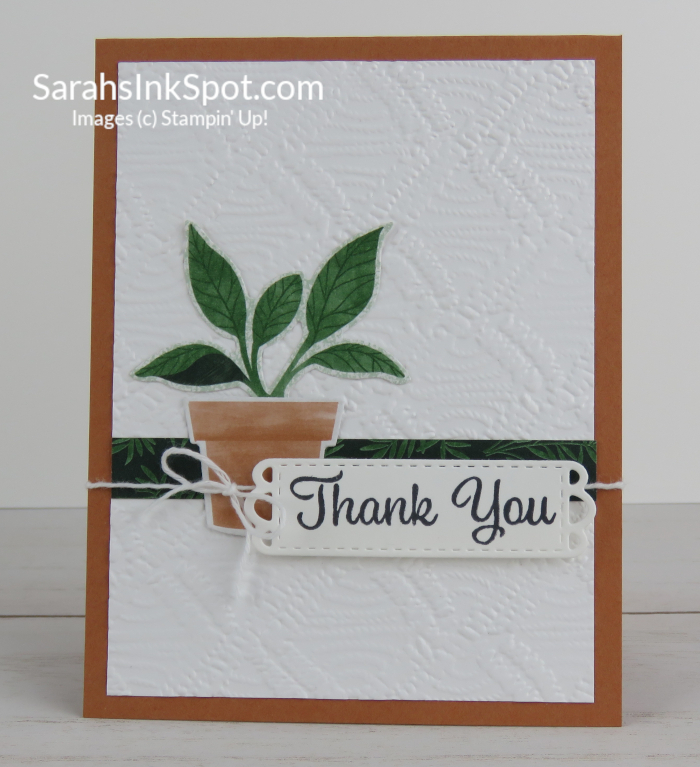 Isn't it gorgeous?  PLUS you will also receive a FREE Project Sheet detailing step-by-step how to put it together!
Thanks so much for visiting – wishing you a wonderful day!

Current Specials:
DON'T FORGET TO USE MY HOST CODE – MWUAT6JG – to get yourself a to get yourself ONE FREE ROLL OF IN COLOR OPEN WEAVE RIBBON IN THE COLOR OF YOUR CHOICE!  There are FIVE NEW COLORS to choose from!   CLICK HERE to find out all about my Host Code program that gives YOU a FREE gift with EVERY order that you place in my store!
Choose from Soft Succulent, Fresh Freesia, Pale Papaya, Polished Pink or Evening Evergreen – which will you choose?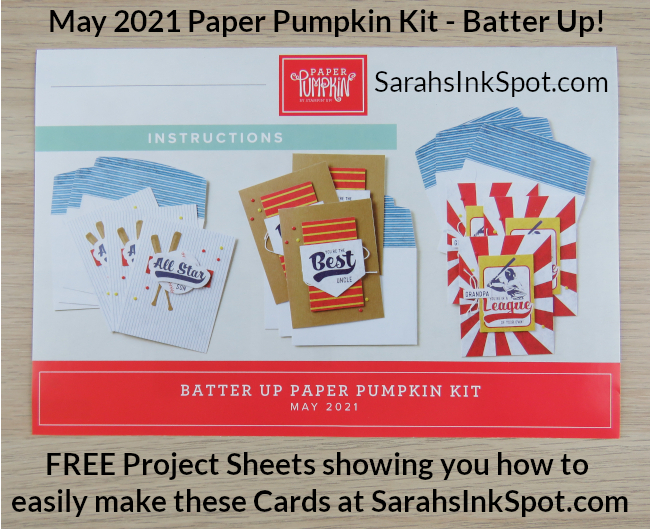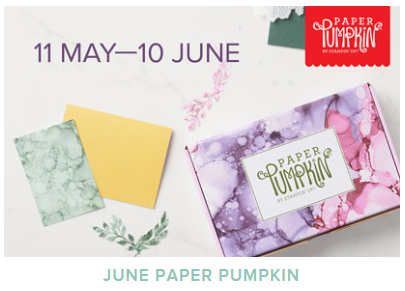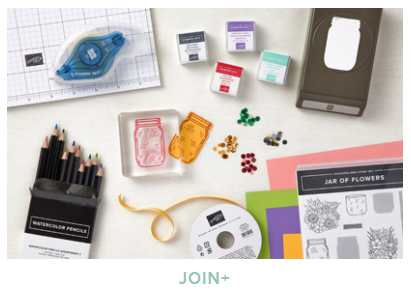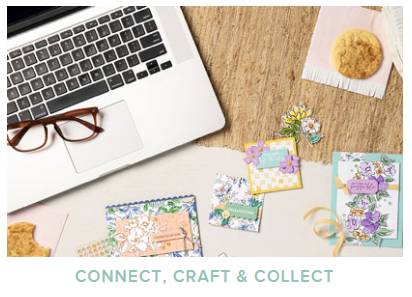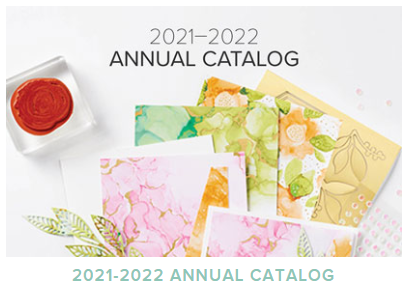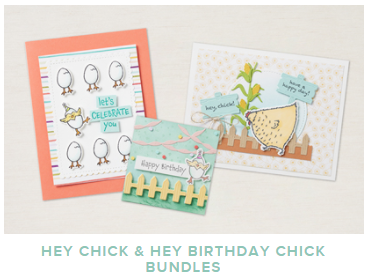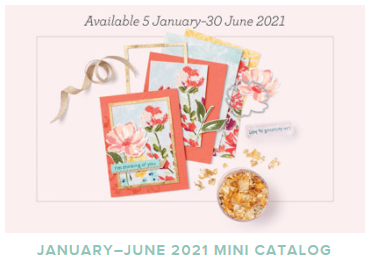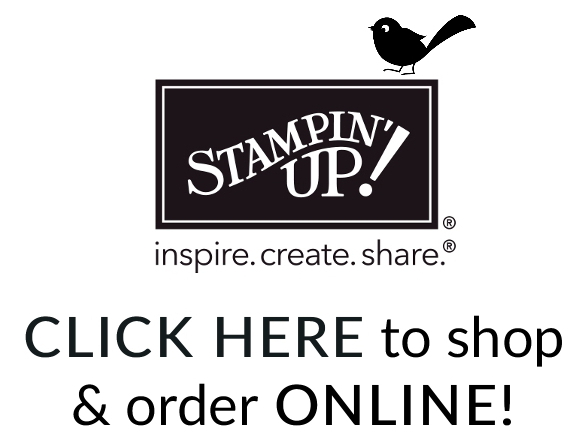 May's Paper Pumpkin Kit – BATTER UP! is here with FREE Project Sheets!