SUMMER SALE-A-BRATION 2022 ARRIVED ON JULY 1st bringing with it TWO WAYS for you to get your FREEBIES – by SHOPPING or by JOINING!

BY SHOPPING – choose one free item for EVERY $50 you spend – and there are even bigger rewards when you spend $100!
BY JOINING – purchase your Starter Kit for JUST $99 and fill it with $125 worth of products that ship to you for FREE – PLUS you will get A FREE PLANNER KIT TOO!


From JULY 1st through AUGUST 31st 2022 you get to choose 1 item for FREE from the Sale-a-bration brochure for EVERY $50 that you spend – NO LIMITS!  AND this year again there are bigger rewards when you spend $100 – you can either choose 2 of the $50 items OR you can choose exclusive items that are free with a $100 purchase!
What products do you get to choose for FREE in the Sale-a-bration Brochure?
6 items at the $50 Level:
159921  Hippest Hippos Stamp Set – 7 red rubber cling stamps
159928  Hippo Dies – 19 dies – coordinates with the Hippest Hippos Stamp Set
159937  Stylish Sketches Stamp Set – 4 red rubber cling stamps
159939  Rings of Love Designer Series Paper – 12 sheets of 12×12 papers -coordinates with the Ringed with Nature Bundle on pg 62 of the Holiday Catalog
159940  Pool Party & Soft Sea Foam Cards & Envelopes – 20 cards & envelopes
159941  Silver & Gold 6×6 Designer Series Paper – 24 sheets of 6×6 patterned papers
And 3 items at the $100 Level:
159930  Amazing Phrasing Stamp Set – 17 photopolymer stamps
159938  Tree Lot Dies – 24 dies – coordinates with the Trees for Sale Stamp Set featured on pg 39 of the enclosed Holiday Catalog
159918  Wonderful World Stamp Set + Wonderful World 12×12 Designer Series Papers – this is a BUNDLE!  The stamp set has 5 red rubber cling stamps & the pack of DSP has 12 sheets of 12×12 patterned papers
CLICK HERE TO FIND THE ITEMS THAT YOU GET TO CHOOSE FOR FREE!
And when you spend $150 it gets even better because YOU GET HOST REWARDS TOO! 
SPEND $150 AND YOU GET TO CHOOSE up to 3 FREE $50 SALE-A-BRATION ITEMS PLUS YOU GET at least $15 IN FREE HOSTESS BENEFITS too!  AND it gets EVEN better than that – place a big order or get together with a group of friends to combine your orders into one big one and reap the rewards…
Orders above that qualify for even more free Sale-a-bration items and Host Rewards AND orders of $450 also get a 50% off item too!
BUT WAIT – ANOTHER BONUS – WHEN YOU SPEND $300 YOU WILL AUTOMATICALLY RECEIVE A FABULOUS FREE STAMP SET CALLED 'PERFECT POMEGRANATE' – find it on pg 17 of the Sale-a-bration 2022 brochure!
AND CHECK OUT MY JULY HOST CODE REWARDS BY CLICKING HERE – I AM GIVING YOU A FREE PACK OF FESTIVE PEARLS FROM THE NEW HOLIDAY MINI CATALOG WHEN YOU PLACE AN ORDER WITH ME JULY 16 THRU JULY 31 2022!
Not got a paper copy and want one?  Click here

to request yours and I will get one out to you TODAY!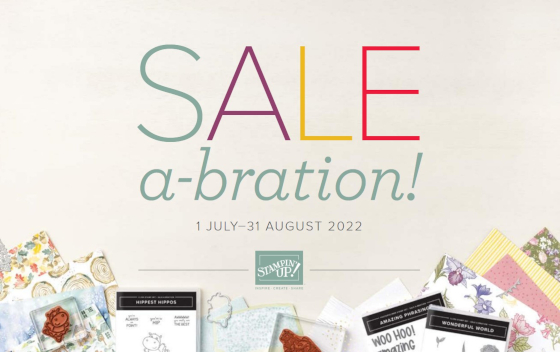 BUT WAIT…WANT TO GET AT LEAST 20% OFF OF ALL OF YOUR STAMPI.N' UP! PURCHASES ALL OF THE TIME?  Then you will want to…

FROM JULY 1 through AUGUST 31 2022 – PURCHASE YOUR STARTER KIT AND STAMPIN UP IS GIVING YOU A FREE PLANNER BUNDLE called the MAKING PLANS COLLECTION!
Here are the details:
Through August 31st 2022 your Starter Kit costs JUST $99 and YOU get to choose ANY $125 in products to fill it

You will automatically received a FREE MAKING PLANS COLLECTION – which includes a Planner, Notebook Trio & Stamp Set

You also get a FREE Paper Pumpkin Kit!

And on top of it all, it ships to you for FREE as well!

AND I will be mailing you a Welcome Package from me too!
CLICK HERE

 TO READ MY FAQ's
f you are planning to place an order of $100+ soon you really should give it a try – you have absolutely nothing to lose and SO MUCH to gain – there is absolutely NO OBLIGATION to make another purchase!
Already decided and are ready to join right now?
That link takes you to a page where you can find a video & further information – and a Join Now button!
ONCE YOU HAVE JOINED YOU CAN PLACE ORDERS STRAIGHT AWAY AND GET THE SAME HOSTESS BENEFITS AND SALE-A-BRATION FREEBIES THAT YOU GET AS A CUSTOMER TOO – AS WELL AS YOUR 20% OFF DEMONSTRATOR DISCOUNT OFF OF ALL OF YOUR ORDERS ALL THE TIME!
Join in JULY and you will be an active Demonstrator through JANUARY 31st 2023 (with no further purchase necessary) which gives you an automatic 20% discount on ALL of your orders AND you will be able to order from the new January-June Mini Catalog debuting in January!
Are there any catches?
No – absolutely none – no risk, no obligations!

You can join simply to get this great Kit deal! Or join for the discount! Or join to make some money – the choice is yours!

You have no obligation to purchase anything else ever again

If you decide not to continue after June 30th, you simply drop on July 31st – that is perfectly OK – you get to keep everything!
Are there minimums?
yes – to remain an active Demonstrator you need to purchase or sell $300 in products every quarter

Quarters run Jan-Mar, Apr-June, July-Sept, Oct-Dec

BUT the quarter you join in is WAIVED – meaning when you join in JULY – you have until December 31st to make this – January is called a 'pending' month – basically a month to make up any shortfall if you wish to remain a Demonstrator – if not, you simply drop on January 31st!
Will you have to sell any Stampin Up products or can you just join to get a fabulous discount?
NO – you do not have to sell anything to anybody!

Stampin' Up! does not put any pressure on any demonstrator to do anything EVER – it is a wonderful company to be a part of

you can join simply to get a fabulous discount on your favorite crafting supplies and only ever make purchases for yourself
If you used to be a Demonstrator but dropped, can you re-join to take advantage of this great offer?
Absolutely, yes!

If you used to be a member of my Team, you can rejoin with me

If you are one of my current customers or you are brand new to me, I welcome you wholeheartedly to my Team
Ready to join right now?
That link takes you to a page where you can find a video & further information – and a Join Now button!

You will get your Demonstrator number & information via email immediately

You can place your first order today!
Click HERE to email any questions that you have to me and I will be very happy to help