I have set myself a challenge to post to my blog every day in the run up to Christmas – every day as part of my Holiday Showcase I will feature a cool project that uses a different technique to give you lots of ideas for making holiday cards, gifts and gift holders…at the end of each post will be a list of supplies and where you can find them in the catalogs to make it easy for you to find them.
Today I want to show you how you can use aluminum foil with your Big Shot and Texturz Plates to create beautiful effects on your holiday cards…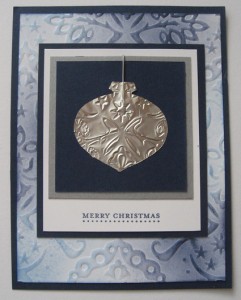 This ornament on this card is super simple to make – simply take a piece of heavy duty aluminum foil and run it through the Big Shot using a Texturz Plate – this card uses the Damask Plate from Backgrounds 1 – then take the Ornament Punch and punch out your shape – it is as easy as that and is sooo effective – you could punch out a few of them using different texturz plates to give a stunning look to a card and you could also use a piece of textured foil to create a background.
More details about the card – the base is Night of Navy and onto it is layered a piece of Whisper White that has been run through the Big Shot with the same Texturz plate – onto this is sponged Night of Navy and Brocade Blue ink to give a beautiful background.  The ornament has Silver Elastic Cord at the top  and the stamped sentiment is from the set Teeny Tiny Wishes.
Supplies…
113439 Big Shot pg 194  $99.95
114512 SU Exclusive Backgrounds 1 Texturz Plates pg 195 $11.95
116794 Ornament Punch pg 25 Holiday Mini Catalog  $15.95
115370 Teeny Tiny Wishes pg 145 $36.95
109866 Silver Elastic Cord pg 27 Holiday Mini Catalog $4.95
100867 Night of Navy Cardstock pg 157 $5.50
100730 Whisper White Cardstock pg 155 $7.50
100712 Brushed Silver Cardstock pg 159 $7.95
102977 Night of Navy Ink pg 157 $5.95
101102 Brocade Blue Ink pg 157 $5.95
You can place your order directly online by clicking here
Using Aluminum Foil in the Big Shot…