I have camping on the brain as we are going on a trip soon and I needed to make a card yesterday for my Monthly Swap Group and couldn't resist making this one…the stamps are from the set Under the Stars and are sooo cute…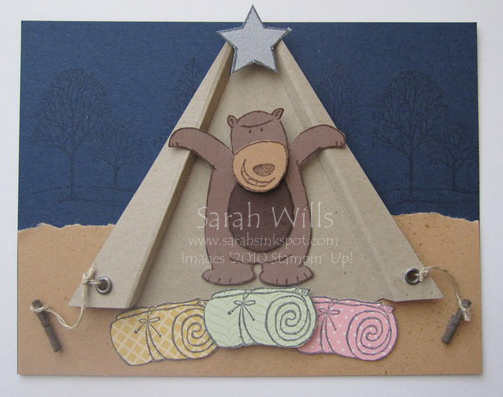 I love how the bear looks like he is coming right out of the tent…I also love to stamp onto Designer Series Papers which is yet another way to use up those scraps you have leftover – this gives a fab effect that you can see with the sleeping bags and it also saves coloring in images – the yellow paper is from Jackpot, the green is from Flock Together and can you see where the pink polka dot paper is from?
I hate to waste anything and I salvaged this paper from my pack of Love Bots featured in the Occasions Mini – this paper was  leftover after I pushed out the die cut boxes and I just couldn't throw it away as I knew it would come in useful for something…
The trees in the background use a stamp from the set Lovely as a Tree – to make the 'dirt' I took a piece of Creamy Caramel cardstock and used my Color Spritzer Tool (pg 192) and Creamy Caramel Marker on it to make a speckled effect to resemble dirt – this tool is so easy to use and gives a fab effect – I then tore the top edge and adhered it to the base.
I wanted to make a 3-d tent so figured out my template and cut it out of a piece of Kraft cardstock – I scored 4 lines and folded to make the tent flaps. I attached eyelets onto those flaps and tied through a piece of Linen Thread. I then painted and cut to size some cocktail sticks and tied the other end of thread around them to make tent pegs – I glued these onto the card base using Tombow Multi-purpose Glue. I adhered the tent to the base using tape and Dimensionals under the flaps.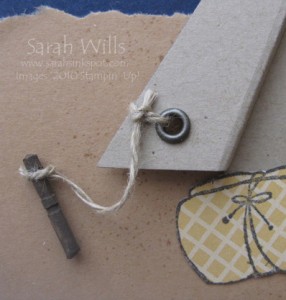 To make my bear appear like he is popping out of the tent,  I used Mini Glue Dots to secure his lower body and arms and a Dimensional under his head – I love this look…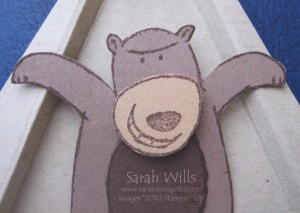 Didn't it turn out cute?  I hope the ladies like him…