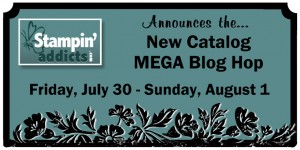 A very warm welcome to Stop no. 10 on the Stampin' Addicts New Catalog Mega Hop…you have just arrived here from Barbra's blog where she showed you great ideas for the beautiful set Come to Bethlehem...I have a link at the end of this post so that you can hop over to the next blog…keep hopping and eventually you will go full circle…
The set I chose to use here is Got Treats which you can find on pg 55 of the Catalog – it features 10 stamps and some are designed to work with that fab new Mini Milk Carton die…please read on to see what I did with it and to find out details of some cool blog candy…and when you come back Monday you will find out who won the blog candy plus get more close up photos, templates and how-tos for my items…Got Treats definitely makes me think of yummy goodies and so for my first project…
I decided to make a Mini Milk Carton caddy containing 4 milk cartons…there are stamps in this set that are designed for labelling the top of the milk carton to give the recipient an idea on how to open them…and guess what's inside of them?  Mmm…scrumptious Hershey's Cookie's n Creme Kisses…I chose them because their wrappers were blue and it suited my theme BUT oh my…they are now my favorites…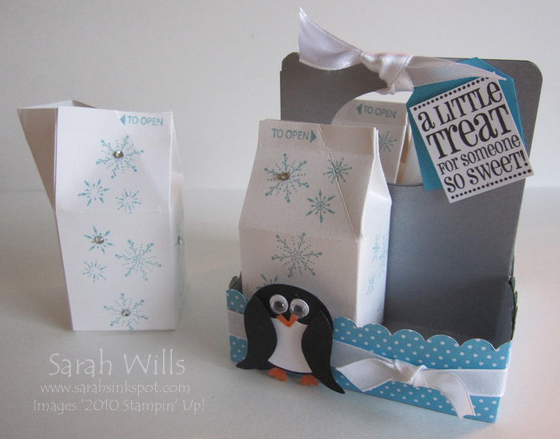 Yes…ummm…Christmas in July?  Well, I came up with a punch Penguin a couple of days ago that I made using the new Owl die and so that got my cogs working…besides…you can't start on holiday projects too soon…and living in Central Texas has me dreaming of cold weather right about now!
My caddy was a breeze to making using Brushed Silver cardstock and Island Oasis paper from the Summer mini which I thought ironic for a winter themed project and it holds 4 of the Milk Cartons which are made from Shimmery White cardstock and are decorated with snowflakes and the new rhinestones (pg 188)…what a perfect treat for a teacher or co-worker…and you have plenty of time to make 'em if you start soon!   And there is my cute little punch Penguin…love that guy…
When you come back on Monday you will find a printable tutorial and template here on how to make the caddy that holds 4 mini milk cartons, more photos of it and my cute Punch Penguin…
Next I was trying to think of how to use those stamps a bit differently, other than for attaching to treats…so I decided to use them to make some cute 3″ x 3″ cards with co-ordinating envelopes AND a gift box to present them in…here is the box that houses them…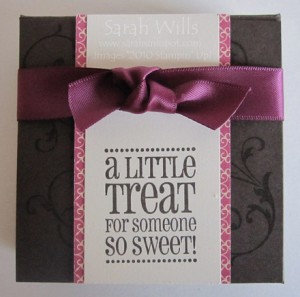 I just love Early Espresso and can't stop using it – it's my new favorite color…and the swirly stamp I used on the top?  From one of my new favorite sets – Elements of Style (pg 133)…on Monday I will have the printable tutorial and template on how to make that box and close ups of the cards and envelopes inside of it...speaking of which, here they are…
Cute, eh?   Those little cards are very fun to make…you could make a box full of cards as a cute Back to School teacher gift which would go down very well – and those Mini Envelopes?  You can find them on pg 171 of the Catalog and all use a little piece of Designer Series Papers on the flaps – this is a very cute and easy little extra to do…
And so on to my final project -I decided to use the co-0rdinating stamp set On a Pedestal (pg 55) to create a decorated Tea Tin – these sets go together so well and it's very hard not to use that beautiful cake stand so I just had to…the photo really doesnt do it justice…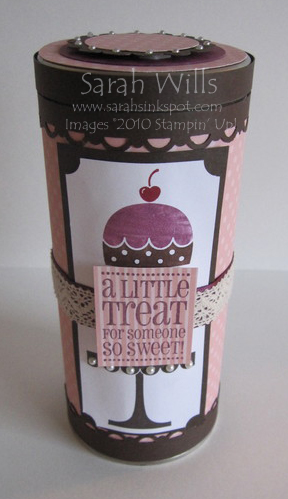 These tall tins are just perfect for packaging candies, chocolate dipped pretzel rods, cookies…any treat you have in mind…and for just around $1 each they are a very affordable way to present your gift…
I used papers from Blushing Bride Patterns to decorate my tin and accented with Early Espresso, Rich Razzleberry and that GORGEOUS new Crochet Trim Ribbon…and I used the new Pearls to decorate the pedestal and the lid…I love pinks and browns together and this tin would make another great Back to School new teacher gift.
Don't forget to come back on Monday to find printable tutorials and templates and to find out who won my blog candy…speaking of Blog Candy…leave me a comment to let me know which project you like the most and you will be entered into a drawing to win a kit of supplies for you to make your own cute Milk Carton Caddy filled with Mini Milk Cartons…
I hope you enjoyed your visit – you are now leaving to visit the extremely talented Barbara and see what she has come up with using the cool set Morning Cup on her blog at Creative Stampin Spot by clicking HERE – enjoy!
Stampin' Addicts New Catalog Mega Blog Hop…