I absolutely LOVE ice cream and when I saw that ice cream stamp set in the Summer Mini I just HAD to have it!
It is called Sweet Scoops and you can find it on pg 10 of the Summer Mini – isn't it adorable?  The stamps feature cones, scoops and toppings and it is priced at $18.95 for the wood mount version or just $14.95 for clear mount…but if you want it, you've got to get it this month – it will no longer be available when the Summer Mini retires on August 31st.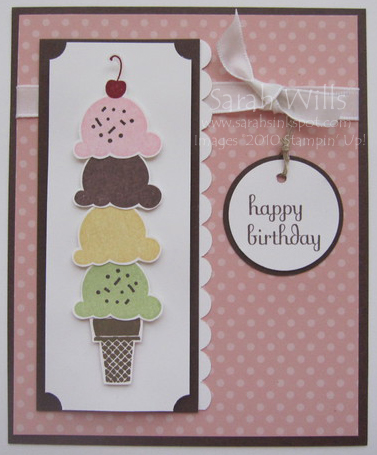 Here is a birthday card that I made with it earlier today…made in my favorite clean and simple style, this card features pastels and chocolate colors and the polka dot paper is from the In Color Patterns Stack (pg 175)…I used my Scallop Edge and Ticket Corner punches to shape the cardstock and the ribbon is Whisper White Taffeta onto which is strung a tag that I made using stamps from the brand new set Fabulous Phrases (pg 149) – I love that set and am working on a list of phrases that you can make using it and hopefully will post it before the weekend is over…there are lots of them!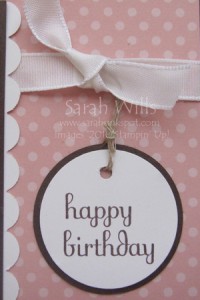 Like the ice cream stack?  I stamped my cone and scoops onto cardstock and cut them out using sharp Paper Snips – I like to leave a little border around them when I cut them out as I like the defined look it gives to them.  I then used Dimensionals to stick them to a piece of white cardstock…are you wondering what colors I used?  My cone is Soft Suede and my scoops are So Saffron, Chocolate Chip, Pretty in Pink and Certainly Celery – my favorite flavor is mint choc chip so I had to get that in there somewhere…didn't it turn out yummy?
Don't have a copy of the Summer Mini Catalog? You can view it online by clicking HERE and it will open in a new browser window or if you plan to place an order with me and would prefer a paper copy, please email me by clicking here and I will pop one into the mail to you.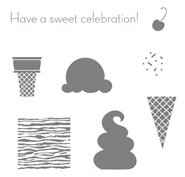 Lovin' the Ice Cream Scoops…